I found it hard to believe that the dead mouse on the table in front of me would soon be an attractive Christmas bauble. But after a four-hour course in taxidermy, that's exactly what it was. At least, I thought so.
The taxidermy workshops are run by a London-based venture called A Curious Invitation. It teaches both naturalistic taxidermy, where the stuffed animals represent themselves in the wild, and anthropomorphic taxidermy, where they don't.
I was taking the anthropomorphic route, having been intrigued, on first learning about the course, that there were easy-to-attend evening classes in stuffing – with a festive feel. You see, after I'd stuffed the rodent with cotton wool, I would add a further indignity to the creature by dressing it up as a Christmas fairy.
The heyday of anthropomorphic taxidermy was in the 19th century, when Walter Potter led the way with elaborate dioramas such as "The Death and Burial of Cock Robin", which is said to contain 98 species of British bird.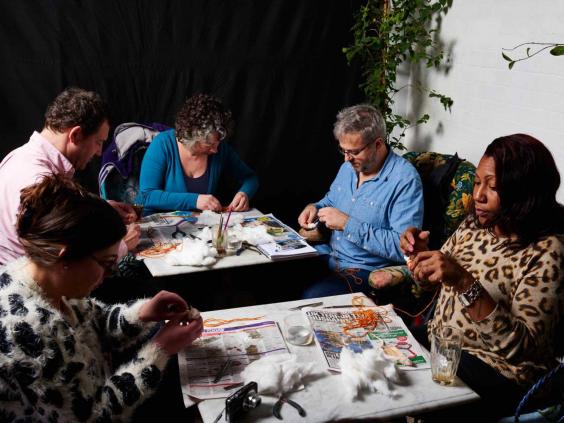 But the art has, in recent years, been enjoying a revival. To paraphrase Jason in Portlandia: the dream of the 1890s is alive in London. From Polly Morgan's creature-based high-art creations to Kate Mosse's latest novel, taxidermy is hot stuff.
When Meesh Bryant, our taxidermy teacher, began working for A Curious Invitation just over a year ago, the firm was running one workshop a month. Now it runs three a week and they're often over-subscribed.
The workshop I attended in Clerkenwell was packed, but not with the sort of people my prejudice had led me to expect. I thought that the class, which cost £60, would mainly comprise young men with full beards and retro tattoos, but Meesh said it's a common misconception that taxidermy is a hipster craze.
So there's no typical demographic?
"There's such a massive mix of people — male, female, young, old — but I have noticed that a lot of people who attend our classes are cooks, scientists, and artists," said Meesh.
Before we went to work on our mice, Meesh told us that the mice are bought dead (frozen) from a farm that breeds them for reptile food.
If we had any ethical qualms about skinning and stuffing the rodents, she reminded us that the mice were destined to be "snake poop". What's more, none of the innards go to waste. Meesh, a vegetarian ("almost vegan"), keeps the guts for her friends' cats.
Our first job was to gently scrape our scalpel down the mouse's abdomen and prise the skin apart without rupturing the "body sac". I thought I was being gentle but then a gamey smell filled the air and cold mouse viscera began to ooze through my fingers.
"People think mice are easy to stuff, but they're actually quite tricky because they're so small," Meesh said. It's certainly a fiddly job. It took two hours to eviscerate and clean the mouse. We had to leave the paws, tail and head intact. We also had to leave half of the skull in the mouse.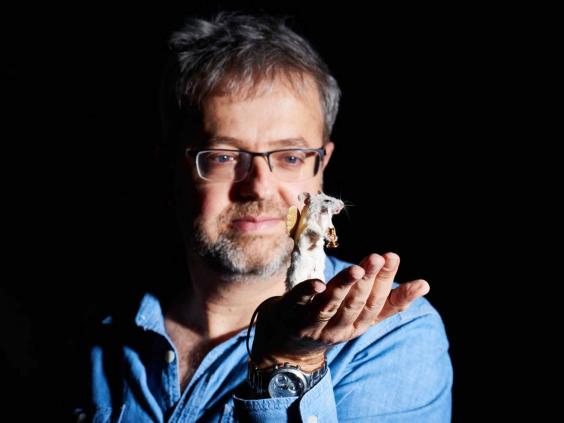 The hardest part was picking out the brain and the eyes with a pair of tweezers. I manage to pull the whole skull out. When I tried to shove it back in, it didn't fit.
When Meesh told us we could wash our mouse pelts and hang them up to dry when we were ready, I was the first up. There wasn't much else I could do. I'd pretty much pulled everything out of the wee beastie that could be pulled out. After washing my mouse pelt, I handed it to Meesh's assistant, Fenella Hitchcock, to pin on the mouseboard for drying.
Fenella trained as a seamstress and is now studying for a master's degree in fashion. She says hers is a fairly typical background for people who are into taxidermy. Like Meesh, she teaches taxidermy part-time.
I ask her why she thinks the Victorian art has become so popular. "It's a reaction against Ikea culture," she said. "People want something that's original."
My mouse is certainly original although I'm not sure it's as functional as a Billy bookcase.
The varmint looked pretty beat up at halftime, but with a bit of wire, cotton wool and twine, it resembled a fetching, if lumpy, weasel. With wings superglued to its back and a candlestick superglued to its paws, it looked more like a Christmas tree fairy.
When I got home, I proudly showed the stuffed mouse to my family. They burst out laughing, and continue laughing until the tears rolled down their cheeks. It wasn't the reaction I'd hoped for.
My wife took a photograph of the mouse.
"Whenever I'm feeling down," she said, "I'll look at the photo and it'll cheer me up." 
Reuse content