Having curly hair doesn't always feel like a blessing but despite the recent spate for super sleek, straight locks a celebration of swirly tresses is firmly back in sight. Those of us with limp, lifeless strands envy the sheer volume that comes with a curl but for natural bearers having a good curly hair day is harder than it looks. Faultless execution lies in the confidence of corkscrew hair's bold and bouncy formation and that's exactly why it found itself thrust into runway fame.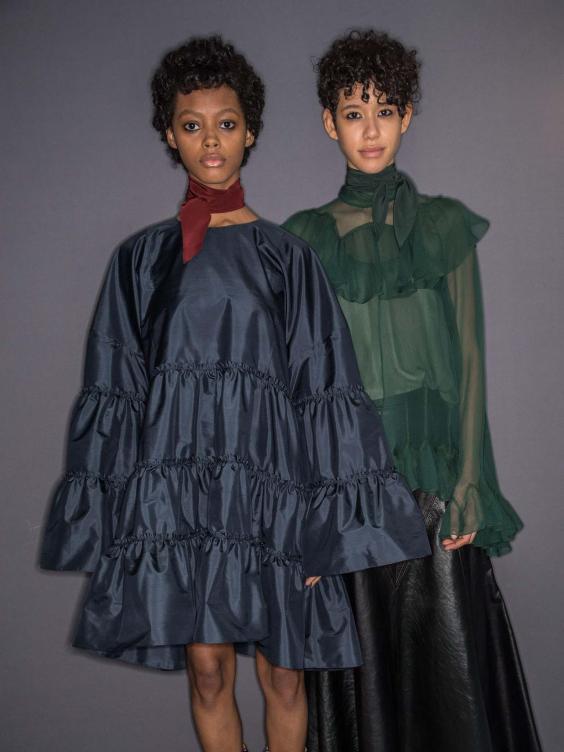 Thanks to fashion's recent fixation with natural beauty, this season models were encouraged to embrace the locks that they were born with and permanently banish the hot-iron. Cookie cutter looks were traded in for bouncy curls no matter the length and it's sent us in a twist. At Chloe a mix of natural swirls, afro texture and 70s style shagginess channelled festival girl vibes while at Isabel Marant it was all about the 80s. Teddy boy quiffs pinned tight twists to Marant's muse with a distinctly British edge; something Vivienne Westwood broached too with bunches of snug ringlets lifted to achieve a cropped curl.
If your tresses are naturally crimped then management is going to be your onus this season; always make sure to comb from bottom to top and don't be afraid to play around with product cocktailing to find a combination that suits your hair's needs. A smoothing serum and mousse are a sure fire way to guarantee fizz free corkscrews but  make the most of your hairdryer by using the diffuser to even out your curl pattern. 
Straight hair requires a little more labour, especially if it has trouble holding a curl but whatever you do stay well away from the perm. When styling your hair always start with a volumising mousse and once it's freshly dried, apply a liberal amount of texturizing spray and heat protectant. Selecting your tool is key here and if it's super tight curls you're after Lee Stafford's Chopstick Styler will give you instant coils - a standard 1 inch iron will suffice for a more relaxed look. Make sure to apply hairspray after every curl but always leave them to cool and set. Once the entire head is complete, only then should you loosen as desired. 
The comeback curl
The comeback curl
1/6

GHD Curl Hold Spray £13 asos.com

2/6

Lee Stafford Chopstick Styler £19.99 superdrug.com

3/6

Davines Curl Enhancing Shampoo £15 net-a-porter.com

4/6

Bumble & Bumble Curl Defining Creme £23.50 selfridges.com

5/6

TIGI Bed Head Foxy Curls Extreme Curl Mousse £8

6/6

Tangle Teezer Thick & Curly £10.60 lookfantastic.com
Reuse content