British model Cara Delevingne, whose style and attitude defines fashion in 2014, turns 22 today.
In her short years, she has fronted countless fashion campaigns and walked endless catwalks, starred in blockbuster movies, made A-list friends, won Model of the Year at the British Fashion Awards 2012 and launched her own handbag collection for Mulberry.
Most recently, she's been revealed as the cover start of British Vogue's September 2014 issue, the biggest ever. She was photographed by legendary Mario Testino for its Sixties themed shoot. This was the third cover for Delevingne in 18 months as she also featured on the March 2013 and January 2014 editions.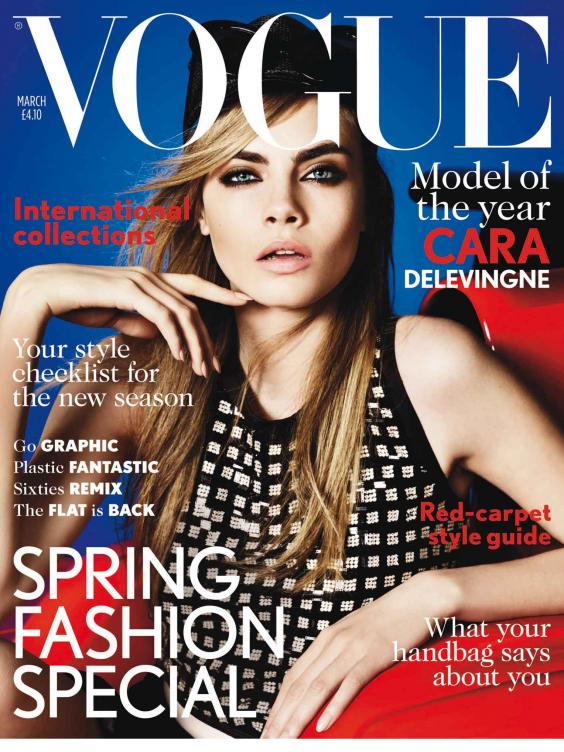 British Vogue editor, Alexandra Shulman, wrote in her March 2013's letter: "Cara is one of those girls who combines energy, wit, enthusiasm and the kind of edgy beauty that marks her out from the general pool of beautiful models."
In addition to her most recent cover for Vogue, she also stars in numerous autumn/winter campaigns including Mulberry, Burberry, Chanel and is the face of Topshop's first solo campaign.
"Cara is a true Topshop girl. Her style is confident and playful and she can be sophisticated and chic as easily as she can be cool and casual," said creative director Kate Phelan.
The London girl has cemented herself as New York, Paris, London and Milan Fashion Weeks' star face. Since her catwalk debut, Delevingne has hit the world's biggest and most influential shows; from Topshop Unique and Burberry to Chanel and Dolce & Gabbana.
Her full name is Cara Jocelyn Delevingne (as the initials of her hand tattoo point out) and her bushy eyebrows became a beauty statement worldwide.
Vogue fashion bookings editor Rosie Vogel describes the model as "unique". She said: "She's unique - she has a wonderful versatility to her and a great personality, which is crucial. She's really lively and dynamic and still feels very modern. I like that she has those heavy brows - it adds something very different."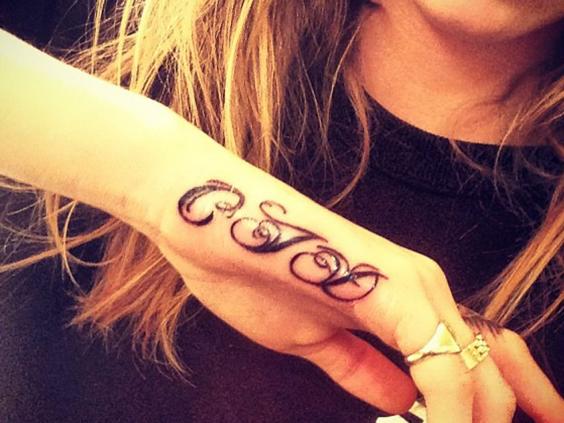 After this year's Chanel show, legendary designer Karl Lagerfeld said: "She's the modern look… She's the typical girl of 2014. She's the hit girl of the moment and she's not fake, she's a real person.
"The second I saw her I knew there was something."
Her modelling career began when she signed up to the same agency her elder sister Poppy Delevingne was working for, Storm.
Her followers are not limited to those within the fashion world. With almost two million followers on Twitter and over six million followers on Instagram, she's a social media savvy - with numerous fan accounts tracking her style and career moves. She shares her work, life and quirky personality across the social media, and updates fans with constant content and creativity.
Last year, for example, the now 22-year-old model made the world's first selfie video direct from the catwalk during Giles' London Fashion Week show. Besides this, she shares photos with her pop star and Hollywood friends such as Rihanna and Rita Ora, which further cements her appeal. She always wants to do something more creative – she told W magazine in a 2013 interview: "I want to make music. I want to act. I want to sing. I want to do something that doesn't make my skin erupt."
With contracts with high-street and designer labels such as Chanel, La Perla, DKNY and Topshop, she can be seen in every glossy magazine and on high-street campaigns.
Her style and attitude has defined fashion in 2014.
Now, she follows the steps of models like Rosie Huntington-Whiteley as she tries her hand at acting.  She played a small role as Princess Sorokina in Joe Wright's 2012 version of Anna Karenina, but she will make her TV acting debut very soon in a major role in Playhouse Presents Timeless for Sky Arts.