A trawl back through the family photo album will show that the British man has never been quite at home on the beach: black-and-white snaps show mid-century man enjoying an ice cream in his two-piece suit. By the Seventies, he's in the smallest of budgie-smuggling Speedos; and come the Nineties these have been replaced by the baggiest of board shorts.
While the 21st-century man doesn't have the same beach-ready pressure resting on his shoulders that his female counterparts have, that's not to say a holiday should be seen as an opportunity to slack off.
Providing the right guidance to its often apprehensive male customers has been one of the pillars on which menswear-focused etailer mrporter.com has built its considerable reputation since its launch in 2011. As such, Toby Bateman, buying director of the site, has commissioned exclusive pieces from some of the site's favourite designers in order to provide the holiday solutions its customers don't even know they want yet. Bateman knows how important it is to offer exclusive pieces in an increasingly competitive market: "We strive to give our customers something that they cannot get anywhere else," he states. "We're delighted to be working closely with Hentsch Man, AMI and Wooyoungmi this season."
The chosen designers have each interpreted a different holiday scenario, in keeping with their own background and aesthetic. But the beauty of these pieces is that they will fit into your summer wardrobe with ease once you're back home, too. If only the same could be said about the obligatory souvenir T-shirt...
AMI
After working at at Marc Jacobs, at Givenchy with Oswald Boateng and at Dior Homme's 30 Avenue Montaigne line, Alexandre Mattiussi wanted to create something different when he decided to go it alone. And so, when he launched his label Ami for autumn/winter 2011, Mattiussi did so with simplicity in his sights. However, it's a discernably Parisian notion of simple – casual but still faultlessly chic and appealing to male shoppers en masse. It's proved a successful strategy, with Mattiussi winning France's prestigious ANDAM prize (National Association for the Development of the Fashion Arts) in 2013.
Inspired by reality from the beginning, there is an obvious affinity between Ami and mrporter.com, as evidenced by the fact that the brand is the only one that was invited back to create a second exclusive collection for the site, following a similar project last summer.
For the 2014 instalment, Mattiussi wanted to tell the age-old story of an American in Paris, albeit one without the shape-shifting tendencies of the film of the same name. Hence the collection's fusion of varsity and collegiate styles with a Frenchy flourish of a recoloured Breton stripe.
Available today, from £85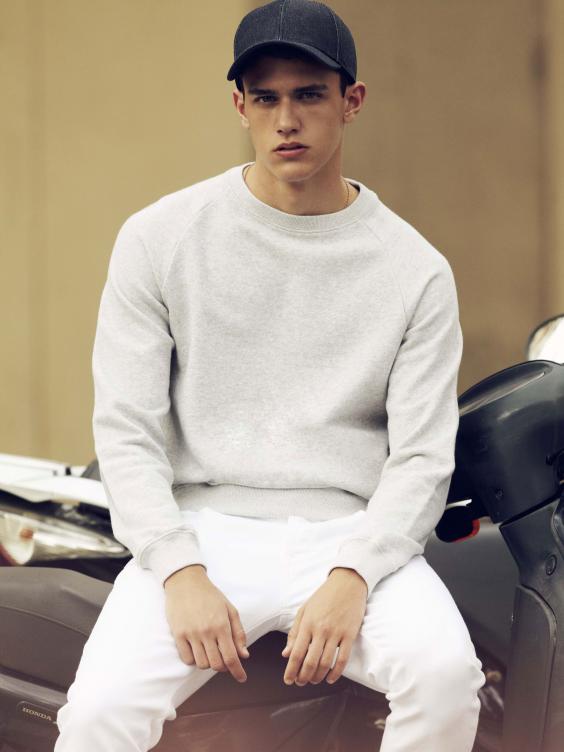 Hentsch Man
Based in London, Brazilian-born designer Alexia Hentsch is a favourite among menswear shoppers-in-the-know for her simple and elegant designs. The designer founded her eponymous brand in 2008 after a fruitless quest for the perfect white shirt for her then-boyfriend. With a background in graphic design and a stint working for Wallpaper* founder Tyler Brûlé and freelancing as a set designer, Hentsch had the necessary design skills to make her idea a reality, with a childhood friend supplying the necessary capital.
Her capsule collection of Americana-inspired pieces is based around an archival print from the Forties, which features an illustration of an exploding house, with a Hawaiian element incorporated thanks to superimposed bright pink blooms. "All you need is one great print to tell a story," says Hentsch. As the appreciation of jazzy prints can ebb and flow, though, more traditional dressers may prefer the fuss-free sweatshirts and tailored shorts that complete the collection. A lightweight navy bomber jacket brings the best of both worlds with an exclusive print lining.
Available now, from £90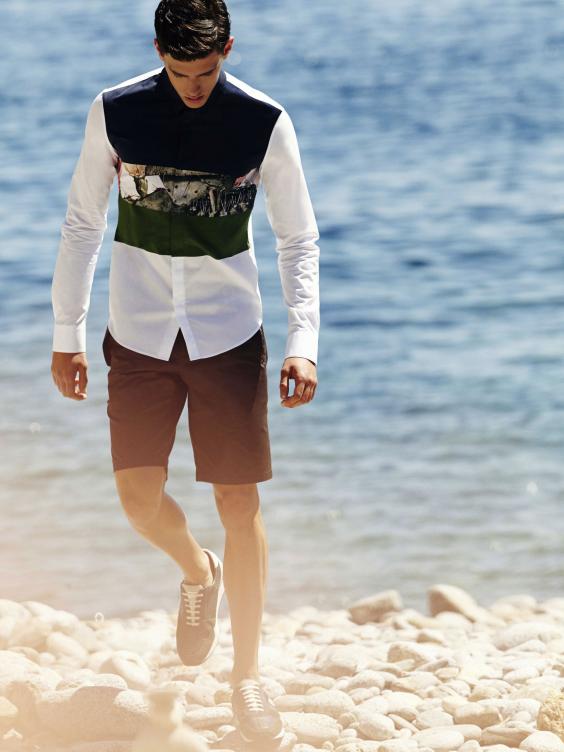 Wooyoungmi
Since its launch in 2002, Wooyoungmi has become a firm fixture on the men's schedule of Paris fashion week. Such success is no surprise when you learn that designer Woo Young Mi launched her first brand in 1988 – the particularly successful Solid Homme – which led her to be known as one of the first menswear ready-to-wear designers in Korea. Wooyoungmi was created to produce contemporary wear that incorporated the subtle intricacies of tailoring, with art and architecture consistently forming the basis of collections.
For the collaboration with mrporter.com, Wooyoungmi builds on the desert theme of its spring/summer 14 collection with block stripes of blue, khaki and terracotta, with collages of digital cactus prints adding another dimension to the mix.
Another inspiration for the collection was South Korean installation artist Kyung Woo Han, who created the brand's seasonal advertising campaign. "Inviting a different artist to re-imagine and interpret the Wooyoungmi collection each season has produced such inspiring work," says Madame Woo. "Kyung Woo Han's pieces capture the Wooyoungmi clean and minimal aesthetic and the sense of nature and the elements in our spring/summer collection perfectly." µ
Available from 27 May, from £120