Old dogs, new tricks. What a neat summary of haute couture, clothes hand-made in time-honoured traditions by age-old (or perhaps old-age) houses that nevertheless constantly hanker after the zest of the fresh. Frequently, that search is fruitless – you feel like you've been left to suck a lemon. But, as the Paris spring/summer 2016 haute couture season began, we got something new, from a designerless Dior casting about for an interim direction. We also got something tricky, from Versace and Schiaparelli.
The latter is a relatively recent addition to the schedule. Perhaps that should be re-addition: Elsa Schiaparelli closed her house back in 1954; it was flamboyantly revived by Diego Della Valle, the billionaire Italian industrialist behind the Tod's empire. The designer there, Bertrand Guyon, is green, only two seasons in. But the ideas are old – Schiaparelli had a well-established style, immortalised by fashion photographers and embalmed in contemporary memory by a so-so exhibition at the Metropolitan Museum of Art. The collections have generally stuck close to her template, one established in the 1930s, of kooky kitsch stuck on basic shapes, realised in lavish embroideries. It's a bit unfulfilling: a feast for the eye, but not exactly food for thought. 
Incidentally, food was the inspiration for Guyon's latest: he printed his catwalk carpet with speared shrimp – Schiap once put a lobster on a dress; she has an affinity with crustacean couture – and piled plates high as a backdrop. Once the dresses started to come out, they were embroidered with plates, beaded with teapots, sequinned with bonbonnieres. A julienne of vegetables appeared on a jacket. You got his drift. It was a bit half-baked, but thematic collections are terribly Schiaparelli – she presented shows dedicated to the circus, to the zodiac, to seafaring. Many designers have done so since, including Yves Saint Laurent, whose work heavily referenced hers, and Stefano Gabbana and Domenico Dolce, who have produced clothes quite similar to these, with pasta as earrings and prints of stuff like tomatoes.
Mostly, this collection was mired in hokey 1930s whimsy. Its best moments were when it was least identifiably Schiaparelli: slender evening dresses in silk crepe, dead straight – both in line, and in theme. That's an issue though. Why not bring the Schiaparelli to the table? The house has something everyone in fashion longs after: a silhouette, the firm-shouldered, fitted jacket and long skirt that Schiaparelli made her name with in the 1930s, as identifiable then as Dior's "Bar" jacket or Chanel's boxy cardigan-suit. To ignore that vital facet of the house's legacy seems even more foolish than a collection splattered with crockery and bits of shellfish.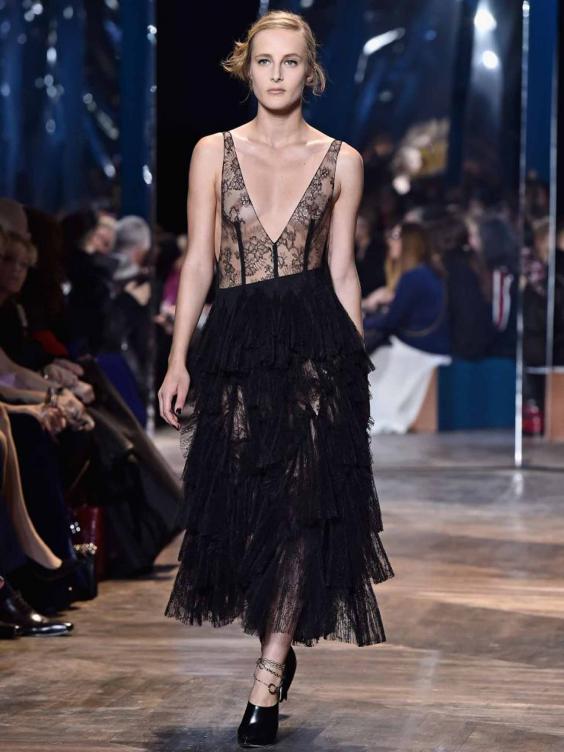 There was something similar going on at Versace – not food, but something a bit iffy. Donatella Versace took sportswear as her theme, which is fine. It delivered chopped-out athletic stuff with the feel of a souped-up sports shoe applied to an entire dress, ergonomically engineered, cut out and collaged together, in a palette of ice blue, hazmat orange and an optic Courrèges white. Versace's haute couture has always had a futuristic slant, here with silhouettes plastered with silicone gel and streamlined close to the body. Sometimes, too close: a black dress wrapped a models' legs as she walked. She had to hoik it up with her hand. Donatella Versace said she was thinking about women "at their most focussed and dynamic". I don't think that's when they're hauling up their dresses to be able to walk.
There's a more basic mistake with this conceit: couture isn't sportswear. If couture clients want to work out, they wear Nike, not Atelier Versace. Because Nike is built for the job. What's Atelier Versace built for? Looking good. Maybe getting laid. It's the sexiest of the houses on Paris's schedule, and there was plenty of sexy stuff here: dresses webbed with holes or bondaged closed with crystal bungee cords. Those not only looked futuristic, but felt it, too.
What's the future for the historic house of Christian Dior? A treasure not only of couture, but of French couture, which also packs a financial sucker punch: its 2015 report totalled a turnover of £27 billion. But Dior is without a designer since Raf Simons resigned in October. Instead, it relied on its design team – led by 41-year-old Serge Ruffieux and 32-year-old Lucie Meier– to turn out its latest collection. It was nevertheless presented with maximum pomp and circumstance, in a box plastered with mirrored facets. They reflected the collection, literally and figuratively: multi-faceted, to the point of fractured. 
Of course, they were reflecting back Dior – the house's aesthetic shorthand of lily-of-the-valley, la panthère, and the inevitable, inescapable silhouette of the Bar jacket, with its sloping shoulders and plump hips, 69 years old and still going strong. Haute couture is the work of many hands – they call them petite mains, the women who hand-stitch together these artfully realised clothes. Here, there were many hands in the design, too. Which meant that alongside a tiered lace dress of breathtaking simplicity, or a strict wool coat seamed to the Bar silhouette, there were odd constructions of patched-together textile, strange embroideries, dresses pulled off shoulders and layered awkwardly, a multitude of ideas combining to cacophony.
That plurality of voice isn't necessarily a bad thing. As much as we adore the romantic image of fashion designer as autocratic créateur, the reality of a creative team collaborating to realise a single goal was depicted by Frédéric Tcheng in his documentary, Dior and I, charting Simons' first collection for the house. But if there's no head honcho, who decides the goal? That's the issue here. Alongside the fit, which wasn't up to haute-couture standards on roughly two thirds of the pieces, where waists gaped and shoulders sagged. That will be rectified for the clients; I think they will order pieces. There was good stuff there. But really, this show was to tread water and bide time; create something new, achieve something tricky. Perhaps, sans Simons, that was the sole goal? If so, it was achieved.
Reuse content