Why does Peter Capaldi, in character as the twelfth Doctor and striking a memorable pose that he will surely soon regret, look like an ageing mod?
I am asking this question in my studio just off London's infamous Carnaby Street, as fine a place as you could imagine to consider the absurd comings and goings of fashion. From here on the third floor, the entire prospectus of human folly is free to view daily.
Of course, it was long before my time, but once on the street outside, models modelled bell-bottoms, tie-dyed tank tops, hot pants and crushed-velvet loons the colour of a bruised aubergine. Boys, meanwhile, might be in mohair suits with an Italian cut, thin reveres, Clarks Desert Boots and a Ben Sherman button-down held down by a "Slim Jim" tie.
Alas, a recent victim to rent reviews was Sherry's, a mod outfitter defiantly unchanged since the Sixties, but until last year still selling every item of the costume you would need to ride your Lambretta to Brighton and throw well-formed pebbles at long-haired rockers with sexual-identity problems camouflaged by biker jackets, jailhouse tatts and grease.
But now that Capaldi is in a well-publicised dark-blue Crombie overcoat, drainpipe trousers in matching colour, plain white shirt and stamp-on-your-head black DMs, it may not be too soon to say that the closure of Sherry's was premature. I care nothing for Doctor Who as television, but am alert to contemporary portents. Are we having a mod revival? Is the Doctor going to summon up the sensibility of 1966 among us all? The art-school-educated Capaldi was born in 1958, so the question is not beyond his personal experience, nor his intellectual range.
In pictures: What the Doctors did next
In pictures: What the Doctors did next
1/11 William Hartnell (1963-1966): He left Doctor Who due to his ailing health. After his time on the show he starred in several other things, including police drama series Softly, Softly: Taskforce and No Hiding Place.

Getty Images

Getty Images

2/11 Patrick Troughton (1966-1969): After stepping off the Tardis, Troughton had numerous film and television roles, including The Omen, Coronation Street and The Sweeney. He even appeared in the first ever episode of Inspector Morse.

PA

PA

3/11 Jon Pertwee (1970-1974): After bowing out of Doctor Who, Pertwee went on to play the scarecrow Worzel Gummidge in the children's programme of the same name. To a generation of children he was known as the Doctor, and to another he was known as the friendly scarecrow, achieving success even after Doctor Who.

Getty Images

Getty Images

4/11 Tom Baker (1974-1981): While his career never really took off or matched the popularity of Doctor Who, he had parts in television shows such as Monarch of the Glen in the noughties and the Dungeons and Dragons film flop starring Jeremy Irons. He recently made an appearance in the Doctor Who 50th anniversary special

Getty Images

Getty Images

5/11 Peter Davison (1981-1984): He has remained a permanent fixture on British television and starring in everything from Miss Marple, Heartbeat, Jonathan Creek, Midsomer Murders and At Home with the Braithwaites. More recently he has been a guest star on sitcom Miranda and is currently in Law and Order UK

Getty Images

Getty Images

6/11 Colin Baker (1984-1986): The actor has continued to have a strong career. Although his work does not reach the heights of his Doctor Who stardom, Baker has had roles in both television and most notably on stage. Last year he took part in reality television show in I'm A Celebrity... Get Me Out of Here!

BBC

BBC

7/11 Sylvester McCoy (1987-1996): He went on to play parts on stage, including The Lion, the Witch and the Wardrobe and the Fool to Ian McKellan's King Lear. Most recently played a wizard called Radagast the Brown in Jackson's The Hobbit trilogy.

BBC

BBC

8/11 Paul McGann (1996 & 2013): The 'Withnail and I' actor played the Doctor twice. Since 1996 he has had a successful career on British television.

BBC

BBC

9/11 Christopher Eccleston (2005): The actor who helped bring back Doctor Who in 2005 left after one series in the role. After exiting the show, he had success on the big screen in Hollywood films including G.I. Joe: The Rise of Cobra, The Dark is Rising and Thor: The Dark World.

BBC

BBC

10/11 David Tennant (2005-2010): He has had a tough time leaving behind his Time Lord past. His biggest success to date was as the hard-bitten cop Alec Hardy in ITV's crime drama Broadchurch. However, he has had numerous roles on stage.

BBC

BBC

11/11 Matt Smith (2010-2013): He has now left the role of the Doctor but he has not been resting on his laurels. He is starring Ryan Gosling's directorial debut 'How To Catch a Monster' and is currently playing Patrick Bateman in American Psycho the musical in the West End.

BBC
If you want to understand the public's status anxiety and its closely related hunger for symbols – and how clothes express these states of mind – you need only take a look in Doctor Who's dusty and cobwebbed wardrobe. I was under 10 when it first aired, but was alerted to it by a vigilant schoolmate and dutifully watched a later edition. And what I saw in black and white was horrifying. A crusty old spitting and hissing actor called William Hartnell had a flowing white mane, windowpane trousers and a scary black frock coat.
I was spontaneously reminded of gloomy pictures from the Brothers Grimm or Struwwelpeter, with a disturbing admixture of Billy Bunter and Alice in Wonderland. A young subconscious was pitilessly dredged. I suppose, looking back, this fearsome spectre was entirely congruent with the fretful spirit of the age.
Capaldi and his advisers must be aware of how heavily-freighted the Doctor's costume is with meaning. You doubt it? Consider, then, the alternatives available. Capaldi's Doctor Version 12.0 might have been dressed in an embroidered Afghan coat, beads and sandals. He could have had flowers in his hair and worn a bandit-style moustache. He could have been going to San Francisco. Instead, he looks as you might if queuing for an early performance by The Who at The Marquee Club. The mods were the first of their social class to acquire a uniform and the uniform they chose had hints of military conformity, just as their personal style spoke of discipline and obsession.
In this, the smartly cut Crombie overcoat played its part. At just the same moment, Brian Epstein put the scruffbag leather-trousered Beatles into smart Cardin suits, they also wriggled into Crombies. Here was a coat that worked like social armour.
Crombie has become an eponym; a generic. The name goes back to a woollen mill founded in 1805. Bolts of Crombie cloth were displayed in the epochal 1851 Great Exhibition of the Industry of All Nations, and later at Paris's Exposition Universelle of 1885. These bolts of cloth were to become materials of expression. In The Great War, Crombie manufactured a tenth of the greatcoats and they became known as the "British Warm". In 1932, a coat was made for the visit to the Scottish mill by the future King George VI. You can buy a re-issue of it today.
Associations with formalised violence and political control were enhanced when, in the Seventies, Crombie began, I do not know quite why, advertising in the Soviet Union.
In one poster, a model, apparently chiselled from stone, looks like a dimple-jawed Richard Burton. Hoping to play the same stunt, Mikhail Gorbachev wore a Crombie on his first visit to this country in 1984.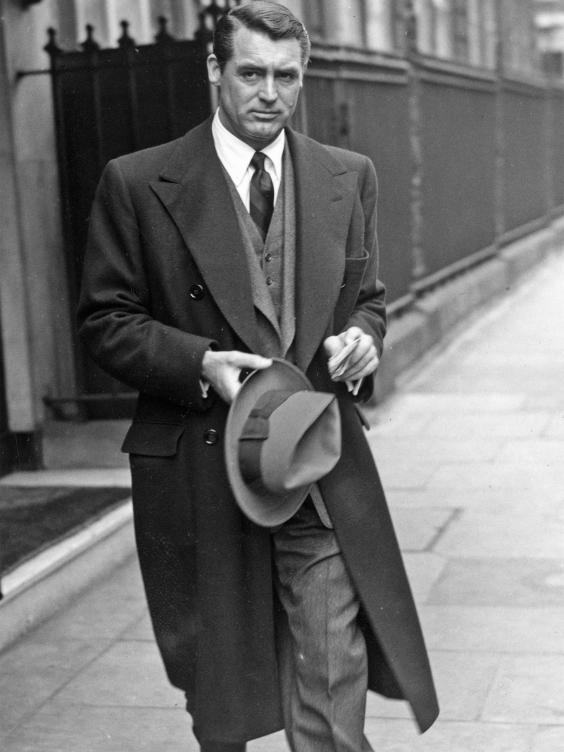 Three years before, President Reagan was wearing a suit made of his favourite Crombie cloth when he was shot. All of this adds, in delightful measure, to what Capaldi's fly-fronted, pillar-box red-lined "Retro" Crombie (with velvet collar) actually means.
I am not going to watch the new series of Doctor Who, but I am going to keep a very active look-out for the dramatic press releases which will surely create a theatre all their own.
The way I see it, what we are looking at here is the relaunch of two venerated British brands; three if you count Doc Martens.
A lot is being said about the public's appetite for heroes and for brands (although in our perplexed historical moment, human heroes and trophy brands are almost inextricably confused... perhaps the more so after today).
Crombie already has a commercial relationship with Globetrotter, the maker of idiosyncratically expensive suitcases, restored from neglect by an ironic revelation that vulcanised fibre board could be chic. I wonder if it is too daring to speculate that Doctor Who might now become a promotional vehicle for that sleeping army of forgotten British brands not yet acquired by voracious private equity?
What is a brand? It's that mixture of expectations and associations that all successful products possess.
Our expectations of Doctor Who include effortless time travel and subjugation of foreign or alien evil genius through cunning application of high intelligence.
Of course, that's just what's needed to revive the British manufacturing business. I don't see Peter Capaldi in his smart new Crombie as inconsequential telly PR.
I see it as a manifesto for business.
Reuse content