When you think of Hugo Boss, what do you think of? Starchy white shirts, maybe? Slick city suiting, tailored pinstripes, a mannish leather brogue?
Chances are you probably think of men, rather than women. And if they're women, they're mannishly dressed. So then, imagine a designer of frilly, fluffy and unabashedly feminine fashion taking the reins. Sounds like a risk. Actually, in the current tentative fashion landscape of softly-softly treading, it sounds like an impossibility.
But that is just what has happened at Boss. Jason Wu, the 32-year-old New York designer best known for expansive evening dresses worn to events such as, say, the presidential inauguration (he's dressed Michelle Obama for two of them), was appointed artistic director of Boss's womenswear line in 2013.
No one is more aware of the incongruity of the situation than Wu himself. "If you did a survey of the person that would be the best match I don't even think my name would come up," he says, laughing a little. "I don't think people think of me in that way at all." He's talking in the New York HQ of Hugo Boss – on Seventh Avenue, in the heart of the city's fashion district. It isn't glamorous: it's a distinctly working space. All around, painstakingly sewn samples glisten inside polythene bags, the bare bones of the winter 2015 collection due to be shown on Wednesday afternoon. Sewing machines whirr with last-minute alterations, but there's none of the frenzy usually associated with the final countdown to a fashion show.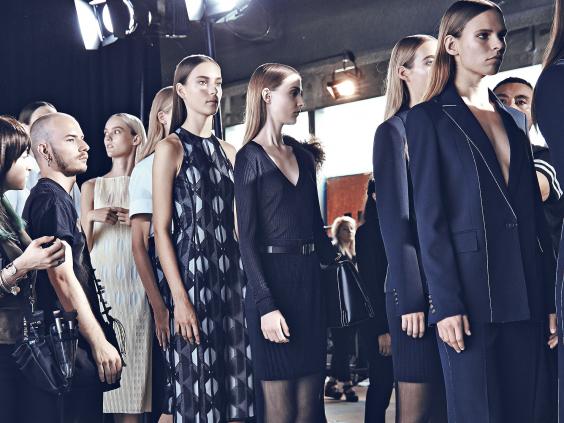 That's because Hugo Boss is as enormous and well-oiled machine. It's one of the things that drew Wu to the collaboration. A few other fashion houses approached him about lending their flagging creative direction a hand. "But I thought, do I want to work for a $200m company, or a $2.5bn [£1.6bn] company?" says Wu, laughing a little. Actually, it's a tad more: Boss's worldwide revenue, in sterling, amounted to £1.8bn in 2013. The company has more than 6,000 points of sale in 124 countries, employing almost 10,000 people.
Perhaps, for Wu, his Boss is about contrast. After all, how to reconcile that streamlined Hugo Boss trademark with a designer whose style is perhaps described as the digital generation's Oscar de la Renta? "We are very opposite," he says. "When I approach my own collection it's about my own references and things that I grew up loving; the reasons that I got into fashion. My references are much frothier, I love a lot of embellishment. But at Boss I have to approach it very differently; from the angle of what Hugo Boss is, what it was, and where I would like to take it. It's me, but I'm translating their heritage."
Wu's own heritage is somewhat unusual: born in Taipei in Taiwan, he moved to Canada as a nine-year-old, speaking no English. "I think I knew how to say 'hi,' and 'apple,' something like that," says he, self-deprecatingly.
"I needed to find something to relate to in the language and I found this stack of fashion magazines my mom had left around. I was looking at the shoots, and I wanted to read about the fashion designers. So I got a dictionary and was going back and forth, and that's really how I learnt the language. I always loved art and design, but that's really when I started to love fashion, too."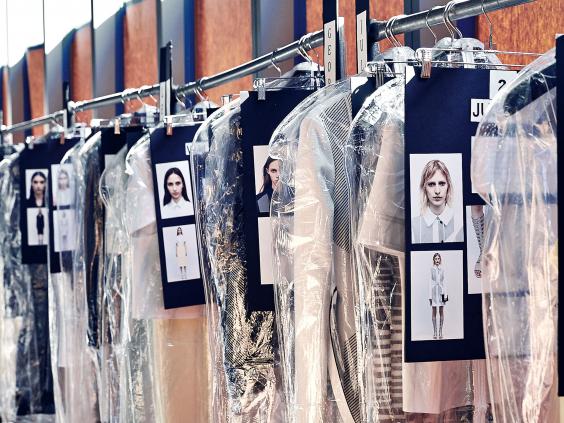 He also loved dolls:  when he was younger, he designed them for a living, creating a range for the American company Integrity called "Fashion Royalty", which were grown-up collectors' items rather than toys. Wu, however, was still in high school when he conceived the range, using his earnings as seed capital to launch his own label after leaving Parsons School of Design in 2007, before finishing his degree.
If some of those early collections, with their gleeful ruffles, overblown florals and oh-my-god-I''ll-never-find-my-ankles-again crinolined skirts, had a touch of Hello, Dolly! to them, Wu is now offering dresses that are sleek and sophisticated. His own-label spring collection riffed on classic American sportswear and elegant, slender evening dresses crusted with bugle-beads – presented just hours after Wu announced the sale of a majority stake to newly established investment company InterLuxe.
His Hugo Boss collection, his second catwalk show for the house, was displayed in a glistening new skyscraper at 4 World Trade Centre. The surfaces of the Manhattan skyline were reflected in graphic embroideries, and on deftly embellished skirts teamed with crisp, mannish white shirts – an appropriately neat marriage of masculine and feminine.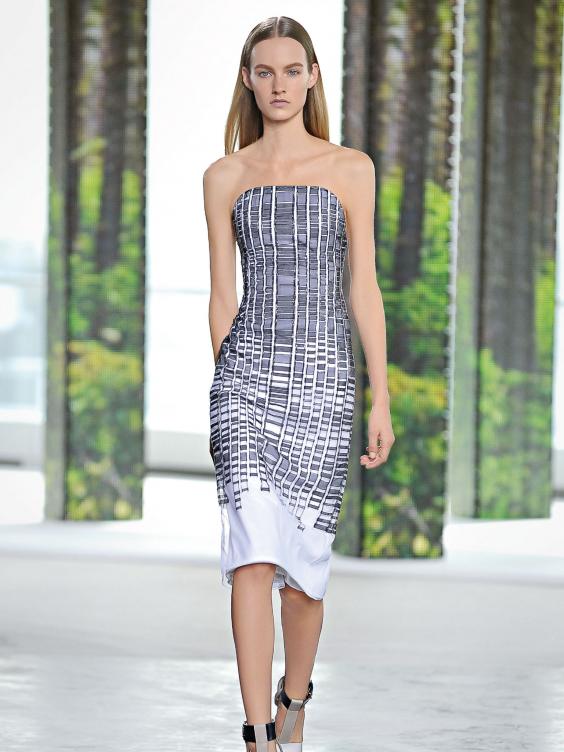 There was also a deft conversation between European and American styles: Hugo Boss's headquarters, a Bauhaus-ish campus near Metzingen in Germany, were a point of reference for Wu's take on geometric decoration. And as for Americana – there's nothing more American than dressing the First Lady. "I was almost in blissful ignorance at the time," he says, of designing the 2009 inauguration gown that shot his name from fashion game to stratospheric fame.
"I actually packed the gown and flew it to Chicago myself! I didn't want to take any chances! I didn't know she would wear it until the night." He goes a bit gooey-eyed when talking about it, endearingly. "When I moved to America to be a fashion designer, I never imagined I would become part of American history, that my work would be cemented in a museum long after I've gone. For me, that was  a really personally significant moment in my life."
Wu isn't talking big: that first gown is now in the Smithsonian, just as Wu is cemented in the public consciousness. Example? A 300lb truck driver shouting his name at a New York intersection, just days after Obama's 20 January inauguration. "He definitely didn't work in the industry," Wu deadpans.
That's the kind of recognition many designers – and brands – would kill for. Couple it with Wu's talent, and it's a recipe for startling success. Not looking quite so out-of-place in that big Boss chair now…
Reuse content