Last September, a phalanx of schoolchildren danced their way across a stage in Manhattan. Nothing so remarkable about that: only these schoolchildren were actually fully grown adults, and the dance was a painstakingly choreographed piece by the New York City Ballet, titled Clearing Dawn and devised by Troy Schumacher. The school uniforms weren't expressly called for, but were rather the creation of the American fashion designer Thom Browne – a man who, oddly, has claimed he "doesn't really think" about movement, and whose clothes have included hobble skirts for men, and straitjackets for women.
So where did the unholy union come from? From Sarah Jessica Parker, who alongside her roles as actress and high-profile clothes horse (I'm not a fan of the overuse of the phrase "fashion icon"), is a ballet fan. Which is actually putting it mildly: a former student of the School of American Ballet, she was executive producer of a 2013 series documenting life behind-the-scenes at the New York City Ballet, as well as being Vice-Chairman on its board of directors. That is presumably how, in 2012, she cajoled the company to fuse its autumn gala with fashion, and hand costume creation over to fashion designers.
There have been designs by Valentino and Olivier Theysken – and last September Browne was joined by Carolina Herrera, as well as the London designers Mary Katrantzou and McQueen's Sarah Burton. That led to some neat fusions; and though Herrera's chiffons and Burton's embroidery felt a little "by the book", it was canny to pair Katrantzou with Justin Peck, whose work Belles-Lettres ("Fine Writing") echoed her alphabet-inspired pre-spring 2014 collection. You were left wondering which came first: her letters, or his?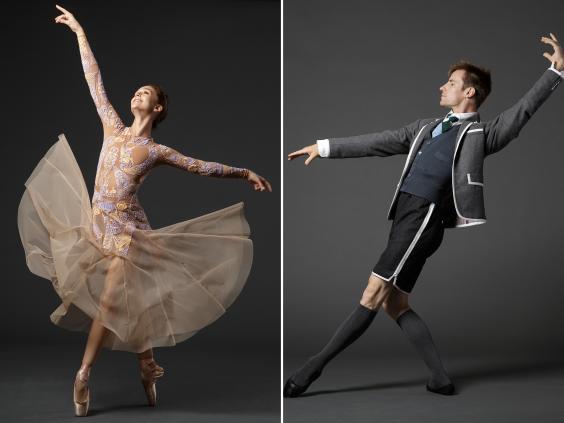 All that illustrates a balletic fascination with fashion. But is the opposite true? Well, kind of. If we're calling out specific influences, then the fluffed tutu skirts of the closing gowns at Valentino's January haute couture collection had a dancing grace, while the tulle crinolines and Merce Cunningham-y stretch catsuits of Raf Simons' Dior show had an urgent energy.
Indeed, there were numerous prescient examples over the past six months, but it feels trite to specify, given that fashion's fandango with dance isn't a mere one-season wonder. An exhibition at New York's Fashion Institute of Technology recently charted just that history, including everything from turn-of-last-century Diaghilev-inspired Poiret to ballet duds by Halston and Stella McCartney. "Dance and fashion are the two embodied art forms," says Professor Valerie Steele, the exhibition's curator – highlighting the corporeal in both, rather than facing off the corps and the catwalk. "Dance has profoundly influenced fashion design, and fashion designers are increasingly asked to create costumes for dancers."
"It's an essential coming together of two complementary worlds," says Jefferson Hack, the editor in chief of AnOther magazine. He's talking specifically of a project titled MOVEment that his magazine undertook, making fashion films with dance companies and a raft of fashion houses. But he could be speaking generally of the fusion of fashion and dance. MOVEment's films couple labels such as Prada, Gareth Pugh and Alexander McQueen with choreographers such as Wayne McGregor and Marie Agnès Gillot – the "Chanels" or "Diors" of their field, for the uninitiated. They make for compelling viewing – particularly, like that Thom Browne-clad corps de ballet, when dressed in clothes that don't strike you as all that suitable for ballet.
Summer trends no-one wants to see
Summer trends no-one wants to see
1/7 Harem Pants:

They might be the most comfortable trousers you ever owned, but the low crotch on these pants is not flattering on anyone.

2/7 Short shorts:

Ignore your less is more instinct when it comes to denim shorts – no-one needs to see your butt cheeks however lovely they may be. Opt for the far classier smart city shorts to look elegant during a heat wave.

Getty Images

3/7 Fanny packs or bum bags:

Ahh, the comfort of being hands-free. Many fashion labels, from Tory Burch to Asos, have adapted the funny, I mean, fanny packs in their latest collections.

4/7 Boyfriend jeans:

Women might love these jeans mainly for the comfort of wearing a baggy fit rather than the usual tight skinny jeans, but they certainly aren't your boyfriend's favourite.

5/7 Socks and sandals:

Nothing says tourist like a pair of white socks teamed with sandals – despite attempts to make it stylish, we'd still advise you avoid.

Getty Images

6/7 Socks and sandals:

Socks in heels despite attempts to make it stylish in recent seasons with statement stocks teamed with summer sandals, we'd still advise you avoid.

Getty Images

7/7 Tevas:

Like Birkenstocks, the simple sport sandal once considered the ultimate faux pas, is trying to make a comeback for summer.
Thus, Prada's spring/summer 2015 collection has nothing balletic about it – the designer-clad dancers, caught in movement, resemble the artist Robert Longo's Men in the Cities series. Perhaps Prada's was the most striking because it was the least balletic?
However, such an approach can ruffle feathers.Balanchine's New York City Ballet, founded in 1948, has been marked out by its comparative minimalism. His style is often dubbed neoclassical, and dancers are clad in simple leotards, skirts and tights. Fusing that with fashion can lead to arresting, incongruous results, against which some react aggressively. The New York Times' ballet critic, for example, lambasted the Valentino-costumed, Tchaikovsky-scored Bal de Couture for "trivialising both genres".
"As opposed to a model walking down a runway, they're basically clothing an athlete," says Marc Happel, director of costume at the ballet, about the challenge facing the designers with whom the company collaborates. And different designers address that in different ways.
The latest step in this pas de deux between fashion and dance is less a leap, more a grand jeté. Hussein Chalayan – who, incidentally, also created a film for AnOther's MOVEment series with the Tokyo-based Voguing YouTube duo AyaBambi – has devised not only costumes but an entire ballet, titled Gravity Fatigue. He worked with choreographer Damien Jalet, but the credited director is Chalayan. It opens at Sadler's Wells this autumn, allowing the designer to "showcase ideas which I have been collecting for many years to build narratives around and with the body".
Maybe that's the connecting thread between those two disparate realms: simply, the body. But rather than fluffing tutus and tugging tights, it's more interesting when designers think outside the dance box – and when dancers let them.
Reuse content