The crossover between fashion and technology is a promised land, a fertile breeding ground, an area ripe for innovation. In theory, at least.
The execution of that theory has been another matter. It has led to the clunky, the clumsy and the downright weird: Google Glass is a very expensive punchline to a rather humourless joke at this point, despite the efforts of Diane Von Furstenburg and American Vogue to lend it fashion kudos;  and while it's too early to tell if the much-hyped Apple Watch will live up to its intended style credentials, the middle-aged men and adolescents who've adopted them thus far won't be mistaken for fashion plates.
But there is one digital arena in which fashion and beauty are garnering success: software; or in the parlance of tech 2.0, "apps".
It's well documented that luxury fashion brands were largely reluctant to embrace the internet – it was seen as a flash in the pan, far too disruptive and not exclusive enough, and was thus ignored for as long as possible. Although every label now has a pixelated presence, not all of them sell ready-to-wear online, offering instead bags, footwear or beauty products only, and a few simply do not sell fashion online. (That would be Céline and Chanel, although the latter recently dabbled with an exclusive fine-jewellery pop-up on Net-a-porter.com and has announced plans to launch e-commerce by the end of next year.)
In pictures: Six free fashion apps to get now
In pictures: Six free fashion apps to get now
1/6 Six free fashion apps

Lyst by Lyst: aggregates items from your favourite shoppable brands alongside inspirational editorial content. iOS

2/6 Six free fashion apps

Asos by asos.com: combines catwalk videos, new-in and customised promotions, with ability to share items on WhatsApp. iOS, Android

3/6 Six free fashion apps

Laundrapp by Laundrapp: on-demand laundry and dry-cleaning service in London, Birmingham and Edinburgh. iOS, Android

4/6 Six free fashion apps

Fast Beauty To Go by Blow Ltd: on-demand beauty appointments in central London locations. iOS, Android coming soon

5/6 Six free fashion apps

Rewards by Harvey Nichols: a 21st-century take on the department store's old fashioned loyalty card. iOS, Android

6/6 Six free fashion apps

Discover by Farfetch.com: city guides with a fashionable twist and unbeatable insider knowledge. iOS
Compared with their tardiness in reacting to the internet, then, the speed with which the mobile market has been adopted is head-spinning, with app innovations leading the way. From mobile-friendly marketplaces and digitised publications to customer loyalty schemes, travel guides and even commerce-enabled social networks – there's an app for it.
The newest – and perhaps the one with the most fanfare surrounding its launch – is the Net Set, launched by Net-a-porter.com in May. The "shoppable social network" was created to unite the site's international customer base through shared loves – be they brand, aesthetic or fashion-influencer. Cherry-picking behaviours and formats used elsewhere in the social realm, users can upload images of people and places as well as clothing, which are then "loved" and commented on, complete with hashtags by other users.
"We aim to put the social element back into shopping," says Sarah Watson, vice president of the Net Set. "Net-a-porter.com has a following of over 4.2million across our social channels and we're seeing a significant percentage of sales – over 40 per cent – now coming from mobile devices, so building our own social network seemed like a natural next step." And it's certainly proving successful so far – with more than 60,000 downloads since it launched. However – perhaps because, for some, the solitary nature of online shopping is empowering rather than isolating – it has been designed to sit alongside the brand's existing mobile shopping app rather than to replace it entirely.
The Net Set will soon have some competition: last month, Pinterest and Instagram announced plans to introduce "buy now" facilities for brands on the site (although the latter will do so through on-site mini-browsers, taking you to a promoted brand's own sales site). And while the products will no doubt take some time to establish themselves, the beauty of these sites is that they are open to everyone – and their staggering membership numbers reflect that – while the Net Set can only be accessed with an invite code.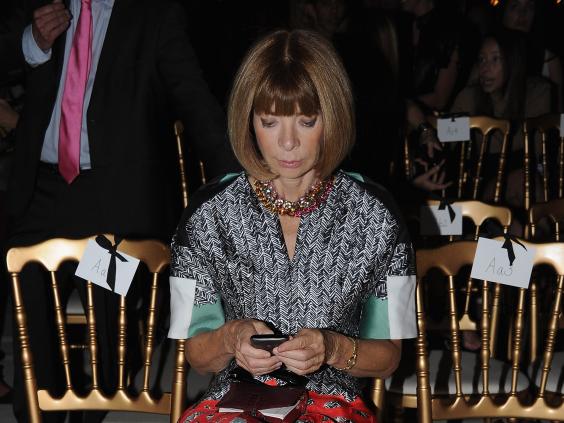 We now conduct increasing amounts of our lives online – through our phones – and the speed of technological developments reflects that. Since Asos launched its shopping app in 2011, it has been downloaded by nearly 9.5million users globally, with localised versions for eight territories including the UK, USA, France, Germany and Russia.
Farfetch.com is another retailer focusing on the worldwide element of the web: its marketplace enlists the staff of the 300 international boutiques to create unique city guides available on its Discover app. As well as helping customers explore the world, the site will also tap into the trend for bringing services to the consumer when, later this week, it launches a Straight to Yacht delivery option.
That "Uberfication" of service industries is one of the key developments of the mobile marketplace. Instant, on-demand access to laundry services, food delivery and, of course, cabs is changing the way we live. And – yacht-owners aside – it's one that's seen as largely democratic, placing the consumer in control in a manner that was once reserved only for the seriously wealthy or well-connected. And the on-demand idyll has spread to the beauty and lifestyle market, too, with a plethora of programmes offering access to hair stylists and beauty therapists who will come to the customer.
And that's a key take-away: convenience is king among the new guard  of shoppers, meaning that today's customers really do have the whole world in their hands.
Reuse content