Revolving doors
With new names placed at major-league players Dior, Saint Laurent and Balenciaga last year, we assumed fashion's upheavals were done for the next decade or so. Think again. Out with the old, in the with new: 2013 was another year of our fashion boundaries shifting, most seismically, Marc Jacobs leaving Louis Vuitton after 16 years to focus on his eponymous label. His replacement? Nicolas Ghesquiere, hitherto of Balenciaga. He shows his first take on the LV legacy at Paris Fashion Week in March. Stuart Vevers' leap from luxe-but-niche Spanish house Loewe to American accessory behemoth Coach also raised eyebrows: Coach is a job so cushy it was rumoured it could coax Jacobs from Vuitton. And Vevers' replacement at Loewe is young Irish designer and new LVMH stablemate JW Anderson. More designers taking a spin in fashion's ever-revolving doors were Marco Zanini (formerly of Rochas, now helming Schiaparelli), Alessandra Faccinetti (now at Tods), Emma Hill (no longer at Mulberry), and the house of Mugler (out with Nicola Formichetti, in with David Koma). Let's hope that's the end of these designer musical chairs. At least for a season or two.
Stylish spats
Fashion loves a catfight, and 2013 gave us plenty, starting with Jean Paul Gaultier, who announced on Twitter that style.com critic Tim Blanks was banned indefinitely after a chiding review of his winter haute couture collection (fashion's memory span is short: they had made up by Gaultier's September S/S 2014 show). Then, in October, notoriously ban-happy Saint Laurent designer Hedi Slimane severed a  15-year relationship with the Parisian store Colette because it sold a t-shirt spoofing his rebranding of the house, bearing the slogan "Ain't Laurent Without Yves". Collette was barred from the spring Saint Laurent show and its order was cancelled. Dolce & Gabbana, however, takes the bruschetta: its spat was against the Italian government, and specifically the city of Milan, for the reaction to charges of tax evasion to the tune of £342m. The label's nine Milan shops, its Martini bar and Gold restaurant were closed for three days in July this year, "in indignation", according to notices posted prominently in the windows.
Big buy-outs
The conglomerates that still dominate the international fashion scene – namely, Kering and LVMH – went on a shopping spree in 2013. The former snapped up major stakes in London designer Christopher Kane and New York new blood Altuzarra – Kane is already on course to open his first stand-alone boutique in 2014. LVMH, meanwhile, took stakes in accessories designer Nicholas Kirkwood and the JW Anderson label, simultaneously appointing Jonathan Anderson head of Loewe, aged just 29.
Lacroix, sweetie
Elsa Schiaparelli isn't a name that resonates in the public consciousness – despite a 2012 retrospective at the Metropolitan Museum, archive pieces fetching six figures in recent auctions and the fact her Surrealism-inspired haute couture still causes palpitations among the fashion cognoscenti. Leave it, then, to Absolutely Fabulous haute couturier Christian Lacroix to garner a firestorm of publicity around the relaunch of the Schiaparelli brand. He made a triumphant return to fashion in July this year, showcasing a selection of styles inspired by the house's trademarks. Marco Zanini, Schiaparelli's new creative director who debuts his designs in January, has a hard act to follow.
Arty farty
Fashion and art have never been quite so closely intertwined as in 2013. Maybe it's the Schiaparelli effect – or, more likely, Lady Gaga's ARTPOP album, whose launch visuals and videos fused the work of Jeff Koons with fashion photographers Ines van Lamsveerde and Vinoodh Matadin. However, the latter feels less cause than effect. Kim Jones teamed up with the Chapman Brothers back in January 2013 for his winter Louis Vuitton menswear collection: gremlins and bog-eyed monsters crawled their way across carpet-bags and intarsia sweaters. This summer, Miuccia Prada collaborated with Damien Hirst to create a selection of bags, encasing real insects in plexiglass. The bags were limited to a run of 20 – like artworks – and were sold by silent auction. Miuccia Prada is very arty: she has a Hirst sheep on display at her Milanese HQ, and also employed a selection of artists and illustrators – Miles "El Mac" Gregor, Mesa, Gabriel Specter, Stinkfish, Jeanne Detallante and Pierre Mornet – to decorate the backdrop to her spring 2014 show. Some of their work cropped up on the accessories and clothing items, too. The acme of fashionable artiness? Karl Lagerfeld staged his Chanel show, featuring paint-daubed prints and quilted artist's portfolios – in a fake Tate, filled with ironic Chanel-themed "artworks" specially manufactured for the event. Many of the guests, ironically, wanted to buy them.
In the pink
Fashion would have us believe the mantra of 2013 was "Think Pink". At least as far as our outerwear was concerned. Cerise coats were sent out on catwalks as diverse as Miu Miu (pastel and polka-dotted), Fendi (fluoro shearling) and Rochas (blush alpaca). Marks & Spencer doesn't strictly count as catwalk, but its generously-lapelled prawn-cocktail-hued overcoat was a ubiquitous outerwear emblem of the autumn/winter season. All pretty, in pink.
Did anyone wear actually wear those rose-tinted throw-overs? Not that I saw. But they looked great on magazine pages, in shop windows, and will doubtless still have a charm on the sales rails.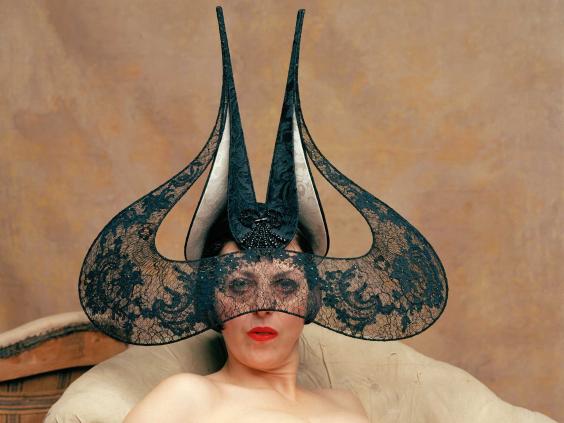 Blow job
That legendary stylist, talent-spotter and exuberant lover of all things fashionable and headgear-related, Isabella Blow, passed away in 2007. But 2013 was undoubtedly her year. An exhibition charting her exuberant personal style, Isabella Blow: Fashion Galore!, opened at London's Somerset House in November, showcasing designs by designers she championed, including Alexander McQueen and Philip Treacy. Those  designers were often inspired by her flamboyant personality, while the clothes they made were often worn by "Issy" herself until they fell apart. A catalogue of the show's exhibits – a careworn selection of some of the finest fashion of the past 25 years – was shot by Nick Knight on Isabella's family estate, while fellow English Eccentric Lady Amanda Harlech styled models sporting Isabella's greatest hits. She also scooped up  the Isabella Blow Award for Fashion Creator  – thanking Issy all the way.
Kate the Great
Gisele Bündchen may have made the most money – for the nineth consecutive year – but Kate Moss was unofficially crowned Supermodel of the World for 2013. This year, Kate the Great re-inked her clothing deal with Topshop (the next line comes out in early 2014), and bagged a Special Recognition trophy at the British Fashion Awards for her 25 years in the business, presented by her friend Marc Jacobs, whose penultimate Vuitton show Moss closed. She became a Contributing Fashion Editor at British Vogue – and, naturally, also featured on the magazine's cover – not once, but twice, in less than 12 months.
In from the cold
Shunned in 2011 following his anti-semitic rant, and noted for his absence throughout 2012, 2013 marked the year British designer John Galliano began to make his tentative return to the fashion industry. In February, he undertook a three-week internship with Oscar de la Renta, the high-priced, high-profile granddaddy of Seventh Avenue couture. The sinuous pencil-skirts, puckered-peplum jackets and theatrical touches of de la Renta's winter 2013 collection vibrated with Galliano's romantic handwriting. In June, he made an appearance on US talk show Charlie Rose to discuss his rise and fall, while a piece in July's Vanity Fair, titled "Galliano in the Wilderness", featured his first print interview since his dismissal from Dior in February 2011. Fashion fans intimate that Galliano is primed to replace the 81-year old de la Renta imminently.
Whenever, and if ever, that happens, you can rest assured that John Galliano will be ready for his close-up.
Reuse content