What does London Fashion really mean? If you sum up New York as glossy and blown-out, Milan as sexy and full-bodied and Paris as chic, sleek and high maintenance… well, you could be describing hairdos.
But London doesn't fit one of those easy descriptions. Neither do those cities, in all honesty. However, our capital's clobber is the hardest of all to nail down into a pithy sound bite, because its designers defy definition. It's rare that London speaks with a single voice: and the sheer variety of London fashion is it's greatest strength.
Take this autumn/winter season. In fact, take the 24 hours from Sunday through to Monday last week, when we saw three of the strongest collections of the week, from Mary Katrantzou, Christopher Kane and Tom Ford. Their aesthetics oscillated from Katrantzou's lacy, embellished-to-the-hilt gowns and intricate intarsia knits, through Kane's meshing of mohair, fur and slippery nylon, to Ford's big, brazen Texan couture numbers, all quarterback shoulders and needle-heeled cowboy boots with his initials picked out in diamante on the ankle.
All of those collections could, in truth, be shown anywhere in the world. Kane's new commercial gloss could have pepped up a staid New York Fashion Week, Katrantzou's work would have shone even on the crowded Paris schedule, and Ford's frocks would have gone down a treat in Milan. But that mix? That mix is only found here, among the fashion we classify as British. That's an odd turn of phrase, but London fashion is a global enterprise. That globalism is not only reflected in the exporting of designers' clothing. The British Fashion Council is the opposite of Ukip: half the talent shoring up the London schedule didn't grow up here. Ford is American, Katrantzou Greek, you also have Canadians (Erdem Moralioglu, Thomas Tait, Mark Fast), Italian (Antonio Berardi, one half of the Peter Pilotto duo), Portuguese (Marques'Almeida) and, of course, a batch of home-grown English, Irish and Scottish names. And Welsh, courtesy of ex-Strictly Come Dancing hoofer Julien MacDonald.
In pictures: Fashion Week round up
It's satisfyingly tricksy to talk about emerging trends or feelings or focus when you're looking at London fashion. This time around, there was lots of black – Kane, Ford and Erdem all focused their collections around it. There was plenty at Peter Pilotto, too, hitherto designers known for using any colour bar the inky stuff. It gave their mother-of-pearl embroideries a striking luminosity, as did its juxtaposition against multi-hued, multi-patterned, multi-textured knitwear, a riotous interlude based around surfing and snowboarding that stole all the attention. It felt new and fresh and exciting for this print duo, fresh recipients of the BFC/Vogue Fashion Fund.
There was also, apparently, an urge to dress up again. Simone Rocha paraded gold embroidered laces and prom dresses  cross-hatched with cages of mohair in cardinal red, even banding her playful ruffled day-coats with Elizabethan-style embroidery. There was a new sumptuosity to her offering, which seems to get stronger and more mature every time you look at it. Marques'Almeida referenced the late-Nineties shows of John Galliano and Dolce & Gabbana, bias-cut satins, panné velvet and swathes of multicoloured sheepskin combined with their already-signature frayed denim. It had a strange-but-compelling beauty. Beauty in strangeness has sort of become J W Anderson's hallmark, and he too gussied up his signature conceptualism for winter, allowing bias-cut trains to sweep grandly across the floor, slicing jackets wide at the neck and slipping them off the shoulder to expose a hint of clavicle. There was a sense of ceremony – but it was more 18th-century lever or coucher than Bafta or Oscar. There was also a sense of JW Anderson expanding his remit, and pushing himself into uncharted territory.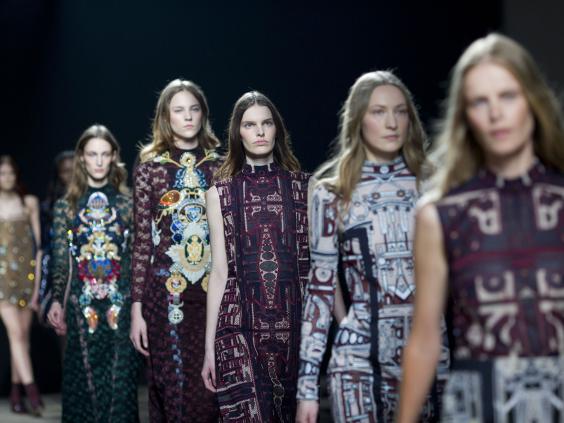 Maybe that's the overall trend of London Fashion Week, and indeed the overarching characteristic of London fashion as a whole. Uncharted territory, bravely going where few designers have gone before. Case in point: Meadham Kirchhoff. Would you ever think the agitated, agitating agit-prop princes of London fashion could produce a perfume? Especially one titled Tralala that smells like a Thirties boudoir staple? There was something of the old-school loveliness about their show also, all driving lace-edged georgettes and chiffons and soft tweed suits knotted up with bows. Gentle is the word, especially when contrasted with the violence and darkness that sometimes infuses their visions with a frisson of menace. There seemed a calmness to this offering, a willingness to simply indulge in the decadence of beauty for beauty's sake.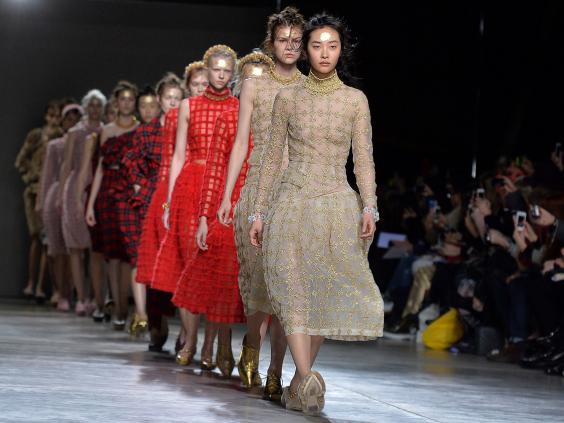 That is something London isn't so good at – the kind of sheer aesthetic indulgence other capitals seem so willing to wallow in. British designers seem bent on stitching something more into their clothes than interlining and sequins. Even the perfect polish of Tom Ford had something more interesting behind it this time, a heartfelt homage to the US from an enamoured expat. American football jerseys as sequinned evening dresses referenced back to a famous Geoffrey Beene Sixties number, an icon of mid-century American fashion. At least, for the fashion literate it did. For everyone else, it was a hearty slice of Americana, like those semi-Santa Fe ponchos, the stiletto rodeo boots in pale-blue crocodile, and the riff-referencing on Ford's own greatest Gucci hits of the late Nineties, new classics of American fashion design.
The most important thing at Ford wasn't the clothes themselves, but what was inside them. I'm not talking Stella Tennant, Karen Elson nor Liberty Ross – although all made  welcome reappearances. This Tom Ford show, like the rest of London's best, resounded with soul. And, if you think about it, that is ultimately the real trademark of London: fashion with meaning.
Reuse content