Conspicuous leisure, expressed through dress, has been an indication of wealth for thousands of years: the implication of those cumbersome ruffs, capes and padded doublets was that the men sporting them didn't have to manually labour.
They were a mark of wealth and status. Today, men may labour at the gym, but the conspicuous display of leisure still has an odd validity in the world of contemporary luxury.
That's a rather intellectual preamble to Frida Giannini's nautical-inspired Gucci collection, the biggest show scheduled on the penultimate day of Milan's spring/summer 2015 menswear week, but it's an interesting undercurrent (pun intended) to the cliche of sailor chic.
It's probably more intellectual than really needed. Giannini's collection delivered the expected elements of the yacht-club look: tricolour palette, boxy anchor-button blazers, cross-body Bosun bags and the flood-length cropped trousers that have been a tidal-wave trend for next season. "Mankle" is the irritating portmanteau-du-jour for this slither of exposed flesh. At least on-deck it keeps your hems dry.
Those aesthetic tropes are well-established in the cannon of preppy Americana, inescapably associated with Tommy Hilfiger and Ralph Lauren. It was unusual to see those kind of clothes in the context of a European luxury house – but still, they didn't feel especially European. Or particularly Gucci. The house's traditional fashion power-play is sex – it's what Gucci built its fashion identity on in the nineties, and when Giannini nails it, it yields her best work. At sea, sex could easily have slid into the salty, sunbleached sexuality of Alain Delon in Plein Soleil, or even the cruisey sleaze of On The Waterfront.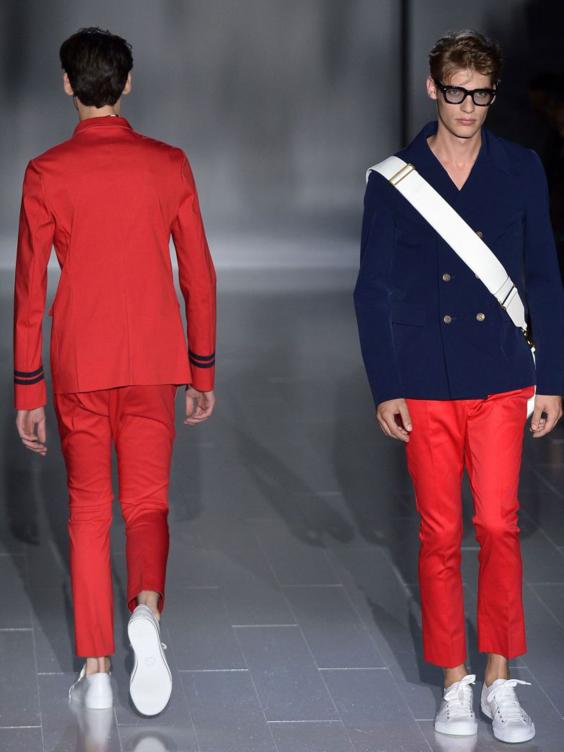 More fundamentally, when stripped of the heavy-handed HMS Pinafore-style referencing, the important frisson of got-to-have-it desirability eluded this Gucci collection, even when it came to the important accessories – duffely, rope-tugged sack things and the classic snaffled loafer that never seems ready to die.
Giannini's Gucci sailor boys were clean-cut, ship-shape, but ultimately a bit too wet to really excite anyone. It felt like it was treading water.