Leaning forward on his stool, John Simons touches the peak of his white Failsworth linen eight-piece cap and tells the tale of how, in a tailoring career spanning six decades, his influence has become entwined in the very warp and weft of British men's style.
He is sitting in a rear alcove of his clothes emporium, surrounded by an elegant dress code that brings to mind the Hollywood actors and modern jazz players of the late 1950s is all around him; rails of natural-shoulder J Keydge cotton jackets and shelves laden with Bass loafers and Florsheim Imperial brogues.
Simons, more than anyone, is the man who brought the "Ivy Look", the apparently effortless American cool of the postwar years, to these shores. "It was an egalitarian tradition for a society that didn't really have a lot of history in that way," he enthuses. "It was like Savile Row for everyone." His championing of Ivy moulded the styles of a succession of British youth cults, from Mods to suedeheads and skinheads.
It was 60 years ago that Simons, then aged 15, began his first enterprise, Far Out Tailoring, using family contacts to supply bespoke suits. His devoted clientele now includes such style arbiters as Paul Weller, Kevin Rowland, Robert Elms and GQ editor Dylan Jones. Today's young dandies of the so-called hipster generation could look at a photo of the young Simons, hanging out with his mates in button-down shirts, narrow ties and short-length trousers, and see something of themselves.
John Simons' fashion legacy
John Simons' fashion legacy
1/10 John Simons Apparel Company

Shoe brands stocked by Simons including Bass

Cat Garcia

2/10 John Simons Apparel Company

Harry, John's dad, who made womenswear for C&A, circa 1935

John Simons Apparel Company

3/10 John Simons Apparel Company

A selection of shoe boxes at the shop

Cat Garcia

4/10 John Simons Apparel Company

The Ivy look, including eight-piece caps

Cat Garcia

5/10 John Simons Apparel Company

Eight-piece caps piled high at the shop

Cat Garcia

6/10 John Simons Apparel Company

A flier commissioned by J Simons in 1990

7/10 John Simons Apparel Company

The Squire Shop on the King's Road, 1972

John Simons Apparel Company

8/10 John Simons Apparel Company

John and his son Paul in the shop

Cat Garcia

9/10 John Simons Apparel Company

John and a friend on holiday in Devon, 1958

John Simons Apparel Company

10/10 John Simons Apparel Company

Vintage signage for Ivy brand Pendleton

Cat Garcia
At the age of 76, as he scuttles around the three rooms of his shop, he has the chutzpah to look the part in bright-green cotton shorts and cool Walsh trainers, a pair of shades tucked into the top pocket of his Keydge jacket. "Dressing smart is a lifetime habit," he says. "It also confirms my belief in the clothes we've sold – they've stood the test of time."
He will be an Ivy evangelist to the last. "I feel very young and in touch, and still wake up with new ideas. I've always been able to sense the unspoken needs of a generation," he says, and voices some approval of current trends in men's fashions. "I like the fact that they are wearing their trousers narrow and short now, it's quite cute and snappy. The average look now is a bit better than it was – though I'm not that keen on the average look, ever."
It was Simons who named the Harrington jacket – once again the height of fashion and an essential item in the wardrobe of the street-smart and well-heeled for three generations. "It was no big deal," he says, of the moment when he climbed into the window of The Ivy Shop in Richmond, south-west London, to attach a buff-coloured card to one of the G9 golfing jackets he had newly acquired from the British clothes manufacturer Baracuta. On the card he wrote, in felt-pen calligraphy, "The Rodney Harrington Style", a reference to a newly popular 1964 American television soap opera.
"I was watching a programme called Peyton Place on TV and Ryan O'Neal was [playing] Rodney Harrington, and he wore that jacket all the time. So just like I did when I was doing all the window displays, I made a ticket," Simons explains. "After a while we got fed up writing it all out and just called it the Harrington. [Baracuta] didn't call it the Harrington jacket; we did!"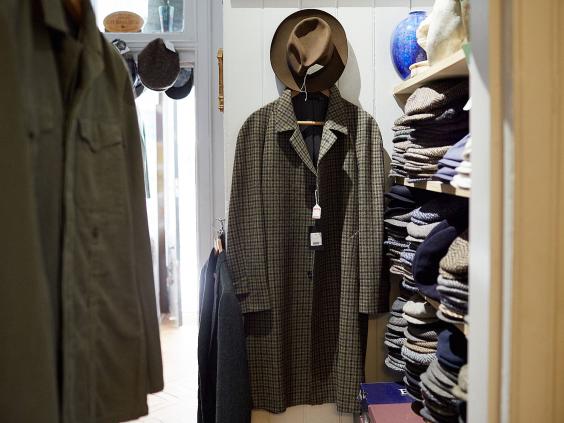 An olive Harrington hangs in pride of place behind the glass at Simons' shop in Chiltern Street, Marylebone, his version of the classic and carrying his own label: John Simons Apparel. The display comprises rails of French-made workwear jackets, American button-downs and English raincoats, alongside vintage signage for Ivy brands such as Bass and Pendleton. The composition is set off by a wooden sculpture by renowned artist Eduardo Paolozzi.
Simons was 16 when he was appointed assistant window dresser at Cecil Gee, a three-storey menswear shop in Charing Cross Road, and was given two days off a week to attend St Martin's School of Art. "I did the Distributive Trades course," he says. "I learnt a hell of a lot about window-dressing but also about art. It taught you the Bauhaus principles, the golden mean, symmetrical and asymmetrical balance." It was then, too, that the teenager found an interest in the abstract-art movement emerging in nearby Soho.
Cecil Gee "was like a film-star boss and always immaculate," says Simons of this pioneer of London's Jewish tailoring tradition. Simons had similar roots. Born in Royal London Hospital, Whitechapel, his father and uncles were tailors who made women's officewear for C&A. "I'd had a long subliminal education in clothes," he says. "I grew up in a family where they all had suits made." At 13, for his Bar Mitzvah, he ordered his first handmade shirt from Ron Hitchens, an artist and flamenco dancer. "I was the first person I knew to stop wearing a Windsor knot and start wearing a little single knot."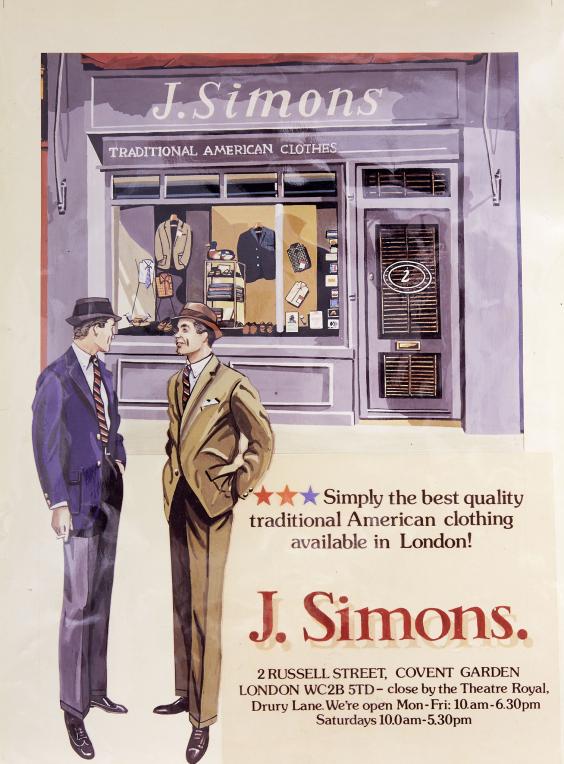 As a Cecil Gee apprentice, he knew the first place to find the Ivy look in London was Austin's of Shaftesbury Avenue, run by Lou Austin, another Jewish tailor and saxophone player. Simons' number 38 bus back to Hackney left from outside Austin's. "For me, looking into that window was like going to the Tate." He took an evening job at Austin's to get closer to the clothes. "In America, the Ivy League look was worn by everyone from doctors to drug dealers. There were 'three-button shops' selling it in every town. In England by 1957, it was penetrating a little. There were very few of us. It was a hip look. It signified that you were alive, part of what was happening and culturally in touch."
He started going to New York, to source stock from shirt-sellers who occupied entire floors of the Empire State Building. The Ivy Shop became known for Haspel/Palm Beach suits, Sagner sports jackets and shirts by Lion of Troy and Career Club Truval. "We didn't only sell Ivy League, but we did accent it because it was a way of reaching out and touching the American dream."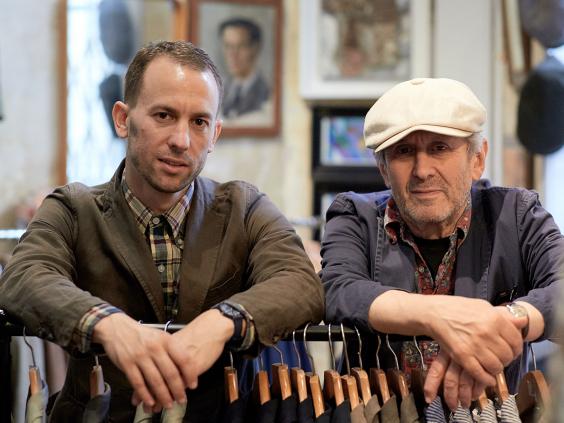 Simons opened Soho stores The Squire Shop and the Village Gate. The former was an old butcher's shop and its wooden meat-cutting tables became plinths for handmade shoes and button-downs. In an interview for the documentary The Neat Offensive, Kevin Rowland described seeing a pair of black wingtips in the window on his first visit to The Squire Shop. "I went down there and I thought… this guy's a purist! [Simons] totally believed in it."
The flowing styles of the 1970s were a setback. "The hairy and flarey period was tough for business. A lot of people rejected the Ivy League in those days," recalls Simons. But the lean years passed and in 1981 he opened his first eponymous shop, in Russell Street, Covent Garden.
Paul Weller became a valued customer. "It was interesting for me just to find stuff that I hadn't seen for such a long time and I didn't think was being made any more," the musician told The Neat Offensive. Simons discloses that, "For years, I used to look after Paul's car in Covent Garden when he had to go somewhere."
He relocated to Marylebone in 2011, rejecting the idea of an online-only business in favour of the personal touch and a well-composed window. The client base is international and grows by word of mouth; it's common for three generations of the same family to patronise the shop.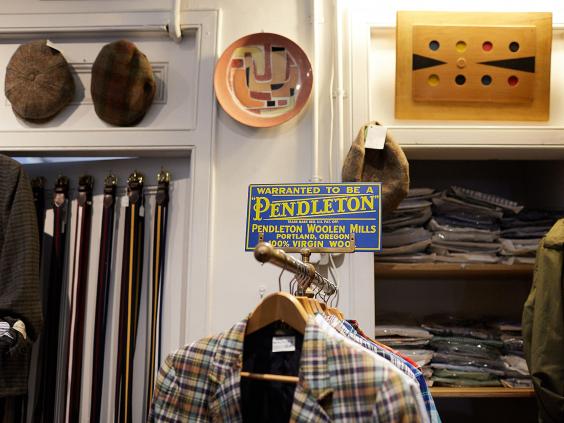 His son Paul, 35, schooled in the Ivy tradition since he began helping out at Covent Garden at the age of eight, carries on the tradition with an obsession to match his father's and an inherited talent for window-dressing. Paul was "the only one in my peer group at school wearing Sero button-down shirts and Bass loafers". While Paul laments the passing of the fanatical style tribes of past decades, leaving "everything more homogenous with not so much variation between groups", his father says he was never dependent on youth cults. "I don't think I miss them, no," he says. "I wasn't a Mod and they didn't influence me – I influenced them. I don't want to sound arrogant but I did this thing very, very early – there are photographs of me in 1955 wearing Burberry raincoats. I was there almost before the birth of it." Similarly, "We were never a skinhead shop, but skinhead was kind of born of our shop."
He is aware of his legacy in shaping British style. "I'm conscious that it wouldn't have happened in the same way if I hadn't shook the book, and then stuck with it through good and bad."
The Ivy look is timeless, he feels, and internet communication has created "a new reverence towards it". Younger buyers are "very receptive to what we do", but that means the emergence of new rivals. Primark and Uniqlo incorporate Ivy influence at low prices and the web means "a more competitive edge" from specialist retailers worldwide. "Our margins are threatened by the internet. A lot of people check online to the last detail."
John Simons still roots around obscure outlets, sourcing vintage items. He turns up at the shop most mornings because "there are a lot of older customers who do relate to me and like to see me". And whenever his son returns from America with classic Ivy pieces, "I still feel the thrill I got as a teenager – which is what launched this whole thing."
John Simons is at 46 Chiltern Street, London W1 (johnsimons.co.uk)
Reuse content