In person, Ashley Williams is a bit of a whirlwind, which is only fitting for a designer who has taken the London fashion scene by storm since her graduate show in 2012.
That show – the culmination of her BA studies at Westminster – featured turns on the catwalk from her friends Pixie Geldof and Chanel model Alice Dellal. While such celebrity models were no doubt a helpful marketing tool, it was the pop colours and graphics that really caught the eye.
Now, after three seasons on the roster of Fashion East – Lulu Kennedy's incubator scheme for emerging talent – this season sees Williams standing alone for the first time.
"It's normally messier than this… cleaner! I mean cleaner, I promise!" exclaims Williams as she welcomes me into her corner of a shared studio space in east London. The walls are papered with visual inspiration for her spring/summer collection, rolls of fabric are propped against a workbench and a clothes rail bows under the weight of new season samples and stock.
Williams has been in this studio since graduation, starting with just a desk and gradually claiming more space as her business has grown. Just three seasons in, she has an impressive list of stockists that includes boutiques Colette in Paris and Machine-A in London as well as stockists in China, Japan, Russia and the US. Last month, she collaborated with Selfridges on a limited-edition denim collection.
It's safe to say, then, that Williams' star is in the ascendant, and while those celebrity models did no harm there's plenty more to her success. "Obviously, I knew that it would help a lot more than not having them, if you have opportunities like that, it's worth taking them," says Williams. "But they're my friends and when you do a graduate collection and your friends are good at things, you say: 'Come help.' I had another friend helping with my prints because he was a graphic designer."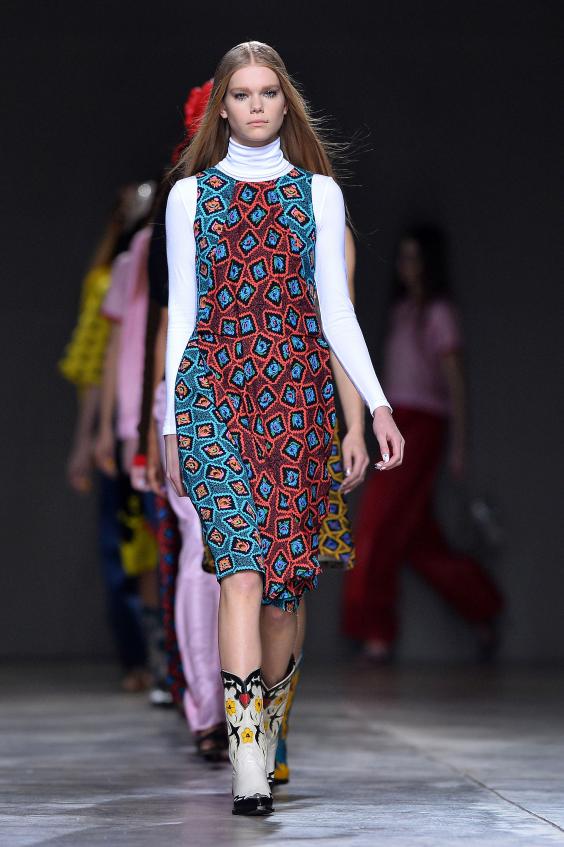 Williams is one of those people who's always making new friends. Her cheerful nature must help. But there's a serious side to her too: while, on the surface, her collections seem camp, kitsch and light-hearted, there are depths which, while not hidden away, are certainly not clear on first sight. Take spring/summer 15, which was presented yesterday as part of Newgen, the British Fashion Council sponsored support system. "I started looking at Vietnamese prostitutes in the Sixties and Seventies, around the time of the war," she explains, gesturing to the black-and-white photographs of South-east Asian women above her desk.
The profession of the young women depicted makes even the most innocent-seeming image poignant. Williams wanted to explore: "How they have been influenced by American culture, their interpretation of American, Western style. Because it's their interpretation, it's not quite authentic, it's a bit off – that's what makes it interesting."
As references go, Williams recognises that this is not only a politicised one but one that might come as a surprise to those who only know the "Dreamboat" and "Happy Ashley" slogans and cartoonish graphics of her past collections. "The Americans were there to fight against communism, but they're still brought together and are influencing each other and having a relationship which probably shouldn't be happening... The message of it is interesting, and that they are buying into it, are interested in emulating America and the Western world."
That dichotomy plays out in the girlish collection in dresses embellished with Coke-bottle graphics and Asian-inspired braids. "There have been more in-depth ideas behind this collection," says Williams. "But I do feel [that] people took previous collections too much at face value. It's not just what's on the surface."
The way in which imported ideals loom large in certain cultures is of particular interest to Williams, who was born in the United Arab Emirates and lived there until she was 12: "I loved it, I really loved growing up there. Now it's a completely different place, it's gone from one extreme to the next. When I grew up there was one small expat community and everyone knew each other in some way, everyone was connected. There was respect between the locals and the expats... you got to be part of lots of different cultures."
One of those, consumer culture, was almost fetishised: "I remember when the first McDonald's opened in Dubai, it was such an event, and when Toys'R'Us and Marks & Spencer opened. I remember getting a Furby – that was a big deal." The significance of that childhood toy seems still to be with the designer, who has made stuffed animal bags – hammerhead sharks for spring/summer 14, cats for autumn/winter 14, into something of a signature. While Williams clearly relishes the opportunity to have fun that has been afforded to her, she's also keen to be able to mature and believes that as she grows, her collections will, too.
While Williams worries that her youth can cloud people's perspective of her work and suggest she's "just doing it for a laugh," she admits that handling the business side of her label has been an education, and difficult at times. "The hardest bit is the people management – stuff needs to get done and it needs to get done properly. You don't want to be horrible, but if you act friendly then nothing gets done."
As part of her studies at Westminster, Williams completed a module on business which, she says, didn't prepare her for the reality of starting her own – although, by her own admission, she "probably should have gone [to class] more". At that point, she was unsure whether she wanted to be a designer, thinking instead that she might be a fashion buyer or a stylist.
Having interned with stylists Francesca Burns and Max Pearmain and designer Nasir Mazhar during her studies, Williams realised that the world of magazines wasn't for her and that, in an ideal world, she'd work for herself. "I do feel independent, but maybe that's because I'm allowed to be because I've got such a good, nice group of people around me."
That word, nice, peppers our conversation and it's certainly fitting for the designer's sweet disposition. But, there's something more, too, something that hints at a complexity and strength beneath the surface. "I don't mind getting bad reviews. The only thing I'm scared of is not doing everything I could."
Lucky, then, that she prefers working to going out, despite being part of the in crowd. "I don't actually go out that much – I'm either in the studio or in bed. I'd like more free time, though, I've got a list of stuff. I'd learn to drive, go to India and do some washing [and] finally get through my washing pile."
Reuse content