What does it mean to be a London designer today? It certainly has nothing to do with birthplace: of the dozen or so designers showing on the second day of London Fashion Week's official spring/summer 2015 schedule, there were three Brazilians, a New Zealander, a Welshman, a couple of Irish imports and a New York-based purveyor of cocktail frocks, titled after an Italian aristocrat.
Why? Why not. London Fashion Week has something of an open-door policy. Come one! Come all! Come pack our calendar to the point of explosion. That, obviously, has pros and cons. The pros mean that designers of remarkable talent can be catapulted to global prominence on a schedule that nurtures the new.
The cons? You end up with plenty of stuff that either isn't ready – unravelling hems, bodged seams, garments that look as if they have been endearingly knocked up from old curtains – or isn't worthy. The former isn't such a great issue, if the invention is there. The latter is cause for concern.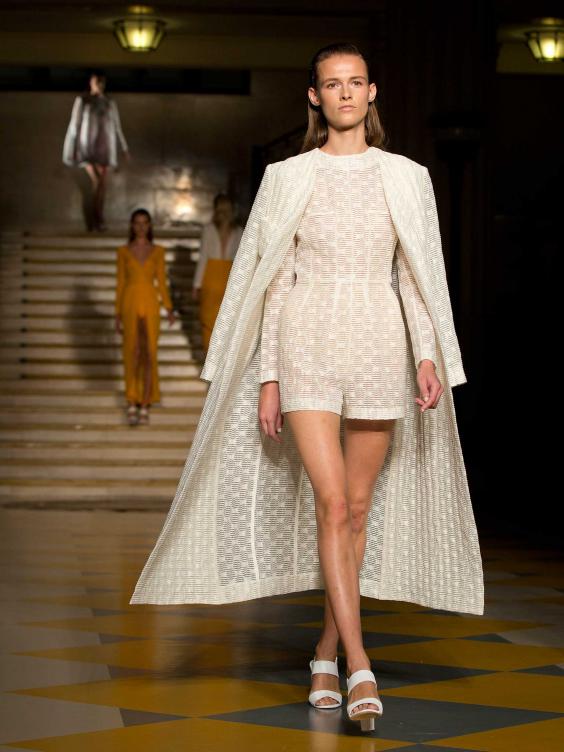 There's never anything bodged or unfinished at an Emilia Wickstead show. She is far too well-behaved for that. At least, she should be. She's just opened a boutique on Sloane Street, not a world away from her old digs on Cadogan Place. Actually, it's just around the corner, but the name change feels appropriate since Wickstead's aesthetic, at its best, is resolutely Sloaney. Which is fine. Only Wickstead seems overly concerned with making her label intersect with the ever-fluctuating demands of "fashion". Or maybe that should be "cool".
Wickstead shouldn't trouble herself with either. Customers buying her clothes aren't doing so because they want to be at the cutting-edge of fashion – especially when Wickstead interprets that as lurex, slit skirts sufficiently salacious to necessitate matching knickers, and bubbly bermuda jumpsuits in flesh-coloured metallic matelassé. Indeed, with plenty of excess volume kicking out at the hip, this ended up resembling the sumo suits from It's a Knockout.
J.W. Anderson and Emilia Wickstead
J.W. Anderson and Emilia Wickstead
1/14 The good...

J.W. Anderson

Getty

2/14 The good...

J.W. Anderson

Getty

3/14 The good...

J.W. Anderson

Getty

4/14 The good...

J.W. Anderson

Getty

5/14 The good...

J.W. Anderson

Getty

6/14 The good...

J.W. Anderson

Getty

7/14 The good...

J.W. Anderson

Getty

8/14 The good...

J.W. Anderson

Getty

9/14 ...and the bad?

Emilia Wickstead

AFP

10/14 ...and the bad?

Emilia Wickstead

AP

11/14 ...and the bad?

Emilia Wickstead

AP

12/14 ...and the bad?

Emilia Wickstead

AP

13/14 ...and the bad?

Emilia Wickstead

AFP

14/14 ...and the bad?

Emilia Wickstead

AFP
I am being harsh, but my issue with the Wickstead collection is honesty. Why try to pretend you're something you aren't? Leave the fashion to the fashion designers, and get on with making dresses. Because, as this show demonstrated too often, Wickstead is a decent dressmaker but not a great fashion designer.
There are all too many labels on the London schedule pretending to be "fashion". The Hunter show, for instance, lived up  to its name: it left you hunting for a justification for the fuss. A giant LED screen bubbled with water like a vast screensaver, a holding image for a collection that never really kicked into action.
The clothes? Awkward Scout and Brownie uniforms, pon- chos, shoes that seemed only marginally more uncomfortable to wear than to look at, and plenty of overworked optic prints. That was "dazzle camouflage", we were informed. It normally graces battleships, and should have stayed there. Rather than disguise, this is a camouflage that makes objects hyper-visible, with the graphics scrambling the perception of depth.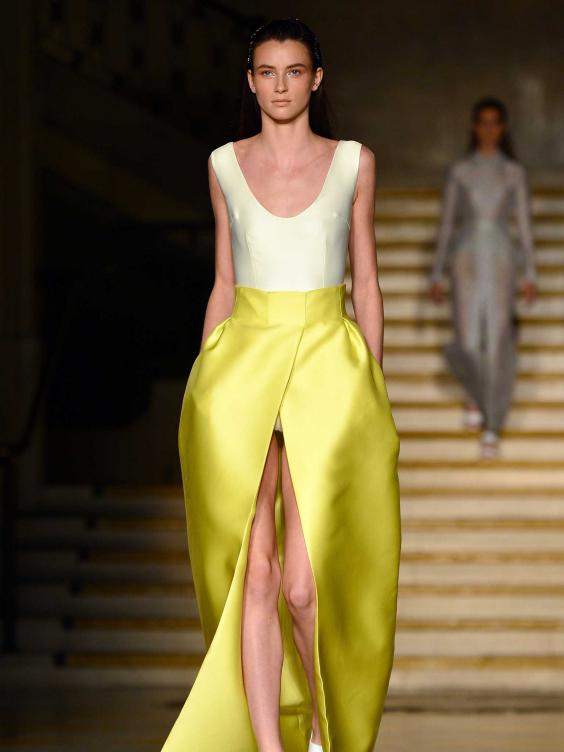 That seemed a fitting metaphor for this show, where the creative director, Alasdhair Willis, seemed desperate to imbue a brand best known (actually, only known) for rubber wellington boots with a fashion panache. The overwhelming impression was of a vast and obnoxious waste of money overshadowing brainless rainwear that, at best, just seemed a bit wet.
Thank god for JW Anderson. Thank god for his invention, his  wit, his taste level. Thank god for LVMH spotting his talent, investing in his label and giving him the reins of Loewe, where he'll show his debut womenswear collection in just under two weeks' time in Paris.
Maybe Anderson had Paris on his mind: there was a certain French bent to his spring, the trio of neat Chanel-ish suits in velvety towelling, brass-buttoned, piled-up poplin neck ties, leather lapping cinched waists and clambering up the arm in puckered gloves.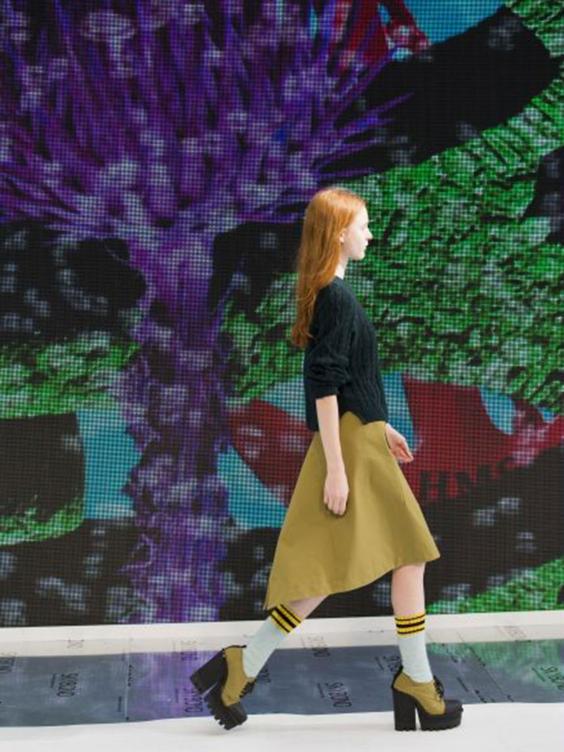 On paper, they may not sound that special – the same goes for the sailor slant of rope slotted through oversized lapels, and the nautical buttoned flap displaced from the crotch to the buttocks of snug trousers (not sure about sitting on that). The shifting added a touch of the surreal, echoed in trompe l'oeil camisoles fused to sweaters, ribbed knit skirts sprouting vestigial neck and cuff details about the hip.
There was nothing that weird, though. That's the taste level coming through. Maybe the Frenchification came with the polish to Anderson's leathers (Loewe workshops are among the finest in the world, and he's evidently making good use of them), as well as its discernable undercurrent of Belle de Jour perversion.
Whatever. French or fetish, Anderson's offering was certainly fashion. It justified its place and warranted attention. God only knows, we need more of that.
Reuse content