"We always steal our interns' clothes." That's an unexpected closing gambit from Marta Marques, one half of the London design duo Marques'Almeida. But it makes perfect sense.
Their studio is based in east London, where the average fashion intern is in their early twenties and achingly cool, either a student of – or a recent graduate from – one of the capital's world-renowned colleges, such as Central Saint Martins. They know how to design clothes and how to wear them, too. Hence the fact Marques and Almeida (the other half of the Marques'Almeida team) often pillage their student placements for inspirational garments.
It isn't a one-way street. A good number of fashion students opt to wear Marques'Almeida, too. That's because the label taps into the same school of cool.
Its instantly identifiable signature? Shredded and frayed denim, first and foremost. It's been the backbone of the Marques'Almeida look since they graduated in 2011 – from the Central Saint Martins' MA, as it happens. But increasingly, their remit has broadened.
For winter 2013, they showed ponyskin jackets in zebra prints and deep rust and billowing raw silk ball skirts. That silk carried over into spring 2014, twisted around bodies in bandeaux bras, alongside a few diaphanous bias-cut slip dresses.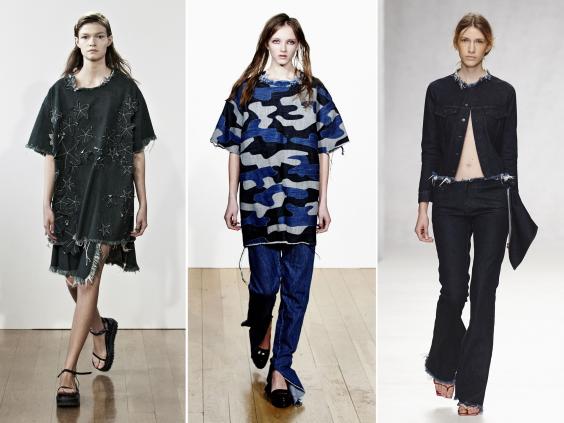 For autumn/winter 2014 – the collection they're due to showcase on Monday – Marques'Almeida have upped their game, again. "We started thinking about the Chelsea Hotel. We started thinking about silky pyjamas and satiny pyjamas, so it kind of goes in and out of really different references this season," says Marta, gesticulating at a patchworked board of reference images. "And it's that Tom Ford Gucci collection," she says, swiping her hand across a shot of a 1997 powder-puff fur chubby on a kohled-up Amy Wesson. "And there's a lot of satin, which started with Galliano dresses," another swipe, across a few intricate goddess gowns from Galliano's Suzy Sphinx show.
Tom Ford and John Galliano? That's the slightly terrifying thing about Marques' Almeida: their reference points are from the recent past. Not the Seventies, but the Nineties version of the Seventies. It's Janis Joplin and Patti Smith as reinterpreted by Ann Demeulemeester and Ford's slinky Studio 54 moment at Gucci. Marques'Almeida are young, like the majority of their customers. Their line is stocked in the trend-driven Opening Ceremony boutiques across the world, and purchased by people who don't remember those Gucci shows first time around, bar blurry VHS catwalk footage or pictures in Vogue.
Growing up in Portugal at the turn of that decade, Marques and Almeida have a hazy memory of the time themselves. "I don't remember being quite conscious about fashion, back then. It was mostly about what I wore and my friends wore and my sister wore, and, for us, it was about that for the first couple of seasons," says Marta, explaining away any accusations of a nostalgia trip. "Portugal's not a great place to live around a lot of fashion references."
"I was planning to go into architecture at the time," adds Paulo. They chose fashion instead, however, meeting at CITEX Fashion School in Porto (the country's second-largest city) before moving over to London together to study. "The other option was to stay in Portugal and do fashion and work in a factory," says Marta. "We ran off and thankfully ended up here and thankfully ended up on the Saint Martins MA."
They had, however, already formed a bond. "We met on the first day of class on the BA [at CITEX]," says Marta. Paulo picks up the thread. "We'd do separate projects, but..." Marta: "We always would consult each other, 'What do you think about this? I think you should add that'. And we did that until the middle of the MA at Saint Martins. It was always separate collections, really different... we got in separately." Paulo grins. "Luckily, we were both accepted."
There's lots of sentence-finishing and joint gesticulation going on. The two work in tandem from a single small office. There are two sets of sketches pinned on to the wall: Paulo's the more linear and graphic, Marta's splashed with colour. And alongside a mountain of reference material, featuring plenty of Galliano and Gucci as well as Kate Moss in panne velvet and a smattering of decidedly dodgy early Noughties Dolce & Gabbana, hangs the start of their autumn/winter 2014 collection. Kate's velvet makes a reappearance, in a stiff upholstery velour with a rich brilliantine sheen, while shaggy goat and sheepskin are dyed in vibrant, Sesame Street shades of tomato, Lurpak yellow and power blue. They're even extending it to shaggy, shearling-smothered sneakers that end up resembling bath loofahs. Despite their continental upbringing and that initial BA, there's something about the Marques'Almeida aesthetic that feels quintessentially London.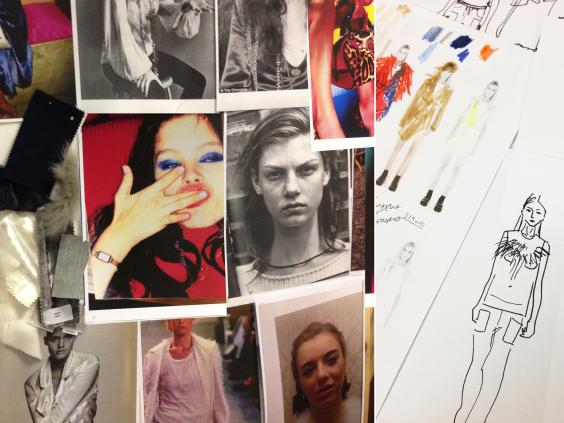 For a few seasons – they showed with Lulu Kennedy's Fashion East incubator for two seasons, before their first presentation under Topshop's NEWGEN scheme for spring 2013 – they lacked a London stockist. Overseas boutiques bought steadily into their cool distillation of British punk style (whatever that means), but the capital's retailers eschewed their rough-and-ready denims. That's all changed – they're stocked in Opening Ceremony, but also at MatchesFashion.com.
"It was such a strong collection," said MatchesFashion.com's Natalie Kingham of their spring 2014 offering. "The pieces felt effortlessly cool. I think they will fly out."
While Marques'Almeida in Opening Ceremony feels a bit like preaching to the converted (if their shredded jeans would be bought by anyone, it's the OC's uber-cool and hyper-young clientele), MatchesFashion.com stocks them alongside heavyweight international labels such as Gucci, Saint Laurent and Marc Jacobs. They fit right in. Because, just as those labels epitomise Milan, Paris and New York respectively, so Marques'Almeida emblemises London. "We wouldn't be able to do it anywhere else," says Paulo. "Because the way of thinking is so different from anywhere else. Maybe I'm wrong but we have this idea that all the young New York designers, they all start by doing something ladylike in the beginning and then start moving into a cooler thing.
"In London, it's the other way round."
Reuse content