Fashion is so much a part of Milanese culture that you can get into a taxicab in the city and simply say "Versace" or "Armani" and the driver will know where to take you. Sometimes. This spring/summer 2015 season, one turned round to me and asked: "Do you want to shop, or see a fashion show?"
I often pose the same question to myself at the Milanese collections. Are we looking for commercial reality, or for ideas? Something groundbreaking, or bank-breaking? The issue rears its head throughout fashion but, given the size and importance of the fashion industry in Italy, it feels especially pointed. That taxi exchange also talks a little of the consistency of the Milanese shows – they're usually in the same showrooms, usually at the same time (Armani jumped to Saturday this season though, which threw the whole thing into flux). Italian fashion is a machine. Sure there's creativity and individuality, but while Rome was the home of Italian couture and Florence of its hand-tailoring, Milan is the heart of the industrialised Italian ready-to-wear: it has been since the Seventies.
The Seventies were on many designers' minds in Milan, crystallising the hip-hugged flared trouser, the billowy blouse and the psychedelic freak-out print as firm favourites for mass-market ripping-off. Polyester mills in the Far East are already whirring into action to churn out those swirly-whirly patterns, probably in homage to Peter Dundas's Pucci, which in turn was an homage to the Pucci of yore. Perhaps it was a chauvinistic fascination with the point when industrious Italians became the envy of the fashion world? Probably not. Seventies stuff shifts easier than other favourite revivals of Sixties, Eighties or Fifties styles. It's easier. It's a safe bet. There wasn't a deeper meaning. Hence it trod the catwalks, again, everywhere from Alberta Ferretti to Roberto Cavalli. It's difficult to think of two more diametrically opposed designers. At the same time, they produced exactly what we expected. Like the schedule, their clothes are consistent, if lacking a frisson of surprise.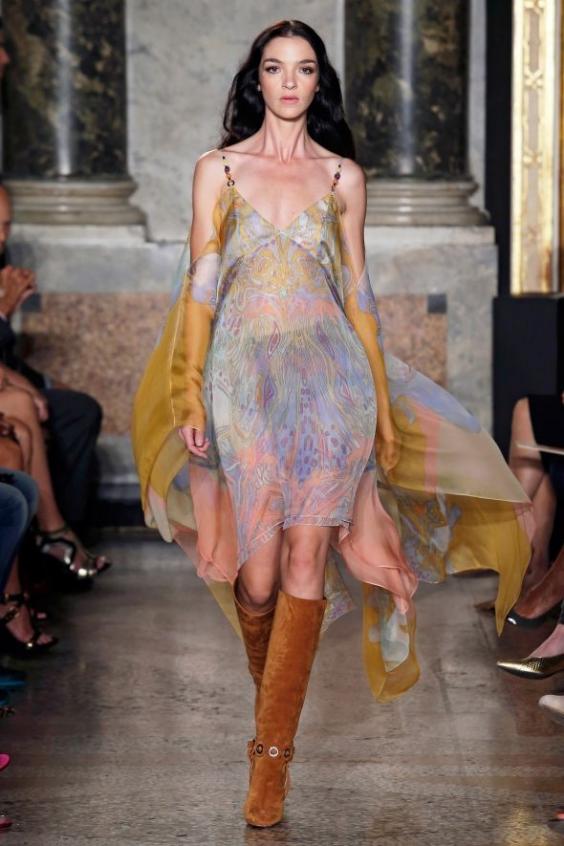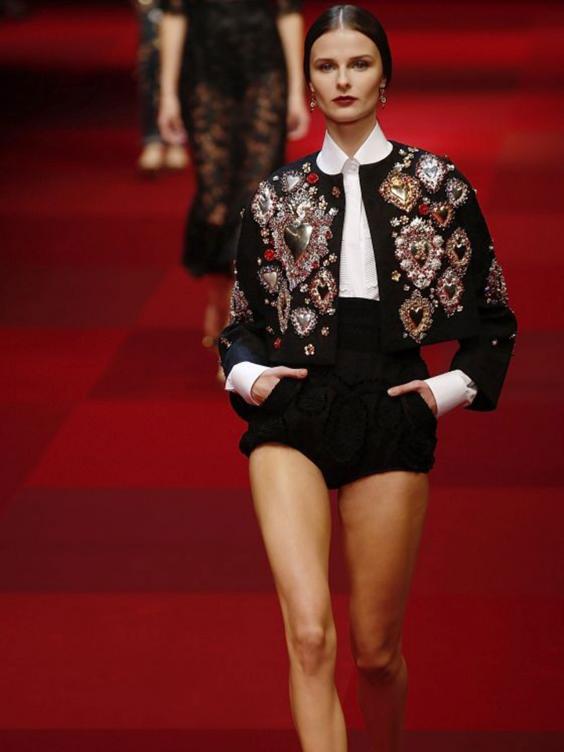 You know exactly what you're going to get with Dolce & Gabbana: cinched in frocks, Sicilian widow lace, that Italian oompah music at the start, and a mass-model finale in 4,000 variations on a single note, like a tenor practising scales. It's quite operatic. And like the well-worn, familiar arias of a classic opera, it's the fervour and passion with which Domenico Dolce and Stefano Gabbana reinvent whatever wheel they're spinning that determines if said collection is good or bad. This time, they looked beyond their usual Sicilian coasts to Spain, via fringed shawls, votive embroideries and clustered carnations. That made all the difference: Sicily through Sicilian eyes is parochial. That same view of Spain felt like something not new, but fresh. It was lively, while still delivering what retailers will want.
Consistency pays dividends. That is, to a degree, the root of Milan's success story. And the Italian designers are better geared than most other designers to churning out the plethora of collections that the industry now demands. I couldn't help thinking of Jean Paul Gaultier, who is shuttering his ready-to-wear business to focus on haute couture. His Parisian spring/summer 2015 show on Saturday was his swan-song. Contrast that with last Saturday and the show of Giorgio Armani. His business is only one year older than that of Gaultier: however, Armani shows two lines concurrently in Milan, for mens and womenswear week, as well as an haute couture collection and countless subsidiaries. They're all overseen by him – and the collections themselves stretch longer than almost anyone else's (86 looks at Armani, FYI).
Armani's stamina alone is awe-inspiring, before you even bother looking at the clothes. His Emporio line this season was called "Blue", his mainline "Sand", in a range of greige. Armani wasn't even trying. That's what was great. Sometimes he tries and it comes off mannered. By contrast, there was an effortlessness to these shows that made a lot of the rest (of the season, not just of Milan) seem heavy-handed.
Armani's traditional designer counterpart was Versace, who had more of a reputation as a party boy yet was no less a workhorse. In the Seventies, Gianni Versace designed his eponymous label, as well as lines called Complice and Genny. Later, he expanded and founded subsidiary labels Istante and Versus. That's a mind-boggling array of product, even to today's polymaths.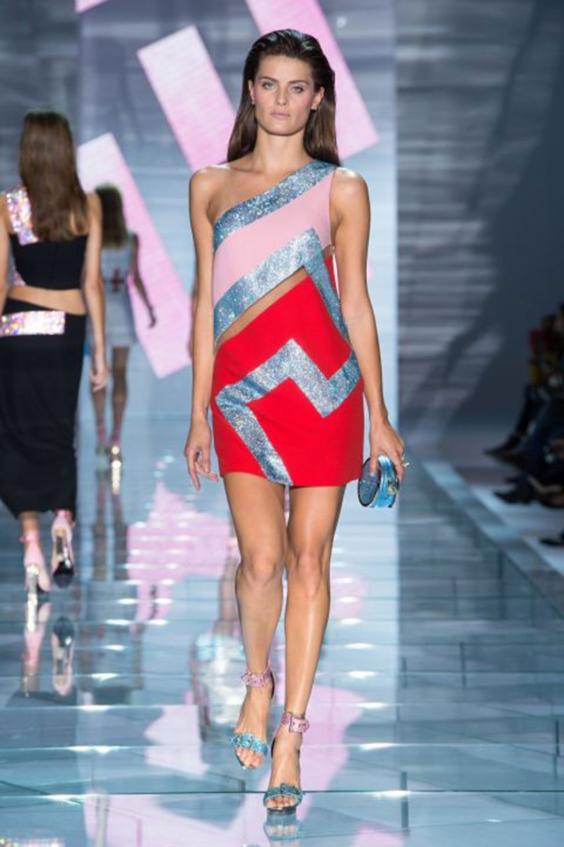 The strength of what Donatella Versace now does is the variety: Versace is always sexy but, like a fashion Kama Sutra, within those carnal themes there are endless variations of position to be discovered. This time, Donatella's idea of sexy was athletic, a bit fresher. She also found a few new holes to explore, perforating everything, chopping open evening dresses and trussing everything up with bands of bold colour. Versace has always been devout in their holey worship – this time, with that sports slant and a new sense of easiness, it felt freshly applicable to real life.
There was a reality to what Tomas Maier offered at Bottega Veneta, too. A weariness to the clothes, trussed and pulled, worked around the bodies of his models, their surfaces kneaded into submission. It was luxury without the stuff and bombast, softened, washed and weathered and torn a little at the seams. The inspiration was dance, but these clothes sang. They were absolutely in the tradition of what Maier been trying to achieve during his tenure at Bottega Veneta – a new definition of luxury, with a patina of richness that's burnished rather than glistening. Quality, that's the word, something the label "Made in Italy" has always stood for.
And then, there was Prada. Never an afterthought, yet always standing alone, head and shoulders above the rest. This season, Miuccia Prada trucked in a desert storm of sand and dumped it in the centre of her shag-carpeted showspace – the outside brought in. That play of contrasts was there in the clothes, too, patchworked from dozens of brocades like dusty, dodgy furnishing fabrics stripped from the back of knackered old sofas. They were crammed together inside single outfits, sliced open, contrasted, frequently turned inside out to purposefully flaunt their scraggy unravelling seams. The opposite, actually, of the polished, impeccably finished product flowing out of all those Italian factories over the past four decades. But a focus on craft was there, the emphasis of the hand of the designer, and of the mind, too. Miuccia Prada is the most cerebral designer working in Milan, the one who most successfully combines design with desire. There is seldom anything anodyne and certainly nothing expected in what she does. That's actually the only thing we can expect: that difference is always the same.
You also wanted to buy it all. So, do I want to shop, or see a fashion show? The answer for the best of Milan is, ideally, both.