Menswear is traditionally the better-behaved brother of its flashy female counterpart. Traditional is the word: the former is a slower, stiffer and often stuffier proposition. That's particularly evident in Milan, where the spring/summer 2015 season began yesterday.
Maybe that's why Italian fashion's majordomos frequently turn to fancier-than-normal dress to make an impact. After all, who wants to see another suit – even if that's what you're likely to be selling? Example: Domenico Dolce and Stefano Gabbana made like matadors for spring and took a trip to sunny Spain, via Sicily, of course. Their favourite island was a Spanish "possession" between the 16th and 18th centuries, which gave an anchor to in-house iconography for an exploration of foppish flamenco and bullfighting. They kitted their blokes out as modern toreadors in brocade boleros Spirographed with passementerie, set to Bizet's Carmen.
Mildly modern, that is: much of it still felt like costume, disconnected from contemporary men's wardrobes, part mariachi band leader, part Strictly Ballroom. Do contemporary luxury consumers – even peacocks who traditionally flock to the flashier echelons of Dolce & Gabbana's oeuvre – really want to dress as either of those extremes? When translated to sportswear – undulating braid on oversized satin T-shirt and boxing-short shapes – you could see this collection having a currency with a new generation of fashion junkies pumped up on jumped-up casuals. The shiny scarlet suits that closed the show, by contrast, felt like the real costumes. They had a slick Bryan Ferry feel, but will anyone really wear them?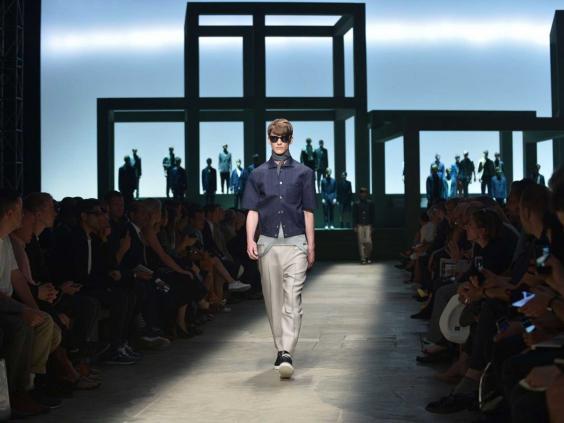 The suits they do wear belong to Ermenegildo Zegna, one of the world's biggest manufacturers. Zegna has recently begun to trumpet the fact that its catwalk collection, now designed by the former Yves Saint Laurent creative director Stefano Pilati, comes with the addendum "Couture". That word implies not only unparalleled craftsmanship, but expense. The former justifies the latter, and both were lavishly evident on Pilati's catwalk: the clothes shimmered with the moneyed lustre of fabrics such as double-face cashmere or silk crepes, taffetas and even seersucker. The latter is normally a slobby, slubby thing for lackadaisical slouching. Zegna polished it until it, physically, and metaphorically, glowed. The third implication of that couture appellation? Exclusivity. Pilati's clothes are not only pricey, but difficult to find even if you have the money. Which is a pity, because this was the most at ease Zegna collection he has produced – the ease being his, first, then translated to the clothes. It was also the most convincing.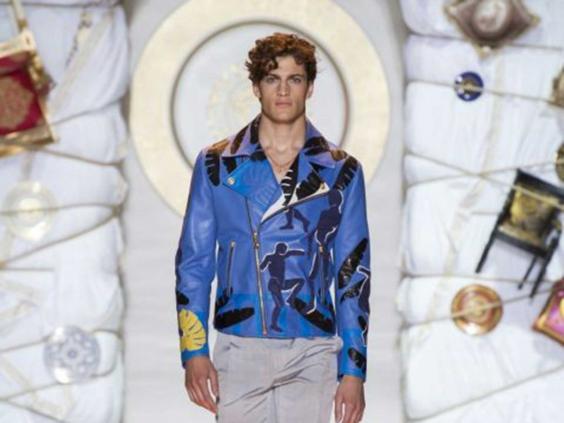 Donatella Versace does everything with conviction. Her aesthetic is one of the most finely tuned in all Milan. That's easy to miss, but the fact Versace somehow keeps everything the right side – just – of bad taste is a testament to Donatella and her design team. They know how to go too far, and when to stop. A fishnet onesie with Versace bedsheet as Roman toga was an eyebrow-raiser, but the camp tongue-in-cheekness of it didn't feel forced. Especially chez Versace: it harked back to Gianni's Men Without Ties, a book of bounding models naked bar artfully placed Versace homewares.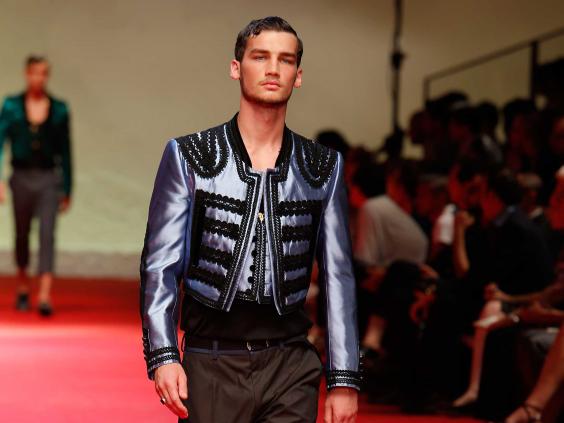 That was a point of reference for yesterday's Versace show – and not just in the acres of tanned male flesh on show. "A celebration of the Versace world" was Donatella's introduction to a show presented under an arch with Versace blankets and plates roped against it, Christo-style.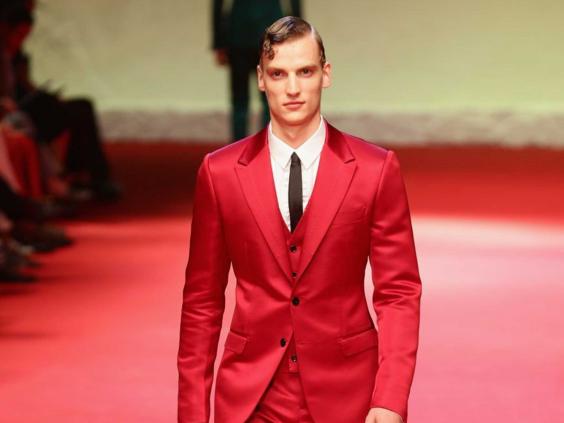 Donatella, however, was anxious to emphasise that her world isn't limited to either the past, the plates, or even to Italy. She referenced Cuban graffiti, in jacquard weaves, leather appliqués or denim embroideries, while Havana streets were worked into macramé shirts. They ended up having a touch of Miami Sound Machine to them, too. However, the instantly identifiable Casa Versace references were the star of the show, and they popped up again and again. Versace china was clutched by models or stuffed into mesh backpacks and holdalls, and Limoges shades of porcelain-white, rose-beige and bleu-de-roi coloured the collection's suiting. The only print? Plates, criss-crossed with wriggling gold curtain-tassels, decorating teeny-weenie shorts and beach towels.
Reuse content