The world's most successful model agent, Carol White has called the British models "sh*t", Kendall Jenner not a real model and revealed the £10,000-a-day fee of her supermodels.
The 64-year-old founder of London-based agency Premier Model Management looked after the elite of supermodels in the nineties, including Naomi Campbell, Linda Evangelista, Cindy Crawford and Claudia Schiffer.
She has now revealed the glories, dramas and excesses behind working with supermodels in her book Have I Said Too Much? My Life in and out of the Model Agency. But while promoting her book, she told Sunday Times' magazine that although most of the talent she's managed come from England the "British are sh*t".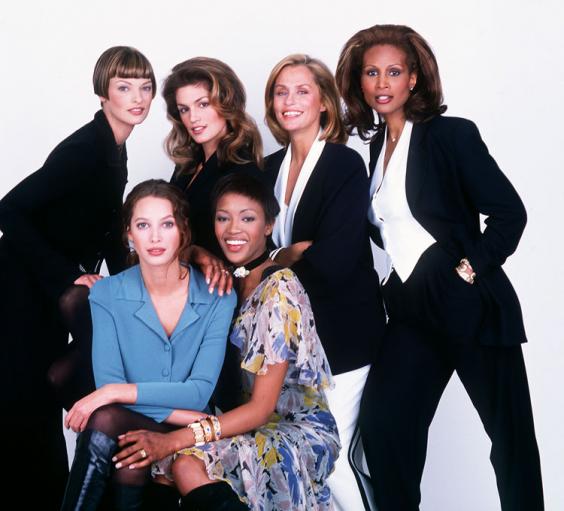 She explained that the Russian invasion changed the fashion industry because "their work ethic is amazing", unlike the British, apparently.
"Even if they're from a poor background, British girls have everything," she said, whereas the girls from Russia and Siberia were "very driven". 
White revealed she had to find many reasons to convince a British girl to leave home and become a model with "you can see the world, make money, learn another language, you can end up living in New York or Paris" or even more surprising "you might get to sleep with Leonardo DiCaprio".
According to her, British models are likely to be overtaken by the international girls. "We're not as fit [as the Russians]. Maybe we eat too much," she told Style.
But White was equally dismissive with the new generation of models, just like Naomi Campbell is.
She called the Kardashians' sister and up-and-coming model Kendall Jenner "short" (even though she is 5ft 8in – almost the same as Evangelista) and assures that girls like her "don't look like models".
"They're starting to use them because they've got exposure."
The 'Supermodels'
The 'Supermodels'
1/23 Vogue Japan

Vogue Japan's September 2014 issue also happens to be its 15th anniversary issue, so it features icons of the Eighties and Nineties, from Naomi Campbell and Linda Evangelista to more recent stars like Natasha Poly and Malgosia Bela

2/23 Claudia Schiffer

Vogue Germany's June 2010 issue, starring a pregnant Claudia Schiffer in a Demi Moore-inspired pose

All Rights Reserved

3/23 Claudia Schiffer

Claudia Schiffer modelling for Karl Lagerfeld's Chanel range in 1993

PIERRE GUILLAUD/AFP/Getty Images

4/23 Claudia Schiffer

Claudia Schiffer in one of Guess's campaigns

Ellen Von Unwerth

5/23 Carole White's supermodels

Linda Evangelista, Cindy Crawford, Naomi Campbell and Christy Turlington in Versace in 1991

Rex Features

6/23 Naomi Campbell

Naomi Campbell on the catwalk during the Versace show

Getty Images

7/23 Naomi Campbell

Philip Treacy assists Naomi Campbell with her Ascot hat in 2002

Kevin Davies

8/23 Naomi Campbell

Naomi Campbell on the catwalk in 2008

Chris Jackson/Getty Images

9/23 Naomi Campbell

Naomi Campbell walks the runway at the Roberto Cavalli Autumn/Winter 2012/2013 fashion show

Getty Images

10/23 Naomi Campbell

GERARD JULIEN/AFP/Getty Images

11/23 Naomi Campbell

Givenchy's Riccardo Tisci and Naomi Campbell

tISCI

12/23 Naomi Campbell

Naomi Campbell at the John Galliano Show in Paris on 16 Oct 1997

Rex Features

13/23 Naomi Campbell

Campbell for Agent Provocateur

14/23 Naomi Campbell

Jourdan Dunn and Naomi Campbell for Burberry's spring/summer 2015 campaign

Burberry/Mario Testino

15/23 Campbell and Evangelista

AFP/GETTY IMAGES

16/23 Cindy Crawford

Cindy Crawford from the 1994 calendar

Herb Ritts/Pirelli

17/23 Cindy Crawford

We're not sure about...Cindy's clothes: Regular visitors to the continent will know that although C&A may have disappeared from our shores, it's certainly not dead and buried. Despite its European cachet, the department store is still a surprising choice to launch Cindy Crawford's clothing line

18/23 Cindy Crawford

PIERRE GUILLAUD/AFP/Getty Images

19/23 Cindy Crawford

GERARD JULIEN/AFP/Getty Images

20/23 Linda Evangelista

Designer Karl Lagerfeld walks with former top model Linda Evangelista after the show for Chanel in July 2003

Getty

21/23 Supermodels of the nineties

Frank Micelotta/Getty Images

22/23 Linda Evangelista

Linda Evangelista on the cover of the latest issue of LOVE magazine

23/23 Linda Evangelista

FRED DUFOUR/AFP/Getty Images
Because of this, White thinks that the models fee will never be as high as it was in the supermodel era, when models "wouldn't get out of bed for less than £10,000". "I would hold my nose and pick a fee."
But if that amount sounds staggering, wait until you learn how much the likes of Linda Evangelista, Naomi Campbell, Kate Moss and Christy Turlington, got paid for that Vauxhall Corsa ad of 1992. "I think it was 300 grand [each]," she told Style.
The models were so high in demand that White had to struggle to get them out of bed. She reveals in her memoir she had to lie about the call time (by saying it was three hours earlier), had a key to their hotel room "so I could let myself in, wake whichever beast I was chaperoning and swiftly be told 'F*ck off. Go away!'."
Apparently, it was a also a nightmare to please the models' palate while on set. "That thing about supermodels not eating? Bullsh*t. They eat loads. And they eat specific," she implies in her book.
But besides food and a war against the model's timekeeping skills, White also had to undergo other rather unusual number of errands, including couriering sex toys to a suite at a hotel in London for the model's entertainment.
Diva demands aside, White managed to build a supermodel empire. She didn't however, sign Kate Moss, and in her book reveals how much she regrets turning her down. "I stupidly said 'No, she's too short for me.' Now 20 years down the line, she's probably the most successful model of all time."
As head and founder of Premier Models, White has spent the last 30 years looking after the world's most acclaimed, expensive and beautiful supermodels. One of the highlights of her career was booking Campbell, Crawford, Evangelista, Tatjana Patitz and Christy Turlington for George Michael's Freedom music video in 1990.
Although she describes positively all her "dream girls" in her book, she says it's not time to retire yet and that she still hopes to find that girl.
Reuse content