Fashion is a cruel game. You're either in or out. The latter, generally, is the kiss of death. It consigns a designer to the scrapheap – if not of history, then certainly of editorial coverage. If your house is owned by a conglomerate, or indeed if you're a hired hand brought in to rejig an existing label, a run of bad collections could be the motivation for your dismissal. If you're out, you could literally be "out".
It's a thought that often flickers through your mind on the Saturday of the Parisian collections, a day when we see shows from a trio of talent whose burning brilliance once ignited fashion, but whose creations have increasingly slipped into irrelevance: Viktor and Rolf, Vivienne Westwood, and Jean Paul Gaultier.
The first have a new perfume out, which explained their return to haute couture last year: their spring collection, shown in January, seemed single-handedly devoted to its promotion. What was the point, then, of their ready-to-wear show? Ostensibly, couture provides the perfume-flogging fireworks for a house, the ready-to-wear the commercial backbone. The tarmac-hued collection they showed this season was wearable, certainly. In fact, it was anodyne to the point of undesirability. Why would you buy lumpen grey knits that resemble high-street sale-rail fodder? For a backbone, they seemed oddly spineless.
Jean Paul Gaultier has an exhibition at London's Barbican in April, celebrating his past achievements. Unfortunately, they often serve as an unfair foil to his current output – his journey from design definer to odd relic of another fashion era. The same is often true of Vivienne Westwood. She has a loyal cadre of fans – who, as Westwood herself once stated, will buy anything she makes – but the fashion world, by and large, has stopped paying attention.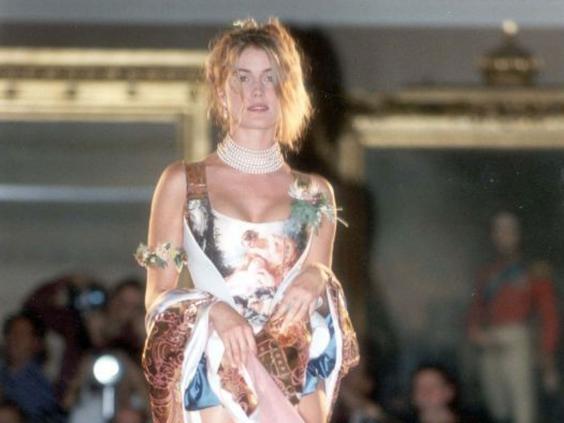 More's the shame, for Westwood's  work was once summarised as first, but worst. That isn't the snub it seems: it highlights her position as innovator, as intrepid fashion explorer. In England she is dismissed as "wacky," her clothes as unwearable. Both are often true, but the wackiness has thrown up many ideas commercially exploited by other designers. The resurrection of the corset, a return to the padded and tailored traditions of haute couture, the revival of the platform shoe. All can be traced back to Westwood at the height of her powers, and all were commandeered by other designers. Look at the puffball skirt of the 1980s: Lacroix, Lagerfeld and Oscar de la Renta created five-figure versions, but the first appeared on Westwood's catwalk in 1985.
A few of her innovations have been referenced (read: ripped off) so much by other designers that they have now become part of the fashion lexicon. Underwear as outerwear may be synonymous with Gaultier's exposed cone-breasts for Madonna, but it originated with Westwood, a satin brassiere worn outside of a sweatshirt in her 1982 "Nostalgia of Mud" collection. Incidentally, that show also gave us the 10-gallon Stetson Pharrell Williams sported at this year's Brit awards. It made a re-appearance for Westwood autumn/winter 2014.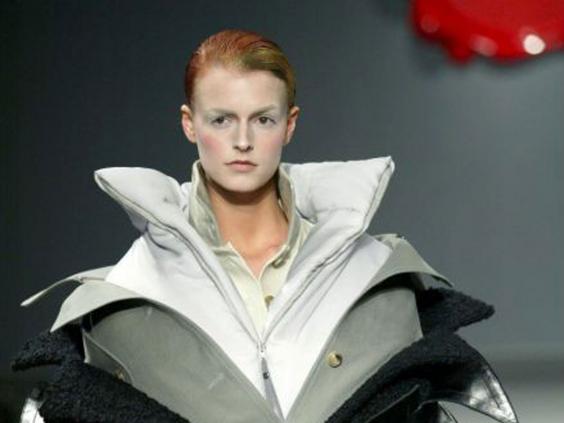 That has become something of a theme of Westwood's shows over the past decade or so. Rather than originality and invention, Westwood has dived into her archives again and again, reviving, reworking, sometimes merely rehashing designs from her prodigious archives. Everyone else is doing it, so why shouldn't Westwood get a cut of the cash cow her back-catalogue has become?
Because it leads to stagnation, to stupor, to stale design. It means your show isn't a must-see, but a forced-to-see. Magazine editors attend because of the demands of advertising revenue. Newspaper journalists attend because her name resonates with the public and makes good copy. And because the clothes make good pictures. Good pictures but, alas, no longer great fashion.
Reuse content