Peter Pilotto are on the crest of a wave. Actually, maybe that gives the wrong impression – that they've reached their peak and are about to come crashing back down in a spray of foam and plankton. In fact, there's only been enthusiasm swelling for them and their work – accolades, a British Fashion Award (for Emerging Talent, in 2009) and this year saw them collaborate with American mass retailer Target on a sell-out range (the first to be offered globally via net-a-porter.com).
They also won the BFC/Vogue Designer Fashion Fund, a £200,000 cash injection and a stamp of status from said august institutions. Their wave shows no sign of hitting the shore just yet.
It seems strange to use a plural pronoun when discussing Peter Pilotto – particularly when you're sat opposite the man himself, a slender Austrian/Italian with close-cropped hair and a whisper of stubble across the chin. But Peter Pilotto the label is the work of two men – Pilotto and his partner Christopher de Vos (a bit taller, blond, with Peruvian and Belgian parentage) as well as a veritable army of assistants, pattern-cutters and technicians. Nevertheless, although staff are packed into their airy concrete and glass studio in east London (more Le Corbusier than London Riots), Pilotto and De Vos emphasise that they design every piece themselves.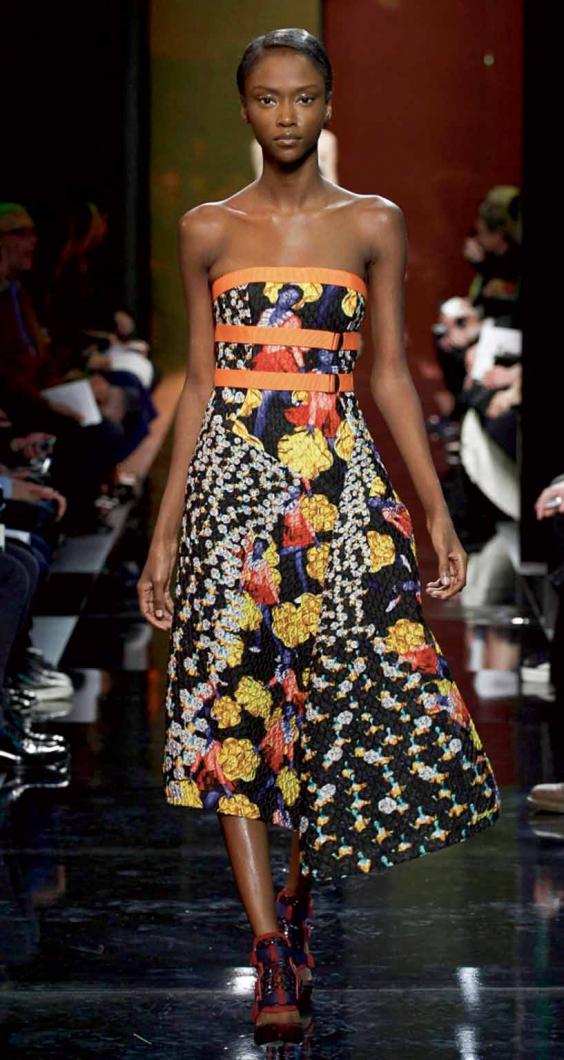 That included their range for Target – where production numbers > spiralled not into the thousands, but hundreds of thousands. "We treated Target as almost another range, rather than 'Oh, let's just do a best-of'," says De Vos. "We put a lot of energy into that, but a certain type of energy." The challenge wasn't just design, but cost – translating their signature kaleidoscopic prints into mass-appealing price-points. The success of the range was immediate, and marked.
It always has been. After studying together on the world-renowned fashion course at Antwerp's Royal Academy of Fine Art (they met in 2000; Pilotto was a year ahead) Pilotto founded his eponymous label following his graduation in 2004. "There were stores that wanted to buy my collection – Maria Luisa and some Japanese stores."
Maria Luisa, a trend-setting Parisian store, was an influential early supporter that brought the label to prominence in the European fashion scene. Although the physical boutique closed in 2012 and moved online, a decade later it still sells Pilotto.
Peter Pilotto's autumn/winter 2014 collection
Peter Pilotto's autumn/winter 2014 collection
1/7 Peter Pilotto: autumn/winter 2014

An outfit from Peter Pilotto's autumn/winter 2014 collection (Marcus Tondo/ indigitalimages.com)

Marcus Tondo/indigitalimages.com

2/7 Peter Pilotto: autumn/winter 2014

An outfit from Peter Pilotto's autumn/winter 2014 collection (Marcus Tondo/ indigitalimages.com)

Marcus Tondo/indigitalimages.com

3/7 Peter Pilotto: autumn/winter 2014

An outfit from Peter Pilotto's autumn/winter 2014 collection (Marcus Tondo/ indigitalimages.com)

Marcus Tondo/indigitalimages.com

4/7 Peter Pilotto: autumn/winter 2014

An outfit from Peter Pilotto's autumn/winter 2014 collection (Marcus Tondo/ indigitalimages.com)

Marcus Tondo/indigitalimages.com

5/7 Peter Pilotto: autumn/winter 2014

An outfit from Peter Pilotto's autumn/winter 2014 collection (Marcus Tondo/ indigitalimages.com)

Marcus Tondo/indigitalimages.com

6/7 Christopher de Vos and Peter Pilotto

Christopher de Vos and Peter Pilotto

7/7 The Peter Pilotto label

The Peter Pilotto label has garnered worldwide acclaim and an ever-expanding audience for their kaleidoscopic graphic designs
Pilotto was first to graduate, but De Vos was first to come to London after graduation in 2005. Pilotto followed and in 2007 they established their collaborative label. "Theoretically, what we explained in the beginning was that Christopher concentrated on shapes and silhouettes, dealing with pattern-cutting, and me more the prints and colours," says Pilotto. "But it is a constant dialogue... very much collaborative." De Vos concurs: "We ultimately decide everything together".
The prints Pilotto mentions were the initial focus of the brand. They used digital print, a technique first used on synthetics in the 1990s – think dodgy catsuits and scratchy polyester clubland T-shirts – which in the early 2000s was refined to allow designers to print easily on to luxury fabrics. "It was never, during our studies, the main thing," remarks Pilotto, "[but] the few printed things in that [graduation] collection were the ones that I focused on producing... somehow I was like – ah! That's such a good way to personalise a collection."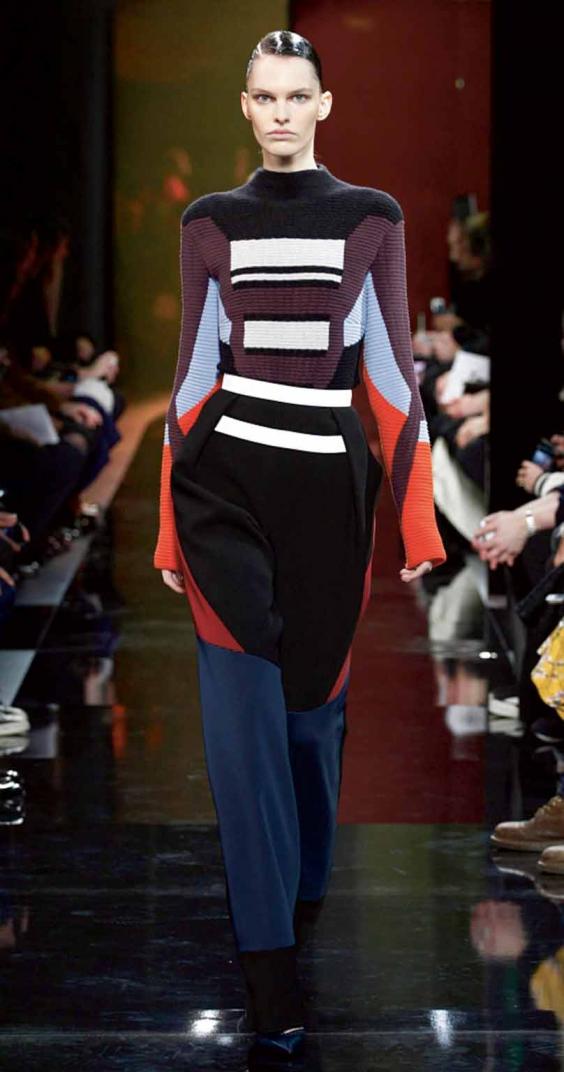 Pilotto nails the appeal of digital print for their generation of designers – it's a a simple, cost-effective way to create a custom textile that no one else can have. Unless, of course, they copy it. Peter Pilotto have been copied endlessly, by high-street and high-end designers alike. But they're rather blasé about the whole thing – particularly as, over the past few seasons, they've been adept at breaking away from their graphic origins and widening their oeuvre.
Take their autumn/winter 2014 collection – we were seven outfits in before we saw a single print (and even then it was confined to a bodice and spliced with Donegal tweed, embroidery, knit and swathed jersey).
Before that, there were beaded neoprene-y sweatshirts, sweeping decorated coats, and models peeking over parapets of shearling in acid-bright shades of jade-green and imperial purple. It was a great leap away from print – although that was still there, of course, in designs influenced by snowboarding and surfing clothes from the Nineties, with engineered mountain landscapes and photographs of athletes in geometric formations that ended up looking like microscopic florals.
One of the ideas, Pilotto and De Vos say, was a certain seasonless quality – hence the mash-up of spring and winter clothes into a single collection. "Seasons... they don't feel as relevant any more," they commented over summer, their 2015 Resort collection already clustered around them as proof of that. And, of course, it sells globally – to hemispheres where summer and winter are diametrically opposed. Yet Pilotto and De Vos take it in their stride, and simply push themselves to make collections that will appeal across the board.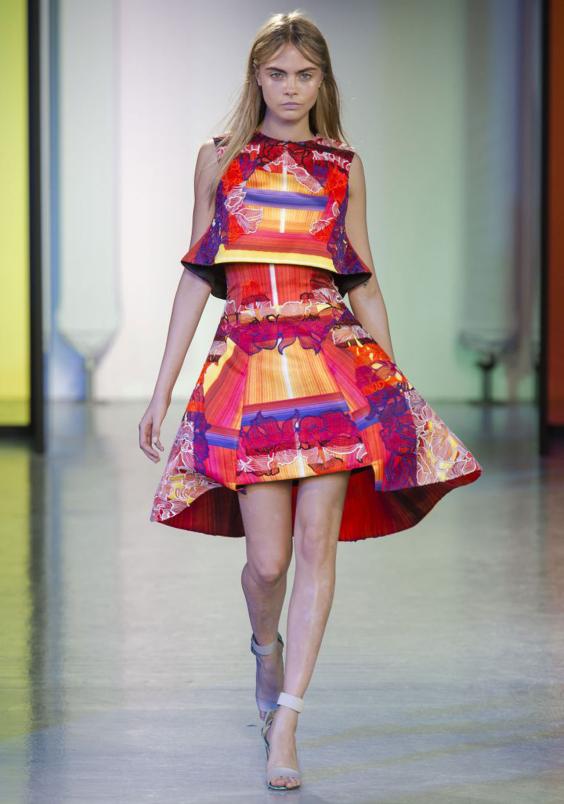 It's less about climate concerns, honestly, than the global climate of luxury. And Pilotto are pushing theirs to the max. "You ended up with something much more exquisite. And a higher price-point," comments De Vos of the workmanship in their latest show. Pilotto continues, "It was almost a subconscious thing, it wasn't really so calculated: 'Let's be strategic about what we sell'. It was just what we felt." In reaction to their Target collaboration, of course, the message was clear: pump up the luxury and tone down the print. It's a recipe for success.
It also isn't that far away from their origins, truth be told. "We could work with lace in a way that is very similar to the way we work on prints," says De Vos. "A much wider way of working with lace. Not having the restrictions that you classically have, with the small repeats. That's exciting."
"They even call it digital embroidery!" exclaims Pilotto excitedly. The beading, too – tiny fragments of metal in beetle-bright enamel shades – resembles pixelated versions of their signature multicoloured graphics.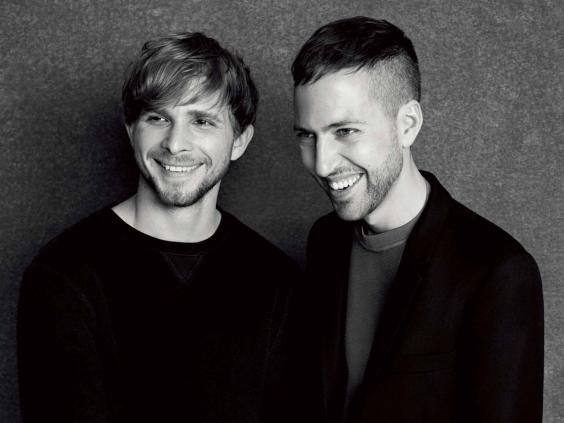 "We would never want to do a shift dress just with a print," says De Vos – as the self-confessed originator of many of the Pilotto silhouettes, it's understandable he'd emphasise that. "Since the start it's been about the shape and the print, and how to make it look good on the body... something more interesting than just a printed dress."
"Sometimes the print files are quite simple," says Pilotto, modestly. "The dress does the work."
And while Pilotto's prints are eye-catching, it's their attention to cut and fit that's given the name longevity. That's what's really selling these clothes, rather than a poppy aesthetic – as proven by the fact that those embellished, eye-wateringly expensive coats and dresses are being snapped up just as voraciously as their Target collaboration. The retail savvy could possibly come from Pilotto's background: his parents owned a boutique in Austria, the first to stock labels such as Azzedine Alaïa, so fashion was something he grew up around.
Alaïa – a designer's designer dubbed 'the Titan of Tight' – also pinpoints another selling-point in the Pilotto formula. Sex. It isn't much in evidence in London fashion, which focuses more on creating clothes that look cool, as opposed to creating desire.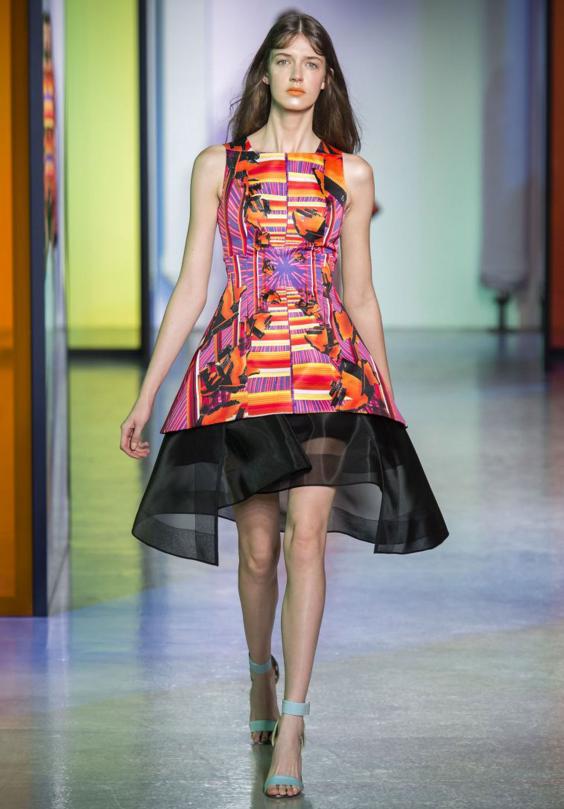 But Pilotto have an eye for sex appeal, and a way of cutting (skirts to hug the hips, dresses to cinch the waist) that's undoubtedly seductive. Maybe that's part of their exotic parentage across the board, as well as that early exposure to Alaïa? The cerebral Antwerp Academy probably isn't to thank for it. "We're not afraid of sexy," says De Vos. "Maybe that is the southern thing...?" "We like things to be interesting," counters Pilotto. "But we like them to be real." Odd terminology, from purveyors of prints characterised as "hyper-real". But somehow, when you see Pilotto on a body (which you do, very often) the real in their unreal makes perfect sense.
Reuse content