Fashion is a trend-driven industry. That's the premise of the whole business. Twice a year, new collections indicate the fads of the world's four fashion capitals. But, when you take a step back and look at the bigger picture, there are one or two aesthetic strands that most designers follow, or at least acknowledge.
Today, the best example is sportswear, a wide sweep incorporating athletic apparel, extreme sportswear pieces, and their various high-fashion hybrids. At the menswear shows in London, Milan and Paris, trainers, technical fabrics and taped seams are a dime a dozen. But, in a sea of mediocrity, the good ones stand out. Genuine craftsmanship, honest design and a sense of authenticity will always win. Canny designers are not only aping athleticism, but are tapping sportswear's key proponents to help them create garments that cross-pollinate style and substance. Nowhere is that so obvious as in the high-end fashion collaborations that the German sportswear brand Adidas has been putting out of late.
With the recent success of their Raf Simons and Rick Owens partnerships, Adidas – under the creative direction of Dirk Schönberger – has bridged the gap between streets and catwalks. But, as well as critical acclaim and overwhelmingly positive consumer feedback on the Raf and Rick collaborations, Adidas can also claim to be the first sportswear brand to gain high-end fashion status. The Y-3 line, launched with Japanese designer Yohji Yamamoto 13 years ago, was the first stand-alone fusion brand of its kind, shown on the catwalk with Yamamoto's autumn/winter 2001 collection.
Having established itself as a fashion-fusion pathfinder, Adidas had the confidence to push itself further with the Simons and Owens collections. Challenging the idea of how a trainer is supposed to be designed, the shoes merit their catwalk presence. "Not everyone likes the trainers, but they defy what people think trainers should look like, and that to me is exciting," Schönberger says from the Adidas headquarters in Herzogenaurach, 30 minutes' drive from Nuremberg. "They are pushing boundaries of what we expect trainers to look like."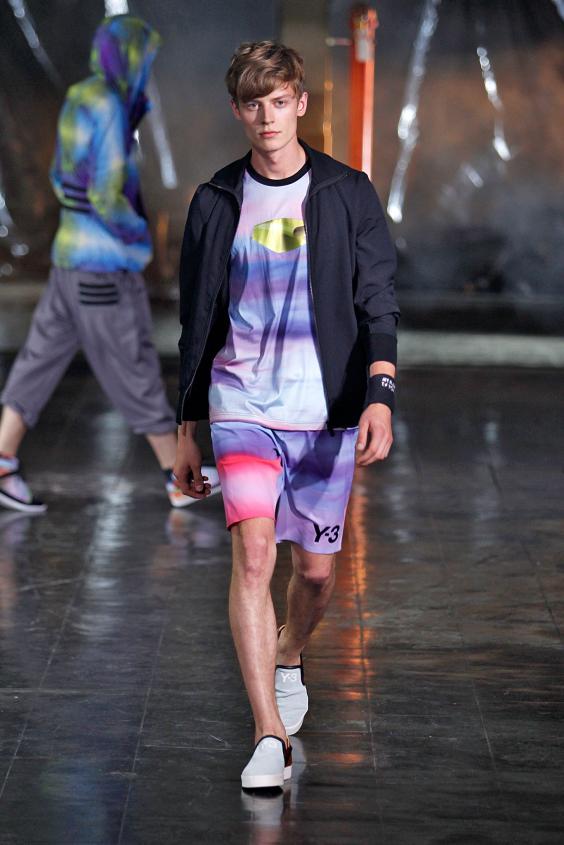 Schönberger, who started as creative director of Adidas's Sport Style division in 2010, might not have been around to sign up Yamamoto, but both the Raf and Rick projects bear his imprimatur. And for Schönberger, who showed his own brand during Paris menswear until 2006, working for German label JOOP! prior to joining Adidas, the process was organic.
"I've known Raf since the mid-Nineties – we basically started with fashion at the same time, and we were both living in Antwerp at that time. I always thought his connection to youth culture was perfect for us. I called him and we spoke about it for a while before we decided to do it. Same with Rick, I rang his CEO and said 'Let's do something'." Once Owens was on board, the partnership developed without internal snags: "This collaboration was one of the easiest things I have ever done – they just understood exactly what I was asking for," Rick says of the collection. "I specifically asked for them to 'dumb it down'. I like things exaggerated in a very plain, severe way and they kindly accommodated."
That hook-up might seem odd at first, but the twin collaborations make perfect sense. The troika of companies, albeit in different ways, are built around adolescent energy. "I've always admired Raf's work. His label, with a few exceptions, is a brand about youth, no one had that as such a strong theme as he did. It was an obvious choice," Schönberger says. "At Adidas, through Run DMC, everyone thought it was about hip-hop, but for me it's also about techno, rock and grunge... Adidas is about youth culture!"
Simons's spring/summer 2014 collection was playful and primary-hued. He showed clothes printed with brightly-coloured logos, like modern re-imaginings of Warhol works, in the Gagosian Gallery in Paris, alongside pieces by Calder and Prouvé. A number of the models wore trainers from the Adidas collaboration. Well, Warhol: what could be more pop than a pair of acid-yellow trainers?
"The materials are a combination of both sports and fashion materials, like the metallic and laminated leather. They create so much depth as they are very complex," Schönberger explains. "The shoes have an almost naive approach to colouring, it's like painting by numbers, and you have a lot of crayons and you use a new one for each field. They're like a painting to me, but with architectural elements." The collaboration is based on trust: Dirk refuses to box Raf in with instructions and restrictions. "We gave them a great playing-field. Raf created a whole new upper but using our tools, but he still played around with very visible Adidas leitmotifs – what he did was change the appearance of existing Adidas products, something that's our heritage."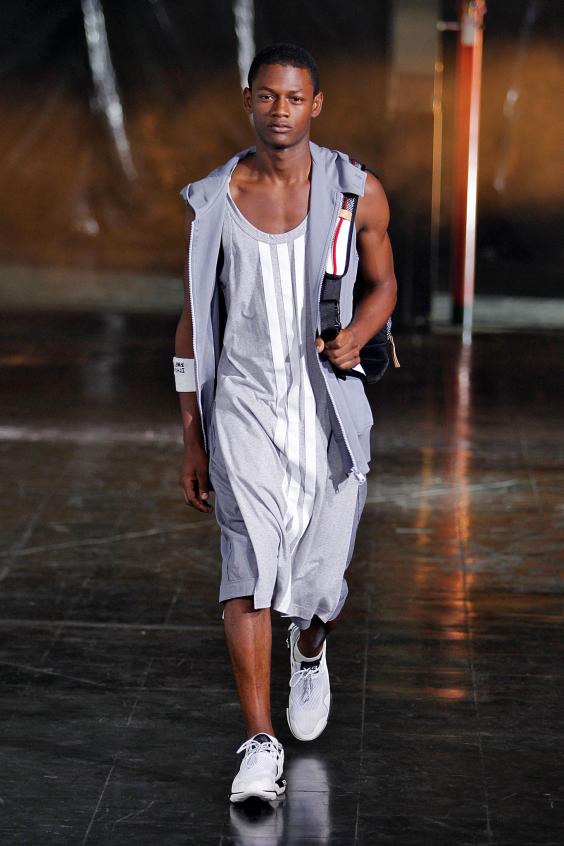 But that stylistic journey was not always easy, at least for Adidas purists. "The first seasons with both Raf and Rick, the Adidas team questioned the designs. But the general response has been great, though – with these kind of collaborations you always get both sides: super-positive and extremely negative. Inside Adidas, we're energised by the collections." It's the small details that do it; the way a fashion designer approaches such a specialised item as footwear. "Even just the way Raf colours his shoes represents a new way of thinking. It's interesting to see our toolings underneath those heavy, awkward-looking shoes. The proportions are very different from anything we would design ourselves. The materialisation is great and the shoe is almost like a mosaic of different colours and materials," Schönberger says of Simons's spring offerings.
Schönberger's journey to Adidas might have been longwinded, but retrospectively it makes sense for the designer. "It took a long time to arrive here, but as a kid I was always an Adidas fan – both consciously and unconsciously. It was always part of my life, I never wore any other sports shoes than Adidas". Although his previous work, in the sartorial sphere of Paris, was more formal, there was always something casual about his approach, according to Schönberger. "Working on my own brand, I was fascinated by tailoring, but at the same time I thought that tailoring needed to be updated. I had both a relaxed style and a 'construction versus deconstruction' element, which for me is what sportswear is all about, it's about deconstructing a men's suit. There was always something in my own collections that hinted at sports."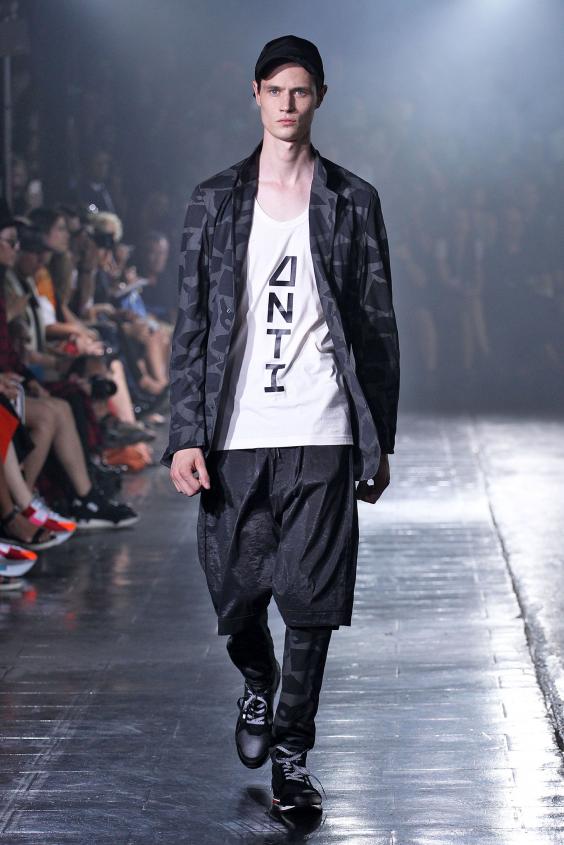 And in this clash between sportswear and high-end fashion, Schönberger perfectly unites the two camps. His understanding of sportswear in general, and German sportswear specifically ("In terms of sportswear, a lot started here at Adidas. The founder of this company was obsessed with making great products for athletes, and that is still the ethos at Adidas") means that he's able to make himself understood by all partners. "For me, Rick, Raf and Yohji challenge the status quo, and I find that interesting. Yohji might be an established designer but he's not part of the establishment. He's always doing unexpected things, like working with Adidas, for example! It was a bold step for someone who's more couture than ready-to-wear. And Raf defies expectations all the time, he's a big challenge to fashion."
The future, though, isn't all about signing up big names – though in recent times Adidas has announced partnerships with both Kanye West and Nigo, founder of A Bathing Ape – but to create a sustainable vision for the company. Schönberger is as interested in quality as quantity. "I believe in continuity as a fashion designer, even with collaborations. I like partnerships that build up to something bigger. Adidas is a cultural melting pot of different influences, be it athletic, musical, fashion or artistic inspiration. We need to find a balance, we don't want the brand to disappear behind these big names."
Adidas, Schönberger argues, has the heritage to continue leading the sportswear versus high-end fashion fight: "For me, Adidas made the sportswear and streetwear merger possible. In the Eighties, when I grew up in Cologne, you could see all these Adidas jackets in vintage stores. Guys were wearing them on the streets, but they had bought them second-hand. It became an everyday clothing garment, whereas before it was limited to the sports field, to gyms and football clubs. It started to take over the streets. For us it's natural to explore that".
Reuse content