Olivier Rousteing is young and good-looking. So young and good-looking, in fact, it's easy to mistake him for an especially well-dressed off-duty model. He's 28, just, with cheekbones that look as if he's sucking the stone out of a plum. He's his own best advertisement – for the French house of Balmain, where he has been the creative director since 2011.
Balmain had something of a rocky time before Rousteing. A dusty name founded in 1945 by Pierre Balmain and famed for dressing women with propriety, if not especially with innovation, by the 21st century the label was forgotten. New York designer Oscar de la Renta once created couture for the label, but the line was shuttered over a decade ago.
But, in the mid-2000s, Balmain rocketed to prominence under former designer Christophe Decarnin. He became known for instigating a style which drew on Balmain's couture heritage – plenty of embroidery, astronomical price-tags – but fusing it with rock-star influences. He created collections inspired by Sid Vicious, Prince, the frogged bandleader jackets sported by Michael Jackson in the mid-Eighties. Critically, they were hit and miss, but a new generation of customers bought heavily, even though an embellished Balmain jacket could easily set you back five figures. Decarnin also became known for his delicate health, finally bowing out due to a breakdown after his autumn/winter 2011 collection, when the reins were handed to Rousteing, his former assistant.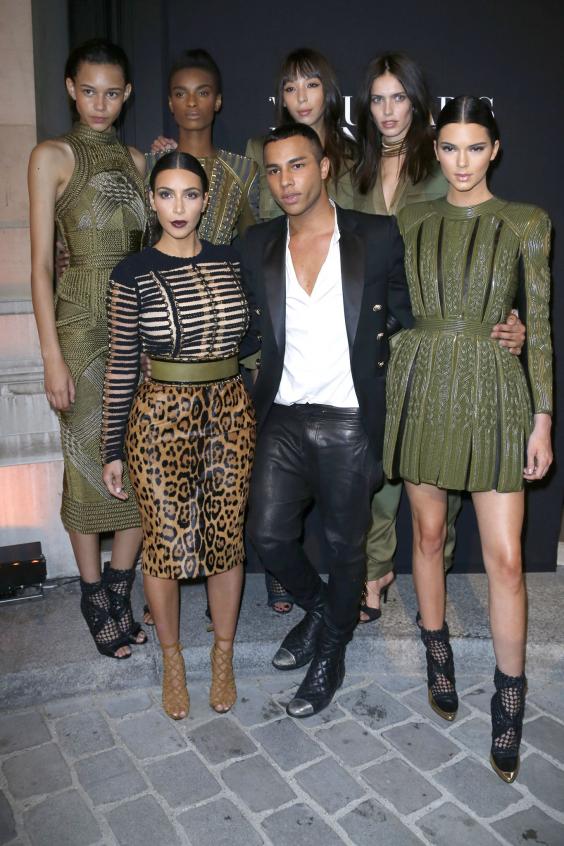 Rousteing was eager to take the helm. Despite Balmain's style being well established, he's also started to place his stamp on the line. "Of course, I am looking at the archive and I am always looking at the story of the house. I do not want to go too far away from their aesthetic," says Rousteing. "I do think my aesthetic is exactly what Pierre Balmain would do. When he invented the Jolie Madame or when he dressed jet-set women... I think today, I am doing the same thing in my own way. Of course, I love the archives. But now I think it is enough to look at the past; I start to think I need to mature and see different things. Paris is not so inspiring any more, I think. That is why you need to open your mind and go away from the past."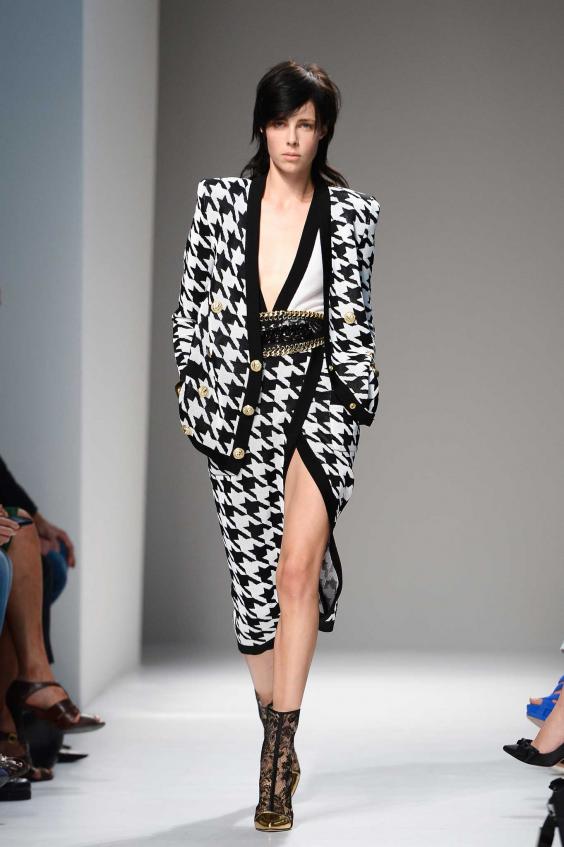 Rousteing can say things like that because he isn't Parisian himself – he was born and raised in Bordeaux in the South of France by adoptive parents – but he sees his scope as even wider than that. "I am a boy from the world. I am French, of course, but it does not matter. I have this tradition, I am born with this beautiful tradition – but I think today being luxury, being quality, being modern, hasn't any borders... and I'm mixed race. I want to mix ideas, I want to mix cultures." Rousteing is one of only a handful of black designers working in fashion today – Patrick Robinson, Stephen Burrows, and Shayne Oliver of streetwear label Hood By Air are a few other examples. But Rousteing is arguably the most high-profile example.
Olivier Rousteing's designs for Balmain
Olivier Rousteing's designs for Balmain
1/6 Balmania

Rihanna in the spring/summer 2014 Balmain campaign

2/6 Balmania

Olivier Rousteing with Kim Kardashian, flanked by models wearing autumn/winter 2014 Balmain

Getty Images

3/6 Balmania

Olivier Rousteing's Balmain collections for spring/summer 2014

Getty Images

4/6 Balmania

Olivier Rousteing's Balmain collections for autumn/winter 2013

AFP/Getty Images

5/6 Balmania

Olivier Rousteing's Balmain collections for spring/summer 2014

Getty Images

6/6 Balmania

Balmain's autumn/winter 2014 campaign, shot by Mario Sorrenti and featuring Binx Walton, Cara Delevingne, Jourdan Dunn, Ysaunny Brito, Issa Lish and Kayla Scott
Balmain was, perhaps, the natural home for Rousteing's taste. His first fashion recollection is an early- Nineties Yves Saint Laurent fashion show: "It was a show with Iman and I remember fuchsia colours – I thought it was pretty amazing."
He initially pursued a law degree, dropping out to study fashion at Paris's École Supérieure Des Arts Et Techniques De La Mode. After that, he moved to Italy to work at Roberto Cavalli, rising to head of ready-to-wear.
"It helped me a lot," says Rousteing of his time in Italy. "I left France when I was 18 for five and a half, six years. Italy teaches you how to make commercial pieces, to be really commercial. Cavalli is an empire, it's huge – you get everything you want in a few days... I didn't know the meaning of 'waiting'! It taught me so much about being fearless and super-reactive, and doing so many collections a year." He pauses, pregnantly. "But it didn't teach me something about taste. I didn't like the taste of Cavalli. I love the Cavalli of the past."
There is a certain nostalgia for fashions past to Rousteing's work – not Proustian, but a retro eagerness to re-explore the styles that informed his relatively-recent childhood. He dedicated his spring/summer 2013 collection to Sade and Gianni Versace; his latest spring collection was a bold-as-brass-buttoned ode to Karl Lagerfeld's early-Nineties collections for Chanel. Many in the audience shifted uncomfortably, remembering those clothes first-time around. But Rousteing doesn't really care. "I think Balmain today is really a new generation brand, even keeping the tradition," he states. That new generation encompasses not only the young designer, but the young, moneyed consumer buying these clothes.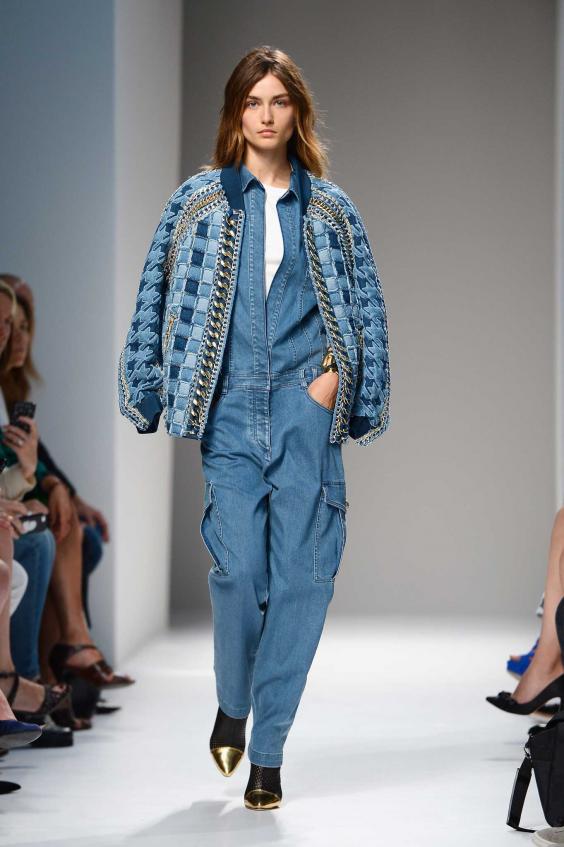 Those consumers include Rihanna, who became an unofficial face of the house. This summer, that went a step further: Rihanna was the model for the Balmain advertisements, dressed in quilted leather, denim and houndstooth-checks. She's 26 – the same generation, then, as Rousteing. "It was an amazing statement for the house, for fashion," he says. "It was really important that she was doing the campaign because she's my muse, she's my icon, and she's my friend." As is often the case when two ridiculously good-looking people end up in Instagram frames together, rumours swirled that the friendship was more than platonic (Rousteing is gay – but he did pose for a faked-up proposal shot that went viral).
What is it about Rihanna that Rousteing rates? "She owned the clothes," he says – meaning psychologically, rather than fiscally, although she doubtless owns a lot of them now. "That's exactly what I want. I love seeing a woman, the feeling of a model, a top model. When you look at an old Versace show, you loved the dress, but you loved Claudia Schiffer, you loved Cindy Crawford. Supermodels! With Rihanna you get that too. Today people are looking at Rihanna like they were looking at Naomi Campbell or Claudia... nobody wants to be a model, everybody wants to be a singer. That's the new dream. I think having Rihanna in the campaign is like having Cindy Crawford of Christy Turlington, but for my generation."
Rousteing is plugged in to that generation – and not just the luxury end of the equation. "I'm 28. I know not everyone can afford a thousand-dollar jacket. I'm doing fashion for my amazing front row every season, but at the same time I'm doing fashion for young girls, who wear their version in the street," he says. What he's referring to is copying – namely the high-street ripping off high-end designer duds for a fraction of the price – which has always been endemic chez Balmain. Decarnin's bold-shouldered blazers launched a thousand knock-offs, and the instantly-identifiable looks Rousteing has made his trademark have done the same. Rihanna, of course, only stoked the flames.
"I think it was Coco Chanel who said if you're original, be ready to be copied," says Rousteing philosophically. Then, he unexpectedly follows it up by stating "I love seeing a Zara window with my clothes mixed with Céline and Proenza [Schouler]! I think that's genius. It's even better than what I do! I love the styling, I love the story... I watch the windows always, and it's genius what they do today. They go fast, they have a great sense of styling and how to pick up what they have to pick up from designers. I'm really happy that Balmain is copied – when I did my Miami collection and we did the black and white checks, I knew they would be in Zara and H&M. But they did it in a clever way – they mixed a Céline shape with my Balmain print! Well done! I love that".
Reuse content