Outside the Victoria & Albert  Museum stands a line of schoolgirls. Each holds hands with the next in a crocodile, as their names are checked off a register. Their uniform seems almost of another era, each in white socks tugged up to just below the knee, their polished pumps in regulation black or brown.
When I was nearly ready for "big school" – a week before term started, thus avoiding any unexpected growth-spurts – my mother would take me and my brothers to Clarks for the ritual choosing of the new school shoes.
It may not have been a glass slipper I was lowering my foot into, rather a clapperboard-like device that measured length and width, but nonetheless, this marked the beginning of my lifelong  obsession with shoes. T-bar or round toe, buckle or button, boot, mule or strappy sandal, they represent a rainbow of ways, even with restrictions, to express yourself.That rainbow of expression ends, it seems, not with a pot of gold but at the V&A. On 13 June, that august institution gives itself over to fashion's favourite  fetish, unveiling its summer exhibition, Shoes: Pleasure and Pain.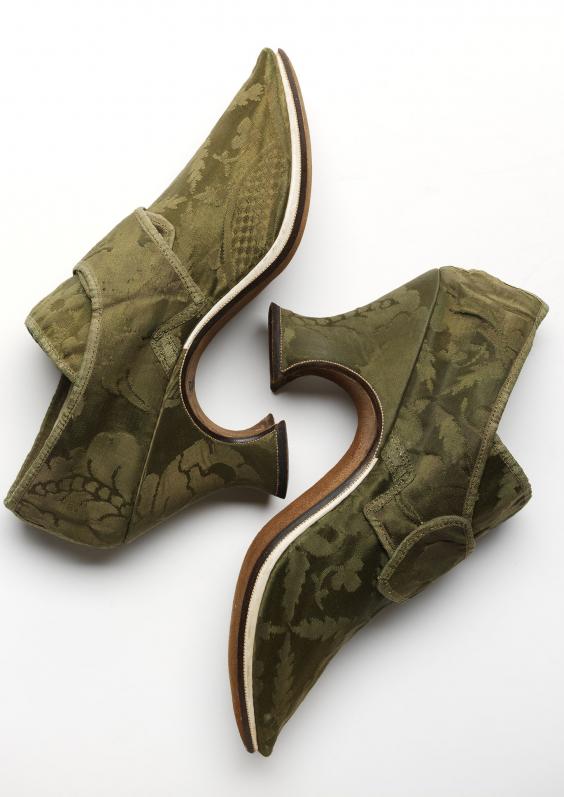 The show features footwear from around the world, spanning ancient China to the most recent red carpets. It treads through that history in pairs. Eschewing the exhibition tradition of single, isolated shoes, each here is shown alongside its other half, a neat emphasis on podiatric practicality, as well as aesthetic appeal. "Everyone has an opinion on shoes," says exhibition curator Helen Persson, herself wearing a coquettish kitten heel from L.K. Bennett. "This is an exhibition of art to be worn. Shoes are seductive, they change the way you walk and transport you both physically and in status."
The variety on display in the opening, black and red cabinets, gives you a hint of the footwear potpourri to come: Manolo Blahnik's best-sellers – black patent Mary Janes he calls "Campari" – pose next to the Red Shoes from the cult 1948 Moira Shearer film of the same name, alongside David Beckham's 2000-01 season Adidas football boots with "Brooklyn"-embossed tongues – because, Persson emphasises, it's not only women that have a thing for shoes.
The show closes with "The Collectors" – a label that could just as easily be  applied to me as to Imelda Marcos. There is the sneaker hoarder and the high-street aficionado, alongside the collectors who see shoes as objets d'art – and spend  accordingly. The V&A doesn't rule itself out: a wall of shoe boxes represent the 2,500 pairs in the museum's archive, each box marked with photograph of a different set of these treasures.
Shoes range from collectible to  obsession-able – rather like my own wardrobes. I remember my very first pair of Manolos: those happened not long after I interviewed the legendary shoe-maker, whose first name alone – like Madonna or Cher – has become synonymous with the craft he has mastered. We first met in the 1990s, when he began creating Manolos for London designers Matthew Williamson, Clements Ribeiro and Antonio Berardi. In that instant, I went from angsty steel toe-capped Doc Martens to delicate satin court shoes balanced on a wafer-thin leather sole. The heels were spindly, but that was his signature, I reasoned. Those were  my first, but certainly not my last. It was like upgrading from a bus to a Rolls-Royce Silver Ghost. There was no stepping back now.
There were the "first day at Vogue" Manolos (as obviously even a lowly fashion assistant had to look the part); there was the pair that marked the publishing of my book, Manolo Blahnik and the Tale of the Elves and the Shoemaker; there were the denim courts with diamante buckle, now splattered with mud, that the late and much-loved Parisian boutique owner Maria Luisa kept aside for the six months it took me to save up to afford them; and the illustrated heels Manolo drew, now framed by my desk, when I began my career as an author – "for your next step in the fashion world".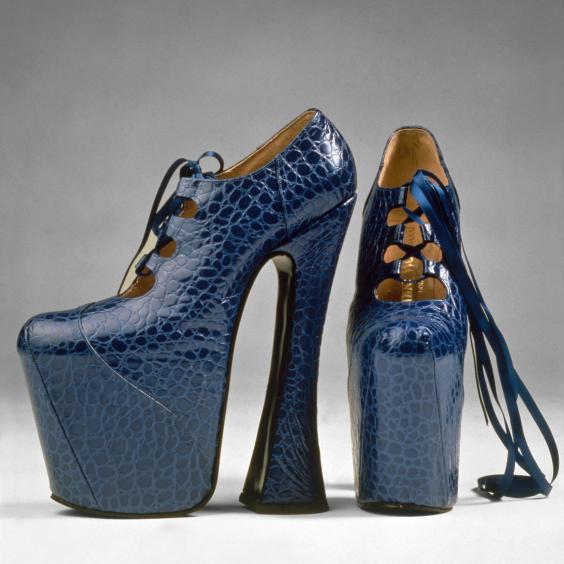 More than mere style, the magic of Manolos (at least, my Manolos) were in how they made you feel. Cinderella, in her multiple cinematic incarnations, wouldn't have left the party at midnight if her glass slippers had been more comfortable. In this V&A exhibition I spy a Fendi fur pair of diamond-strewn mules from 1995 that may have been more comfortable, and certainly more accurate. In the original story, she didn't wear glass slippers, you see; they were fur, but that got lost in translation somewhere. A few other shoe myths are blown at the V&A – Marilyn Monroe had level-height stilettos and a really good wiggle rather than a hacked-off inch on one heel, as the lopsided legend goes; and it turns out that ladies of the night didn't wear shoes painted red to entice, although there's a pair of booties from the 1800s that I think would make admirers faint if glimpsed poking out from under a petticoat.
There's an undeniable magic in high heels. Vivienne Westwood described her platform shoes as putting women "on a pedestal". It was one of these which Naomi Campbell famously fell off – those heels are in the exhibition, too. When I wrote my first book, How to Walk in High Heels, in 2005, it was about how to do just about everything with confidence on that pedestal, my thinking being that if we women can walk in high heels, and juggle all challenges life throws at us, we'll be more invincible than Superwoman. "Why are women obsessed with >  heels?" asks another legendary shoe designer, Christian Louboutin, quizzically. Answering his own question, he continues: "A woman knows they are an unnatural extension of her body and they give her extra body language."
"Shoes are to emphasise character," says Manolo, who seems far wiser, and certainly far better at shoes, than any Fairy Godmother. "It's about knowing yourself and projecting this fantasy." That spans the entire gamut of footwear, from husband-catchers to retifistic fetish- stilettos; the high heels of Sex in the City (that still makes him squeal), to the flat. "I LOVE flats!" Manolo cries. "So much more exciting that high heels. High heels do the work for you, flats you have to be really sensual, really sensuous to pull off – look at Brigitte Bardot and her ballerina flats." He pauses for breath. "Shoes have to always be a pleasure, to be  uncomfortable is obscene."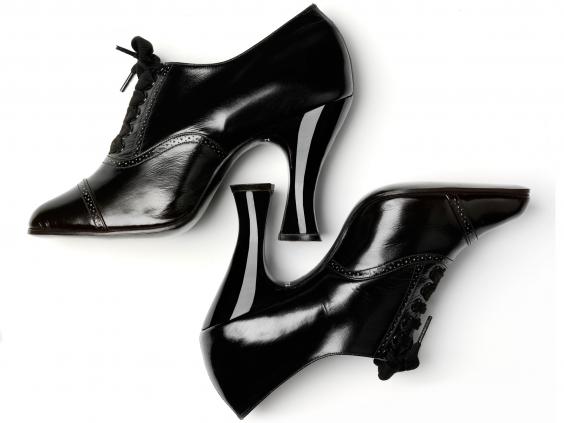 Last year I tripped over a faulty conveyor belt at the Eurostar, and ended up with a shattered ankle and shredded achilles tendon. I didn't fair well on crutches (actually, I accidentally lost them in a taxi on my first outing) and was confined to an air-cast walking boot – think Darth Vader in Dior grey – for four ugly months. Footwear took on new significance: ankle straps made me weak; stairs were managed on hands and knees; stilettos were unthinkable. Instead I positioned my favourite pairs like Fabergé eggs on bookshelves around my flat, and mourned. Remembrance of heels past.
"High heels physically change the way you stand," says shoe designer Nicholas Kirkwood. "Its all about a play on proportion, tension and silhouette."
When I was in a foot-brace I had limited shoe chat – Kirkwood remained unconvinced of my idea to design shoes with ankle pads or ice-packs, despite his penchant for exploring sculptural and curving new heels. He is another designer featured in the V&A's archive and exhibition, and for him it's about shifting perception, discovering new dimensions, and, he says, "getting people to open their minds to what can be worn and what can be done".
If Cinderella could spend an evening in glass slippers rather than a pair of loafers, (look at the ruckus flats caused this year at Cannes), and Daphne Guinness can stay upright in heel-less creations custom-made by French couture cobbler  Massaro, perhaps it's time to pepper-up your own collection? From the shoe designers to Elizabeth I and Marie  Antoinette to Christian Dior's favoured shoemaker Roger Vivier and the contemporary realm of 3D printed heels, the V&A's exhibition highlights the passion, pleasure and our long-lasting fixation with footwear. "The high heel is a tool of communication between the wearer and another person," says Louboutin. "I try to create a flirty tool of communication that, happily, will never end."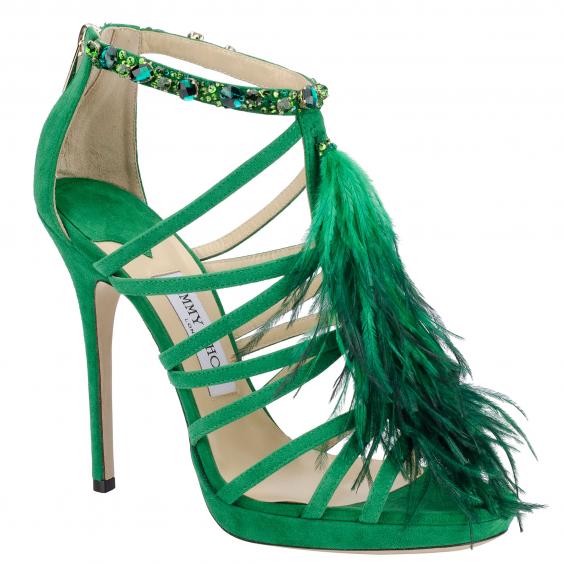 He's right. I have a pair of purple satin Manolos that a complete stranger came up and kissed (I stress it was the shoe  they kissed, not me) in South Kensington – Marie Antoinette (her again) experienced much the same thing when prisoners in the Conciergerie reverently kissed her discarded silk slipper. There I promise our similarity ends.
I also have a pair of heels that were so high and uncomfortable ("a dirty word in shoes," says Kirkwood) that the laces started to dig into me like cheese wire; I had to get a taxi home, and borrow a penknife from the driver to slash them off. But to the outside world I looked – and they were – fabulous. As Madonna said, "it's a material world", and as Taylor Swift put it, it "was worth the pain".
It is shoes that I believe put me on a pedestal, which in reality might have put me a little bit too far up in the clouds. As Blahnik says, "shoes are about endless possibilities, about beginnings rather than endings." It's about where you walk in them that create the adventures; it's up to you to remember only the pleasure, and not the pain.
The V&A's Shoes: Pleasure and Pain, supported by Clarks, Agent Provocateur and the Worshipful Company of Cordwainers, opens on 13 June.  www.vam.ac.uk/Shoes
Reuse content