There is little in the canon of fashion that compares to shoes. Sleeves inflated and deflated to glove-like tightness, hats grew to gargantuan proportions, shrank and then disappeared entirely. Women took up trousers, men started to wear skirts, but shoes are a constant.
They are also, arguably, the wonders of the fashion world: small-scale architectural feats, for your feet. "A shoe is a very engineered element of the woman's wardrobe, that's for sure," says Christian Louboutin, the designer whose signature red soles are objects of lust, litigation and a multi-million-pound counterfeiting industry. But it isn't just high-end designers who espouse the engineering acumen required to create footwear: Jacqui Markham, the global design director of the high-street behemoth Topshop, says, "For me, a shoe can be likened to a piece of sculpture – a 360-degree art form requiring both an artist's eye and an inherent technical awareness."
That combination nets a pretty penny: Topshop won't release specific figures, but its business must account for a significant swathe of the £477.9m revenue generated by footwear in the United Kingdom. Globally, the industry turnover – high-end and mass-market – sits at around £122bn, according to research analysts at IBISWorld. Individual designers can make millions: the aforementioned Monsieur Louboutin's annual turnover was estimated at £161m in 2010, after selling 600-700,000 pairs of shoes that year. And this was before the addition of a cosmetics line, based on the idea of "polish" for the toenails exposed by several signature Louboutin styles; the same polish Louboutin once used to paint the arch of a pair of high heels, later spanning it into a global trademark. Launched last July, said polish is projected to net another £1.9m annually.
'Shoes: Pleasure and Pain'
'Shoes: Pleasure and Pain'
1/8 'Shoes: Pleasure and Pain'

Julian Hakes' 3-D printed 'Mojito' shoe

2/8 'Shoes: Pleasure and Pain'

An x-ray showing the undulating carbon fibre spine of Julian Hakes' 3-D printed 'Mojito' shoe

3/8 'Shoes: Pleasure and Pain'

Gina's patriotic 'Drew' shoes

Ed Bovingdon

4/8 'Shoes: Pleasure and Pain'

An x-ray reveals the steel supports in Gina's 'Drew' shoes

5/8 'Shoes: Pleasure and Pain'

Silk-satin shoes with Wedgwood heels by Rayne

6/8 'Shoes: Pleasure and Pain'

An x-ray of silk-satin shoes with Wedgwood heels by Rayne

7/8 'Shoes: Pleasure and Pain'

Zaha Hadid's vinyl and carbon-fibre creations for United Nude

8/8 'Shoes: Pleasure and Pain'

An x-ray of Zaha Hadid's vinyl and carbon-fibre creations for United Nude
Louboutin has famously fought tooth and nail over those lacquered soles. (In 2012, a New York court ruled in his case against YSL that the red-sole trademark was only valid against contrasting uppers). Yet arch aesthetics are the tiniest part of the challenge of shoemaking. "A pair of shoes has to be ergonomically sound to function," says John Miller, the clerk of the Worshipful Company of Cordwainers, the London shoemaking guild founded in 1272. "A garment doesn't. A single millimetre can make the difference between a good and an ordinary shoe." Brian Atwood, who used to design gravity-defying platforms for Versace before establishing his own brand in 2001 agrees: "I always compare it to building a house – because, like with a house, you need a great foundation."
This isn't just jingoistic linguistics, but reflects the fusion of fashion and architecture implicit in footwear – and the naming of shoes' components betrays both worlds. Like clothes, they are extensions of our selves – the heel, obviously, and the tongue, too. But how about the "waist" of a shoe – which, like the waist of a well-toned torso, is its narrowest part, on the sole? Or the "throat", where the top edge of the front meets the instep? Louboutin talks of a shoe's "cleavage" (appealing, no doubt, to the podiatric peccadilloes of many). And then contrast that corporeal language with structural words such as "platform", "arch" or "upper" (like an upper storey).
This odd mangling of the terminology of architecture and anatomy is present, I'd argue, only in shoes. And certainly, it's no accident that such noted architects as Zaha Hadid, Jean Nouvel and Oscar Niemeyer have lent a hand to footwear. They've also rarely restrained said hand to pure aesthetic – because, if properly designed, shoes can make an outfit; if not, they can break your ankle.
"You have to have both," says Helen Persson, curator of the exhibition Shoes: Pleasure and Pain. She isn't talking about matching shoes, but the pairing of aesthetic lust with architectural know-how. "You can make really fantastic looking shoes, but if they're not engineered properly, they're not shoes. They have to stay on your feet."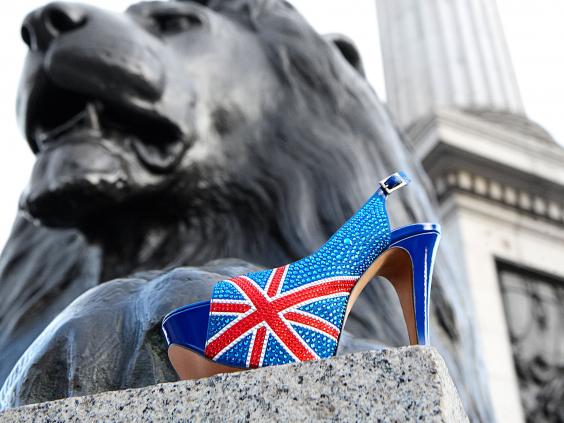 Not only stay, but support and shield. Shoes started as a practical consideration, first and foremost, protecting the foot from the elements above and from whatever was underfoot. The earliest known – or, rather, found – examples are from the Neolithic period, around 7,000-8,000BC. (They're recognisably sandals – of twined fibres, with a rope still attached that wraps the ankle – and still a pair.) But scholars think there were probably much older shoes than this. Unfortunately, highly perishable objects as they are, they probably fell apart, in much the same way as over-worn pairs of trainers. The earliest known leather shoes – lace-ups, constructed from single pieces of cowhide – were unearthed in Armenia in 2008 and date back to 3,500BC
That's a while in shoe history, you may think – but Persson argues that, in bespoke footwear, "nothing has really changed since the medieval period – in ready-to-wear shoes, too, it's just been mechanised". It's in the Middle Ages that one starts to see fashion's influence on the architecture of shoes – such as the crakow, a unisex shoe whose etymological origin can be traced to the city of Krakow, Poland, where it emerged in the 1300s.
The toes of crakows were dubbed "poulaines" after their native land, and rapidly spread across Europe. And the poulaine was literally the point of the crakow shoe – a pointed toe, more precisely, whose extreme length mimicked the towering spires of Gothic cathedrals. The uppers sometimes featured cut-outs like church windows, and the points – among the nobility – could reach 2ft (60cm) in length, stiffened with whalebone and sometimes tied to the knee with a cord or fine chain for the practicalities of walking. (Commoners were only permitted 6in of toe.) The fashion took such hold that there were even military poulaines – and at the battle of Sempach in 1386, the opposing knights of Swiss and Austrian armies had to slice off their poulaines because they interfered with the fighting.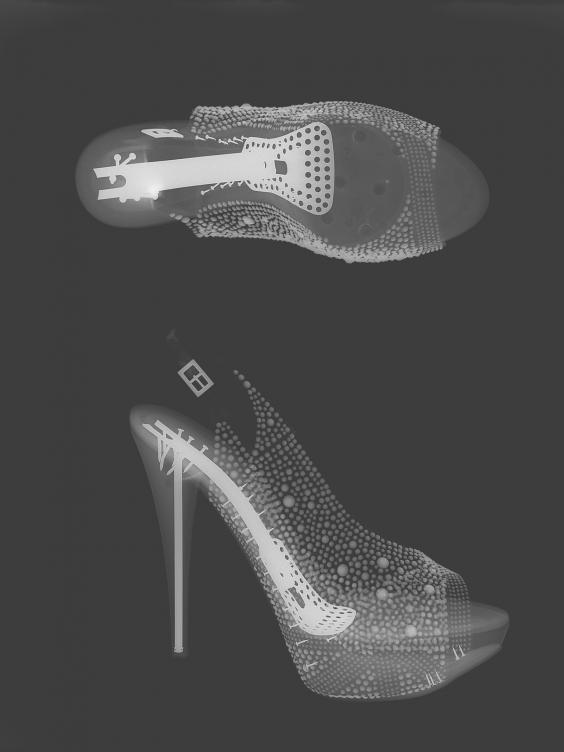 Stylistically, the poulaine finds a contemporary relation in the winkle-pickers of the Sixties, or the pointed toe of a stiletto court shoe. The only difference, says Persson is that there's no need to chop those down. But although she argues for consistency in the overall construction of shoes, she agrees that the sophistication in today's techniques permits designers to push further and, most importantly, higher. "The heel is a big change," she says. "It took so long. There was always a desire to make it higher, but it took a while to get it right." Indeed, it wasn't until the early 20th century that the combination of a steel "shank" and a metal heel support enabled the height to rise securely.
That hadn't stopped them trying before, though. The V&A is showcasing some 18th-century pompadour-style shoes, whose heel towers to 14.5cm. "It's incredibly high for something with no internal support," says Persson. "But it has collapsed over time." Hence the addition of leather patching to the instep – which indicates that the wearer was probably willing to endure it. She was also willing to put up with the gait such heels required. To wear such heels without straining their heels to collapsing-point, you had to balance on your toes. "That walk became very sexy," says Persson, adding that shoemakers persisted in pushing their heels higher and higher.
Actually, it wasn't the shoemakers but their clients who pushed. Shoes were entirely custom-made until the 20th century, when "modern" designers emerged – the first being Pietro Yanturni, who in the 1920s demanded deposits of around $1,000 to undertake a pair of shoes for a client. (Today, that would equate to roughly £7,500.) Said shoes, crafted from antique velvets and brocades, took on average two years to finish – but one noted client, New York socialite Rita de Acosta Lydig, commissioned several hundred pairs and reputedly had her shoe trees crafted from antique violins for the featherweight quality of their wood.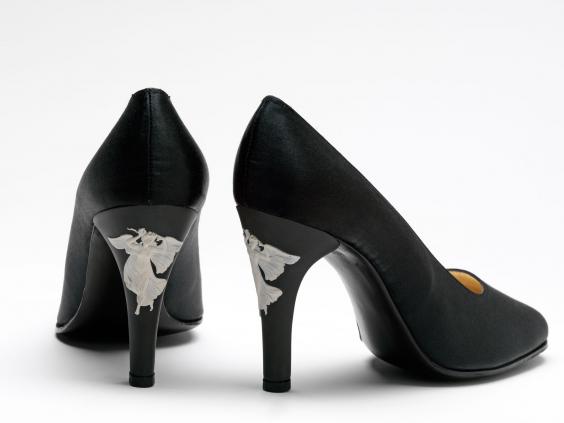 Was Lydig a foot fetishist? Not in the way that we understand the term – for which a synonym is "Retifism". This honours Nicolas-Edme Rétif , an 18th-century French noble who was one of the first to write on the subject – and more than a century ahead of the psychological establishment in recognising it. But by then, you couldn't miss it. In the late 19th century, shoemakers began to realise elaborate fantasies, such as boots with 28cm heels, which were longer than the soles. This footwear was created for lying down – or at least sitting – given that standing or walking were impossibilities.
Today, however, perhaps they can engineer it. Certainly, the likes of Louboutin and Atwood are proposing everyday heels higher than ever – outside of 19th-century Viennese Retifist club – that still allow women to walk. Says John Miller: "When designers push the boundaries of design – heel-less shoes are a good example – they must inevitably work on a complex infrastructure to ensure that the shoe actually works. Heel height is limited by the ability of the wearer to balance and walk."
And the heel is only part of the story. "There are roughly 100 steps in the production of a simple pump," continues Miller. "In the footwear business, staff specialise in one area, so each part of the shoe is crafted by a skilled artisan." Louboutin elaborates: "There are many people involved in the process. All the components are made in different places. For example, the upper, the heel, the last, are all made separately so there would be a minimum of six or seven people or places involved in the construction of the shoe…. For me, the process can take from two weeks to up to two years."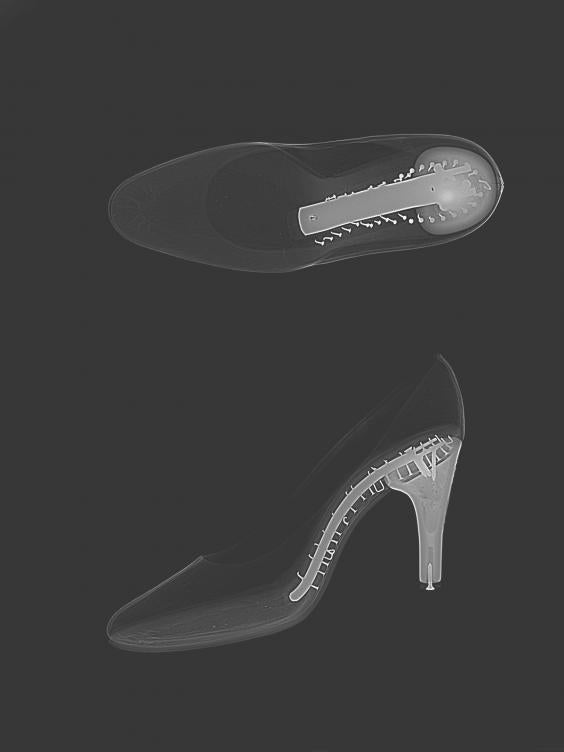 Sandra Choi, the creative director of Jimmy Choo, has entire factories at her disposal – but learnt the trade as an apprentice with her uncle, the company's eponymous founder. "I'm sure there are lots of creative designers out there who know how to draw beautiful shoes but you do need to partner up with an expert who knows what he's talking about," she says. "You're talking about gravity and balance so you don't want to kill somebody. You certainly can't make a pair of high heels, in your garage."
"You can't just cobble together a shoe," puns Helen Persson, back at the V&A, where an entire floor is devoted to the facts of shoemaking. "People today don't know how much goes into a shoe," she says, delighted at the incredulity of visitors seeing an exploded shoe pattern for the first time. That's why she has also x-rayed a selection of her exhibits to reveal "what lies beneath the surface of the shoe: the layers, the components and its construction".
But what if the complex patterns, multiple craftsmen and those 100 or so production steps, could be done away with? Julian Hakes is an architect (another) who has turned his hand from bridge building in the Middle East, Russia and the USA to shoe-making. And his "mojito" shoe entirely dispenses with the middle part of the shoe, the foot bed. "When you study the loads in the foot there is very little transferred in this part of the foot. Ninety per cent of the body weight goes to the front of the shoe," he says.
Hakes – who formed the curly-whirly pattern for his prototype by twisting paper around his foot and then 3-D printed the result in a range of sizes – says he had no experience in footwear at all, but this later turned out to be a blessing "I didn't know what the rules were, which was great as we broke pretty much all of them..." It remains to be seen, however, if Hakes's mojito will become the new mule. Or if, in the history of shoe design, it will merely be a footnote.
'Shoes: Pleasure and Pain' opens at the Victoria and Albert Museum tomorrow
Reuse content