This week Girlguiding UK unveiled a revamped uniform and – for the first time in 40 years – the Girl Guides' uniform has been made more fitted, feminine and formal, rather than less so.
The British uniform has only been updated eight times since 1909, and since the 1960s (when a tailored, waist-hugging skirt suit was replaced by a loose tunic with neckerchief) the shift has been towards a steadily more shapeless, casual and androgynous look.
Undoubtedly these changes reflected our greater emphasis on comfort and gender equality, underscored by a perfectly legitimate asexuality (you're dressing girls aged 10-14, after all) – but as a former Bunny (later renamed the Rainbows; thanks Hugh Hefner) and ex-Brownie, I recall balking at the oversize polo shirts and tracksuit bottoms on offer to a Girl Guide of the 1990s.
My family had just moved back from Singapore to Belfast and compared to my light, cotton and rather pretty Brownie uniform in the Far East, I was convinced that this new Guide gear would make me look "like an ugly boy". I didn't join.
And so I'm happy to hear that this year the designers – five fashion students from Arts University Bournemouth – responded to pleas from Guides in focus groups.
"We asked them if they were going on a more official outing, whether they'd want something a bit more formal, rather than leggings or jeans. This was something they were quite conscious of," says 22-year-old Jessica Gray. "They also wanted a less boyish silhouette; more of a girlie feel."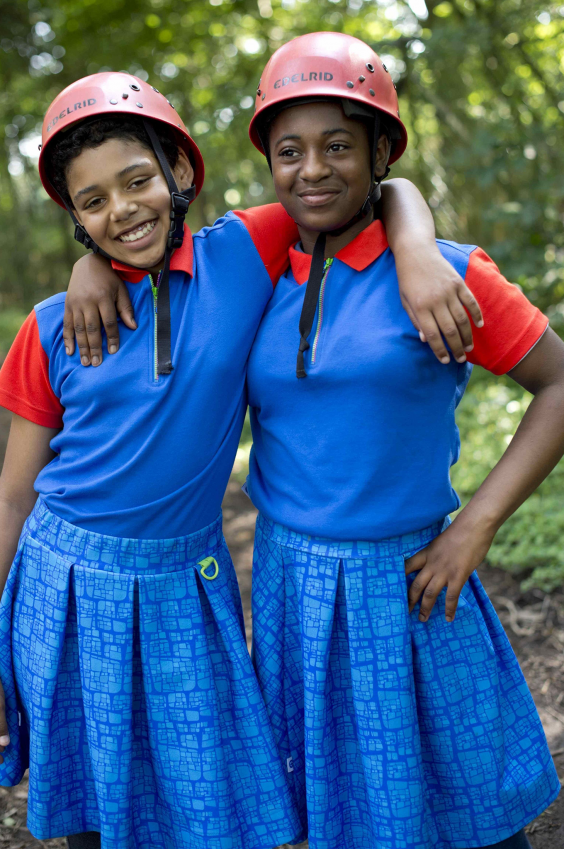 The Girl Guides, described by their current Chief Executive, Julie Bentley, as "the ultimate feminist organisation" has clearly entered its post-feminist phase.
The new British uniforms will, of course, be greeted with nostalgic outrage from many former guides, but in fact, Girl Guide uniforms around the globe have always varied wildly according to culture, climate, activities (although I'd hate to have earned my axe-wielding badge in the brown woollen dresses of the 1950s) and trends.
There's no international allegiance to any particular colour or style. You'll currently find reds in Barbados and Holland, greens in Taiwan and the Philippines, blues in Pakistan and Grenada. Some nations still swear by a neckerchief and woggle, others prefer a Miss World-style sash to display the Guide's various badges.
Emblems and patterns similarly know no bounds. In Sri Lanka, guides are called Little Friends, their emblem an elephant, and they recently abandoned their flowing white dresses and replaced them with yellow cotton t-shirts and dark trousers or skirts.
Occasionally you see a flicker of national identity: New Zealanders are almost patriotically casual, so their current Girl Guide dress code is a sporty two-tone blue top, with nylon shorts or sweatpants. In Malaysia girls can make their own Baju Kebaya (a traditional blouse and dress combination), but the Guide rules state that the colour "must be blue".
For the most part, uniforms are eerily universal, having responded with regularity entirely to the whims, tastes and needs of young girls, from the flashes of pink on the Irish neckerchief to the cheery green bonnets they wear in the Philippines via the bubblegum pink dresses in Dominica.
In the UK there is an optional Girlguiding-branded hijab available for Muslim Guides who want to wear a headscarf, but this is entirely optional.
It was the Scouts and Guides founder Robert Baden-Powell's intention that the uniform "hides all differences of social standing in a country and makes for equality; but more important still, it covers differences of country and race and creed and makes all feel that they are members with one another of the great brotherhood".
Our new uniform retains the trademark preppiness of the Girl Guides, but with its two-tone sleeves and collars and visible zips it nods to brands like Hollister and Abercrombie & Fitch. For girls of a certain age, navy blue with a woggle might be the new black.
Reuse content