'You'll say it's a work in progress, right?" There's a twinge in Jonathan Anderson's voice: not of annoyance, more panic. Which is understandable. Ten days before his spring/summer 2014 show (presented today as part of London Fashion Week) and it's crunch time at Anderson's Dalston studio.
The shoes haven't arrived yet. The fabrics aren't quite right. The shapes need work. It sounds terribly stressful, but it's a standard predicament for a fashion designer. The pre-war couturier Madeleine Vionnet once threw out a whole collection two weeks before her show; Yves Saint Laurent used to set his ateliers to work on a final flurry of outfits 24 hours prior to his haute couture presentations. Anderson is very much of their balls-to-the-wall school of thinking.
He's also London fashion's latest 'next big thing'. Jonathan Anderson – or JW Anderson, if you read the labels stitched into his garments – is a hot ticket of the week, a designer the press watch like hawks, a designer others copy slavishly. "I don't care if people copy us all day, I don't mind that. It means we're going the right way," says Anderson, raking a hand through his hair. "If they're not copying you, then you're fucked."
That's a big, overblown statement. Anderson is known for them – I've been told before, in expletive terms, of how prickly he can be. You couldn't say the same about Anderson's clothing. They do veer into outrageousness – he's made a big play for unconventional materials such as leatherette and latex in his womenswear, while the ruffled shorts he showed for men back in January enraged many ("Only three places in the world bought them," he admits). At the same time, there's a slick commerciality to it all. There is something eminently desirable about the crunchy knits, neoprene pleated skirts and biker jackets that end up on the shop rails. He's got his head screwed on right.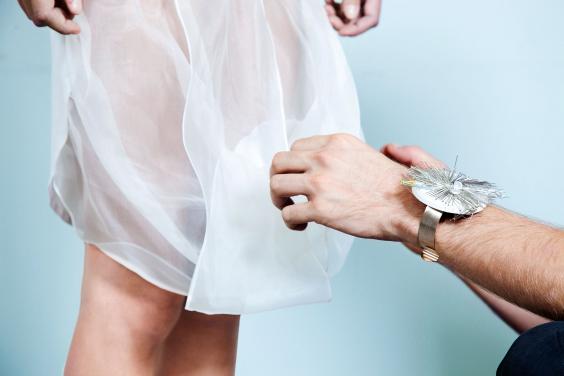 Jonathan Anderson grew up in Magherafelt, Northern Ireland, in a family of farmers. His father, Willie, is a former Irish rugby international. "Everything you see as a child will ultimately affect who you are now," says Anderson junior. "I weirdly have some sort of attachment to sportswear. It sometimes comes through." And the proportion of those menswear shorts, he insists, originated in rugby tackle, albeit minus the ruffle.
Anderson also once worked for Prada, which perhaps explains his commercial acumen – once seen as antithetical to a young designer, but now a hallmark of London's finest. Without such a grounding, it's doubtful Donatella Versace would have recruited him as the first outside talent, following Christopher Kane's departure from the label, to head up her Versus line, albeit for a single season: its full unwieldy title was Versus Versace JW Anderson Collection – imagine the label.
Equally, Anderson may not have won the Emerging Talent Award for Ready-to-Wear at the last British Fashion Awards if he didn't have a sturdy business to back it up. You need a mantelpiece for those kind of accolades – the kind you don't get in a garret.
But right now, Anderson isn't thinking about awards. He's thinking about spring/summer 2014 – of which these images are an exclusive 'work in progress' preview. "Spring/summer for me always initialises the change," he says. "It's the only collection you can do it in. And it can either go really right or really wrong. You can't get other collections that go that way… if it goes wrong, it goes wrong."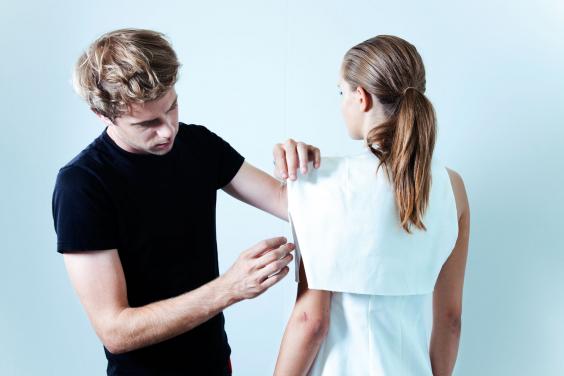 Just over a week until the show, Anderson is still working this collection out. "Modern peasantry" is his mildly Absolutely Fabulous summary; a book on Tudor folk costume open on his desk offers reference as he points to fabric manipulation such as ruching, smocking and pleating. "Dry surface architecture," he says, abstractly. "Dry and poor." We're looking at toiles here, though – the building blocks of the collection, cut in white cotton, to give an idea of the shape of garments and allow a designer to tweak the fit before cutting into the actual (expensive) garment fabric. They're conceptual garments, in every interpretation of that term.
The lines, however, are in place. They seem softer and rounder than winter's pointed and wrapped layers, softer, too, than his women's resort and spring/summer 2014 menswear collections shown in June. "Not very us," deadpans Anderson. But that's precisely the point – using the spring/summer season to galvanise the look to come. "You need to make sure 35 per cent of the collection is something you're not comfortable with," he says. "If you're comfortable, it's stale." Uncomfortable clothes, apparently, are what the copyists will be churning out next spring.
Model: Maya Mackay at Viva London
Hair: Selena Middleton at SOHO Management using Shu Uemura Art of Hair
Make-up: Suhyun Kang using Chanel Le Weekend and A/W 2013