Sometimes there's a room with a view. And sometimes the room is the view. I always think the former is the British impression of Italy – all Merchant Ivory and misty views of Tuscan hills. The latter is a bit more robust, more Italian.
Italians love an impressive palazzo or three. The Palazzo Gabrielli-Mignanelli is one of the rather more impressive examples I've been inside, and each and every room – frescoed and vaulted to high heaven – makes quite a view. An imposing 16th-century stone edifice, built for the noble Gabrielli family, who then married into the equally noble Mignanelli family, the palazzo straddles the Piazza Mignanelli and the Spanish steps, a prime Rome position.
Today, most people don't call it Palazzo Gabrielli-Mignanelli, after its former occupants. They call it Palazzo Valentino, after its current ones. And inside, all is magnificence.
Mr Valentino – born Valentino Garavani, now aged 83 – was once dubbed the Sheik of Chic. Indefatigable, immaculate and invariably permatanned, the designer became, for many of his clients, an example of elegance incarnate, whose life was to be envied and emulated. It wasn't enough to simply buy a palazzo – plenty of Val's Gals, as his more affluent customers were known, could do that. It was about knowing what to put inside it, and where to put it. Decoration, entertaining, home furnishings. Living it.
Last year, Valentino (the man, not the label) published a book called At The Emperor's Table. It wasn't about clothes, but rather talked about how Valentino designed his luncheons and dinners with the same precision and elegance that he brought to haute couture. L'art de vivre, the French call it. There are shots of sumptuous table settings, recipes for stuff like lime-basil cream puffs with raspberries, and plenty of pictures of Valentino looking glamorous. The book is divided by locale – London and New York, but also Gstaad and TM Blue One, Valentino's 152-foot super-yacht. It's not Delia Smith.
But I'm talking here about a man who's left the building. Valentino retired in January 2008 after his spring haute couture show. He was initially replaced by the designer Alessandra Facchinetti, formerly of Gucci, but after a year she was replaced by Maria Grazia Chiuri and Pierpaolo Piccioli. It's them I've come to meet, in the vaulted vestibules of Palazzo Valentino. Because it's their house now. (Well, technically the building is owned by the Vatican. But anyway.)
I've read a lot about Mr Valentino. He worked for four decades in fashion, dressed a lot of famous people, put on a lot of shows, once had a line, Oliver, named after his favourite pug dog with a picture of said dog woven into the labels. That's all had a lot of column inches.
I've read less about his successors, Chiuri and Piccioli. Nevertheless, I've seen plenty of their work. It's even begun to infiltrate Palazzo Valentino: I sit on a set of Napoleonic furniture, all ebony and gilt, that has been re-upholstered with brocade from the designers' winter 2013 "wunderkammer"-inspired haute couture collection. It's woven with depictions of golden seashells and wriggling coral. Definitely fit for a palazzo.
Bits of Valentino of old remain: the liveried footman, for instance, who offers me water as I wait. The Valentino duo are running late, in the grand Italian tradition – the result of 12 back-to-back interviews, for various international publications. I'm the 13th.
They're a pair who are always tricky to pin down. Valentino's palazzo is off the beaten track for the fashion pack, who congregate in Milan for the ready-to-wear. Valentino show their menswear, womenswear and haute couture in Paris, so Chiuri and Piccioli might be described as commuters. This time, however, Valentino opted to show their autumn/winter 2015 haute couture collection in the Eternal City, on a specially-designed catwalk erected on Piazza Mignanelli, right outside the Palazzo Valentino, which they've just renovated. Convenient. It's also, coincidentally, right outside their new flagship, designed by David Chipperfield, as a modernist palazzo. The view in those rooms? Valentino clothes, obviously.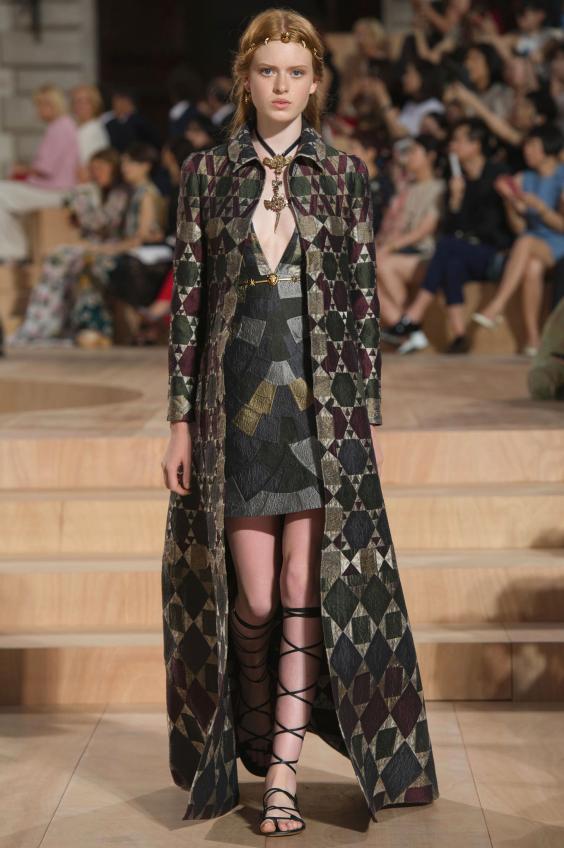 But back to the Palazzo old, where I'm meeting the newish Valentino duo. Mr Valentino's office is their office. They sit either side of a gigantic desk – or maybe it's two regular desks, I couldn't tell. If it's two, they're touching, and the debris of creating the latest collection free-flows between them. Perched either side are Chiuri and Piccioli, like fashionable Stigs of a very chic dump.
They're exhausted. Understandably. Not only have they staged both a menswear and haute couture show in the space of two weeks (a feat only equalled by Raf Simons at Christian Dior), but they also cracked open 10 eye-boggling Roman destinations, like a villa where a Medici cardinal took his lovers, or the Biblioteca Angelica, nestled by the Sant'Agostino church. Valentino dubbed these odd nooks and crannies the "folds" of Rome, bringing it all back to dresses. They also perched a bunch of 'best of' outfits from Valentino's back-catalogue in those folds (their own work, and that of Mr Valentino too), and called the whole ephemeral exhibition experience "Mirabilia Romae," which means "Wonders of Rome". And they were.
Maria Grazia Chiuri is 51, Pierpaolo Piccioli 48. They both grew up in Rome. Chiuri still lives in the city, Piccioli now lives "by the sea". They're quite different people – Piccioli dressed in rumpled cotton, Chiuri in a white dress, her fingers loaded with heavy rings. As they sit on opposite sides of the table(s), firing answers to my questions, it's a bit like watching a tennis match. They're a team, though. Their differences seem to gel, to complement each other.
Example? Ask why they first became interested in fashion and their stories are very different. "I really believe I was interested in fashion all my life," states Chiuri. "But I think it's different to speak about fashion because now we have an idea about fashion that when I was younger, was completely different. I was really interested about everything [to do with] clothes, with dresses, with shoes, with bags… but now it's big; fashion with another vision. It's very popular – but in some ways fashion is something very young. If I speak with my kids" – she has two, Piccioli three – "they have no idea about my time. For them, fashion is the label: Prada, Armani, fashion show, Instagram. It's another world, really another world." She laughs. "If I think that when I started there was no Prada… You can't remember fashion without Prada. I can remember fashion without Prada!"
Piccioli relates a very different story. "I started thinking aboufashion later in life," he says. "At the beginning, I was interested in cinema. I wanted to be a movie director. And I went looking at Avedon, Penn, Deborah Turbeville, these kind of legendary photographers. I understood that maybe with fashion you could tell stories… it's not about clothes, it's about the perception we have, the moment you see something and you are attracted by it. And you reflect on that, beyond what you see."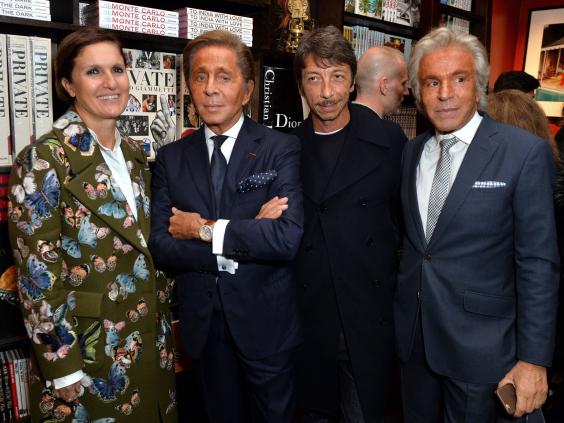 In short, Chiuri was attracted by craft, Piccioli by image. Maybe that's why they meld together so well. That fusion is what has informed their Valentino, and made it so successful. In 2014, the house – now owned by private investment company Mayhoola, tied to Qatar's royal family – increased its earnings by 57 per cent year on year, and saw a 36 per cent rise in revenues. Sales have more than doubled since 2010, to almost £400m, and that buoyant buying has been accompanied by hyperbolic press reviews.
The clothes are the cause for both. In just over five years, Chiuri and Piccioli have drilled down into Valentino's bedrock and established a strong commercial foundation for life at Valentino, after Valentino. Their "Rock Stud" collection – of accessories punctuated with pyramidal hardware imitating the nailhead details on Roman doors – is a runaway success. They use it both in women's fashion designs – on clutch bags and sandals to be worn with elegant, elongated evening dresses scrolled with embroidery – and in men's, on heavy shoes worn with camouflage, which Chiuri and Piccioli have identified as a masculine equivalent of the florals they strew over their female models.
Chiuri and Piccioli have also made their mark in haute couture – the entirely made-to-measure and accordingly astronomically expensive old-school of fashion, where every garment is made by hand for an individual and highly-secretive client base of just a few hundred women across the world, each with the wherewithal to spend upwards of £50,000 on a single garment. But that mark is discreet, with those floor-length, rake-thin gowns pricked with embroidery. They're good for Riyadh and the red carpet, which are couture's target markets. Valentino's Roman excursion was more of the same – lavish but light evening gowns, with the amount of workmanship totted up next to them in the show programme – 2,500 hours apiece, say, for a series of dresses inlaid to resemble pietra dura marble tabletops or palazzo floors. Rome was the inspiration, hence the vestal virgins – their loins girded with chatelaines – the centurion-style panelled evening dresses, and lots of toga party drapes in silk velvet. Valentino red made a fair few appearances. Models' heads were symbolically heaped with gilded laurels, much like the designers'. Many of the audience leapt to a standing ovation, caught up in the emotion, the story.
It was the perfect combination of Chiuri and Piccioli's skills. When I walked through the Valentino haute couture salon the next day, it was carnage. Clients had been in, already, the staff said. They seem to have ordered lustily.
I raise that difference in approach, and Chiuri laughs: "We are two different people with different lives, different family, different experience, of course – it's normal that we have different angles!" Piccioli adds: "We've worked together for many years but we've always been convinced that we have to bring our personalities because it's important to work together in respect… but not compromising, because if you compromise you kind of miss something. If you work together in a relationship, as a combination of personalities and visions, of shade and light, the whole vision becomes more faceted and deep."
The Valentino duo have worked in tandem for much of their careers. They've been at Valentino since 1999, working on accessories, but first met at Fendi, the only other major fashion house headquartered in Rome. "We met in person," recalls Piccioli, "then Maria invited me to work with her at Fendi. We didn't start as a couple… we were more free, we were thinking in a more "factory" kind of feeling, so working together was a moment when you can share your passion, your interests. It was like a continuous conversation between us. We have something to share from our roots." Chiuri interrupts – or rather, continues his thought, in a way that members of successful creative partnerships often tend to do: "I think that at the time there was no internet, no community. When you find somebody that you can speak about your passion… I remember I was so happy."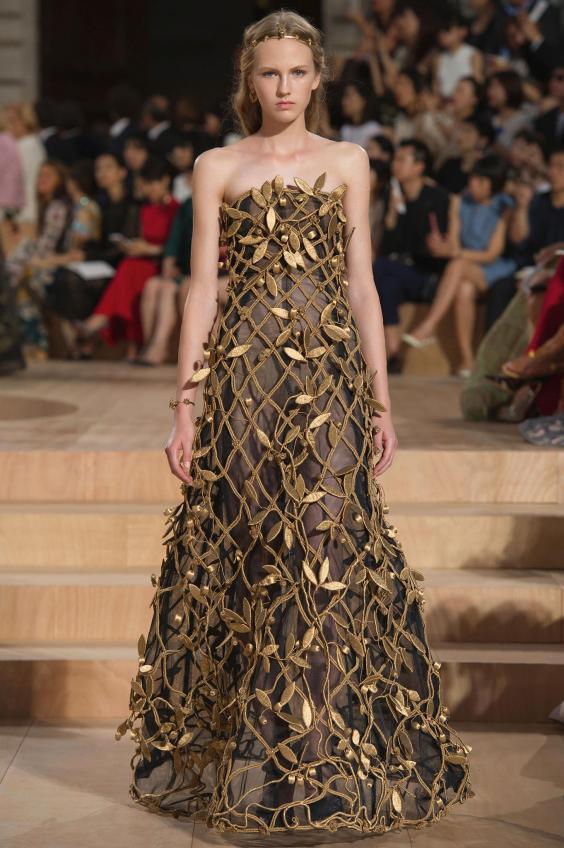 Today, it's fair to say that haute couture seems to be Chiuri and Piccioli's passion. It pervades every facet of their Valentino vision – meaning that, even if you can't buy one the hand-crafted dresses they showed in Rome, you get a sense of it in their ready-to-wear, handbags, shoes, everything. "If you're doing couture as an approach to fashion, it needs to be one of a kind, it needs uniqueness, it needs a new reality," Piccioli says. "You can have a piece of our denim, or even a simple T-shirt, with the same approach. It would be the best T-shirt, in a way. It's like having the best of everything."
I ask Piccioli how important couture is to Valentino. Not if it's important – I can see that. But I'd like a quantifier. He lights a cigarette (after asking, in chivalrous fashion, if it's OK to do so). "How important, you say? I think it's really important because if you think of couture as a culture, and I definitely think that you have to…" He sighs, and slumps. Piccioli is tired.
"Can you repeat the question?" He smiles, exasperated. I do, and he continues: "Couture defines Valentino, in a way. Being a couture house and being Roman are the two characteristics that define what Valentino is as a house." "And also more special," adds Chiuri, jangling the rings festooning her fingers, tapping a review of their show in the Corriere della Sera newspaper. I see the words "ovazione" and "bello", and get the gist even without speaking the lingo. "Couture is not something to show off, couture is something private," continues Piccioli. "It's about yourself. You understand that couture is not about the most expensive fabric or the most sparkling embroidery, couture is about…"
"Time," add Chiuri.
"Time!" Piccioli agrees, "It's not so common. It's not so common to have this kind of care. In this selfish moment everything's about screens, digital. You want to feel the humanity, you want to feel the human touch, you want to feel the love goes into every single stitch. So when you feel that, I think, you ask if someone is taking care of you. It's another story."
So Maria Grazia Chiuri and Pierpaolo Piccioli are caretakers, then. Caretakers of their clients, and of the house of Valentino and its legacy. Mr Valentino sits, beatific, like a high-fashion pontiff, in the front row of every one of their shows. He seems pleased to have passed on the torch without his successors razing the Palazzo Valentino to the ground. And Maria Grazia and Pierpaolo, for their part, seem pleased too, to be well and truly out of his shadow.
Reuse content