It's tough getting menswear right – particularly in the upper reaches of the mid-market, the sort of clothes chosen by chaps with enough stylistic nous to know that boot-cuts are beyond the pale and the wherewithal to splash a tidy sum on natty knitwear and leather.
A newcomer to the menswear arena seeking to tick just those boxes is Whistles, which launches its debut menswear collection for autumn/winter 2014. A tightly edited wardrobe of classic pieces, the collection focuses on longevity and quality rather than flash-in-the-pan trends.
That also reflects the ethos of Whistles' women's line. "We've been considering doing menswear ever since we took over at Whistles in 2008," says Jane Shepherdson, the brand's CEO who left a high-profile role at Topshop for the challenge of reinventing a boutique brand that had lost its way. "We knew that we had to perfect the womenswear first and ensure that we had really developed the identity of the brand."
That's a rather humble way of describing how Shepherdson and design director Nick Passmore have turned the brand's fortunes around in five years. Whistles has become synonymous with sleek, slightly minimal design and an almost fetishistic fascination with fabric and detail. It's a formula that has pulled the label back into the black: worldwide sales stand at over £50m, while in 2013 the brand posted its first profit in years with a rise in UK sales of 20 per cent.
Menswear by Whistles
Menswear by Whistles
1/5 Menswear by Whistles

Contrast Sweater, £85, jeans, £95

Photographer: Joe Quigg

2/5 Menswear by Whistles

Black Suede Jacket with Shearling Collar, £1,400

Photographer: Joe Quigg

3/5 Menswear by Whistles

Grey Cable Knit Jumper, £195, ecru jeans, £150

Photographer Joe Quigg

4/5 Menswear by Whistles

Grey Wool Double Breasted Coat, £450, striped knit, £135, jeans, £95, shoes, £195

Photographer: Joe Quigg

5/5 Menswear by Whistles

Shirt, £85, bomber jacket, £250, trousers, £120, boots, £245

Photographer: Joe Quigg
Those sales have been hitherto restricted to the fairer sex, to the chagrin of customers on both sides of the gender divide. "I have been accosted by both women and their other halves in stores and asked when we would start doing a men's collection," says Passmore.
"Men have definitely become more adventurous in the past five years, so it's a very exciting time to be launching our collection. I think the Whistles man is confident, stylish and has an innate sense of style."
There is an ethos of "functionality combined with style" behind Whistles' first menswear collection, a laid-back, stripped-down aesthetic inspired by the likes of Jake Gyllenhaal and Steve McQueen (the latter's signature bomber jacket is already developing into a staple piece).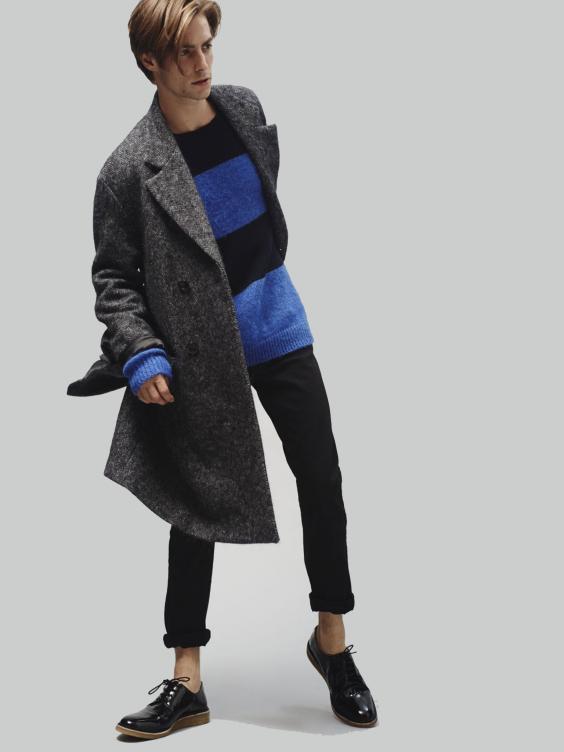 To showcase the new line, the brand has commissioned new design fixtures to create a sense of demarcation between men's and womenswear in its existing stores, as well as a new stand-alone store at St Pancras station. While Passmore admits that the majority of men may not be aware of Whistles, with such refined, wearable style on offer that surely won't be the case for long.
Photographer Joe Quigg
Stylist: Lee Holmes
Grooming by Jamie McCormick using Kerastase
Model: Timothee at Supa
The menswear collection is available from 4 September, whistles.co.uk