At last Thursday's London premiere of the new movie Zoolander 2, at the Empire Leicester Square, the film stars, Ben Stiller, Owen Wilson, Will Ferrell, Kristen Wiig and Penelope Cruz, were out in force – and in their best threads. The men wore Dolce & Gabbana and Valentino; the women wore Yves Saint Laurent (vintage) and Versace. Fashion figures were in attendance, such as the models Jourdan Dunn and Lara Stone, the photographer Mario Testino and Alexandra Shulman, editor of British Vogue.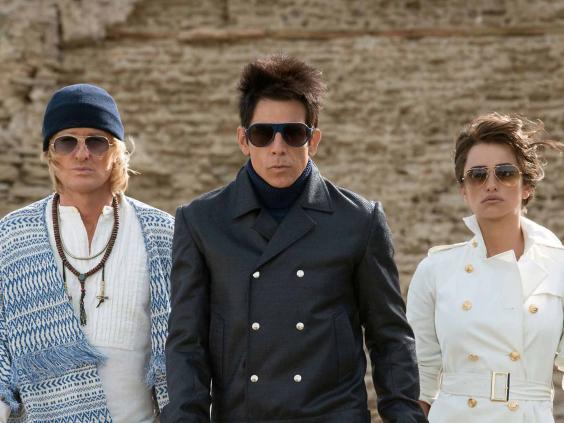 That is because the film focuses on the fashion industry: its protagonists are male models; its villains fashion designers. It's a comedy, the crux of the gag being that Stiller and Wilson play two "ridiculously good-looking" male models, when neither is exactly Brad Pitt. They're also hammily stupid and get hit in the face a lot with things. That's the plot of both Zoolander films in synopsis, with a few other fashion elements thrown into the mix. 
For the premiere, the red carpet had been swapped for a Zoolander-blue one. Before the screening, the ensemble cast – including the patrician designer Valentino, who appears in the film briefly – posed uncomfortably while Stiller waved an extended monopod camera support, commonly known as a "selfie stick", eight metres in the air. He apparently broke one of those rather more spurious Guinness world records. That was before the film had even started.
There's been a hefty amount of kerfuffle, generally, leading up to this film, a late sequel to a 2001 original. That caught a fashion moment, a designer called Mugatu showcasing a collection titled "Derelicte" inspired by the homeless. It poked fun at a similarly inspired 2000 collection by John Galliano for Christian Dior, of which Cathy Horyn, then the New York Times's fashion critic, said: "It's hard to imagine a couture client shelling out $25,000 for a dress just so she can look like a bum". Zoolander hooked onto that slightly implausible fashion moment to spin out a fantastical plot of attempted assassination, accented with lots of slapstick. 
The sequel follows the same formula – but this time, fashion is in on the jokes of which it is made the butt. If last time Mugatu's show was a sly side-swipe at a designer's disconnected, ivory-tower fantasy, this time the designers Marc Jacobs, Tommy Hilfiger, Alexander Wang and Valentino all have cameos, as does American Vogue editor-in-chief Anna Wintour. I won't spoil the plot and explain exactly how it acrobatically twists to showcase the fashion industry's acting talents – but Wintour's blessing on the project probably helped to secure the designer names involved. It was also behind a publicity stunt at last March's Valentino womenswear show in Paris where Wilson and Stiller's characters walked the catwalk and upstaged an entire collection to wild applause. Stiller and Cruz were also featured on the cover of February's American Vogue. 
Fashion should have a sense of humour about itself. It is healthy that it can recognise its lampoonable qualities before we hit "emperor's new clothes" territory. That was an accusation often thrown at Galliano's "Homeless" collection for Dior, which was indeed ripe for parody. Absolutely Fabulous skewered fashion's excesses with both glee and alarming accuracy. Zoolander 2 is gleeful, giddy even, but the accuracy is lacking – as is the timing.
Zoolander's fashion quotes
Zoolander's fashion quotes
1/4 Zoolander

Derek Zoolander: 'What say we settle this on the runway... Han-Solo?' Hansel: 'Are you challenging me to a walk-off... Boo-Lander?'

REX

2/4 Zoolander

Hansel: 'I'm sorry that good-looking people like us made you throw up and feel bad about yourself.'

3/4 Zoolander

'Moisture is the essence of wetness, and wetness is the essence of beauty.'

4/4 Zoolander

Derek: 'I was at a day spa. Day – D.A.I.Y.E'
Much was made of Benedict Cumberbatch's transgender model All, who was presented as an anomaly just at a point when transgender models such as Hari Nef and Andreja Pejic have been embraced across cultures, by brands including Mac and Gucci. In the film, there's a designer named Don Atari who speaks in hipsterish gibberish and vaguely resembles the former chief executive of American Apparel, Dov Charney, who left the brand in 2014. Wiig plays fashion mogul Alexanya Atoz, a cross between the socialite Jocelyn Wildenstein and Lady Gaga, who wears ball gowns and cages of boning on her head. Except that, again, Gaga hasn't worn that sort of stuff for a while – and anyway, isn't she already playing an exaggerated version of herself in the latest incarnation of the American Horror Story franchise?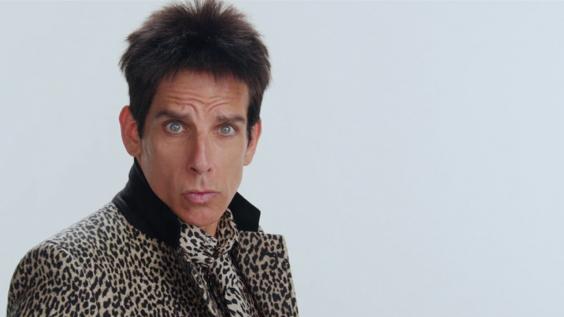 At the moment, fashion is in a fit about speed – seasons moving ever-faster, digital imagery beamed with immediate effect. That's the problem, for me, with Zoolander 2. Given the speed of fashion, it already feels dated. At the risk of sounding like the clichéd central-casting fashion editor, I can't think of anything worse.
Reuse content