From Dorothy's sickly sweet pinafore in Oz to loathsome school uniforms and Brigitte Bardot, gingham conjures the most contrasting of images but nevertheless it remains a keynote fabric of spring.
Packed with nostalgia, it's as inevitable as florals that gingham should re-emerge year after year, but before you reach for the nearest picnic blanket, incorporating this pattern into your wardrobe requires a little more thought. 
While many women have an outright aversion to gingham thanks to its wavering connotations, its presence on the catwalks this time around has matured, but in a good way. 
For designers like House of Holland, Carolina Herrera, Peter Pilotto and Shrimps, toying with gingham gave them something to rebel against. Alas, for spring/summer 2017, the pattern has more of an adult appeal and has been injected with a serious dose of cool.
Cut in contemporary silhouettes like ruched mid-length dresses, asymmetric crop tops and boxy round-neck blouses, it really has seen a coming of age. So too, the pattern came in a myriad of contrasting hues from classic black and white to Cadbury's purple and forest green.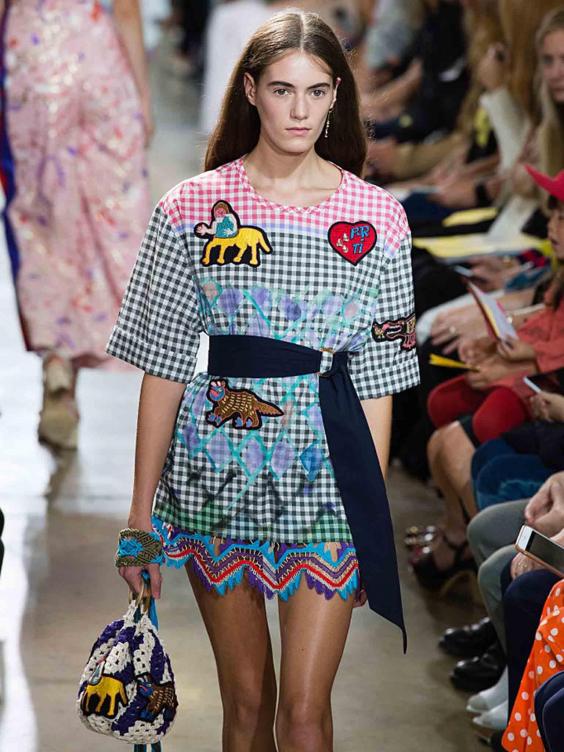 If you're a fully-fledged check-mate, this will make for easy shopping and thankfully the high street has plenty of refreshing colour combinations on offer across shirts, skirts, dresses and trousers.
But, if you want to nod to the trend without fully diving in, why not try out a pair of gingham flats or a nifty neck scarf instead?