While dewy skin and tousled waves remain staple spring beauty trends year-on-year, this season designers offered up something different.
A must-try for your tresses and a trend that promises to suit near-on every hair length, face shape and style, the humble braid has woven its way on to the catwalk. 
Fishtail, halo, herringbone or French, plaits never really go out of style but for spring/summer intricate braids took on a decidedly romantic form.
At Valentino, Rapunzel plaits hung loosely down each model's back with a centre part and an unfurling of face-framing strands, while Simone Rocha opted for pretty pigtails. 
Similarly, Erdem took wispy braids and coiled them at the nape of the neck into chignons woven with delicate black ribbon.
But, proving that plaits don't always have to be pretty, Maria Grazia Chiuri forecast tomboyish braids with a feminine twist for her first show at Dior.
Here, hair that looked like a sleek bun was cornrowed up the back with four inverted plaits that started at the base of the neck and worked their way up into a topknot.
From pretty and practical to classic or edgy, there is a multitude of ways to braid your locks this season but the work starts way before your fingers even start weaving.
Whether you're wearing them tight and clean or messy, always start with products designed to boost volume and texture like a sea-salt spray, volumising mousse and a bouncy blow dry.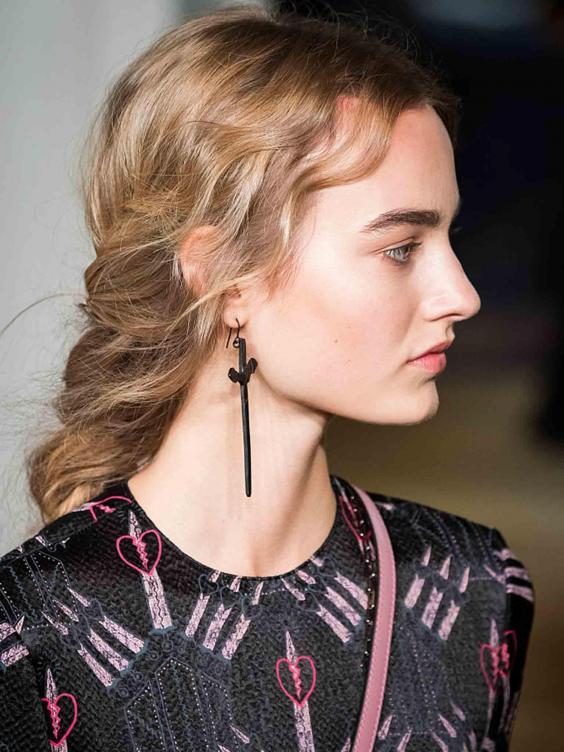 For defined braids, rubbing priming products between your palms will help to keep strands together as you plait but for a messier look, creating gritty texture is key.
By using a heavy mist of dry shampoo or texturising spray before you get started you'll create some much-needed grip and an organic finish. 
Plus, it's important to remember that this style should feel imperfect and lived in so don't be afraid to encourage any soft, loose bits of hair that stick out.
Reuse content