The painters and decorators sounds like a weird place for fashion designers to find inspiration – but the brocades, bubbly jacquards and chintzes designers chucked out for spring screamed not department store but DIY superstore.
Valentino's tapestry coats seemed hewn from exotic Persian carpets, Prada's patchy contrasts of brocades resembled walking wallpaper sample books, while Simone Rocha actually used the w-word to describe her anaglypta-like, bubbly textured suits in purest white.
In pictures: Inspired by wallpaper
If this sounds like one of those weird, flash-in-the-pan, single-season fixations, you can think again. Miuccia Prada for one has done it before: in the mid-Nineties, she unleashed a series of directionally disgusting collections patterned with the kind of dodgy graphics hitherto languishing on mid-century formica, lino and wallpaper. And come autumn/winter, Mary Katrantzou offers an ode to Victorian excess with intricate flocked velvet patterns, while Riccardo Tisci's Givenchy collection used heavily patterned damask that could have been stripped from a stately home's grandest drawing room.
That nails the essential element of this look: an intricately patterned fabric, woven to lend a touch of three-dimensional texture, and used lavishly to create serious impact. As Prada was packed with brocade for spring (alongside catwalks as diverse as Christian Dior, Giambattista Valli and Erdem), it's now in hefty rotation on the high street.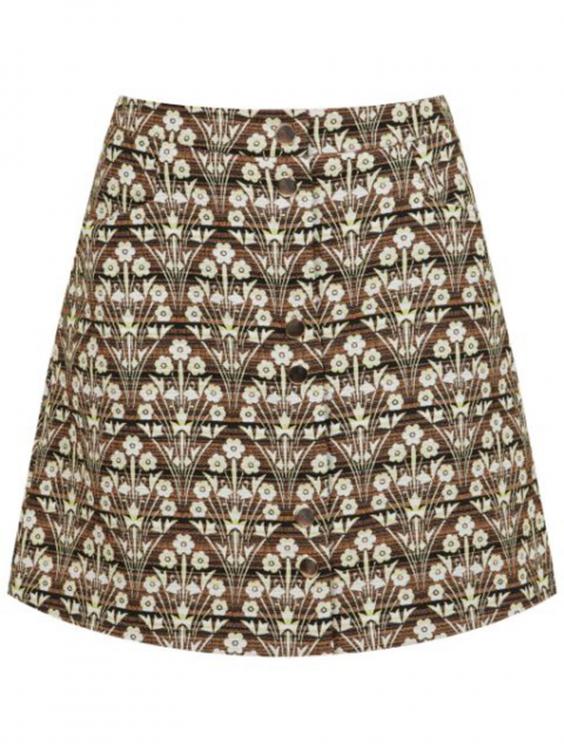 Choose wisely, and the pieces will last well into the winter season. Keep the lines simple, sleek and minimal, and let the dazzling surfaces speak for themselves – preferably, on their own. Brocade-on-brocade will make you look like an Eighties pub where flock wallpaper, floral curtains and lurid Axminster carpet all jostle for attention. No one wants to look like the sartorial equivalent of a Changing Rooms "before".
Reuse content