If we were to look back at the history of contemporary menswear, the 1970's is certainly a period of time that's filled with a hotchpotch of bold ideas. With the previous decades Summer Of Love still fresh in the collective consciousness, the fashion that followed, in all its riotous colour, was a free for all too. And perhaps because of its obsessive hankering after man-made synthetic fabrics, it's unfortunately often remembered as the decade that style forgot. Consequently, its not really an era that should be revisited with any degree of regularity. 
But at this season's Autumn/Winter menswear shows there was a definite whiff of that decade in the air. Were we really about to splash on the Old Spice and see a return of the ugly Cuban heel? Seasoned fashion watchers know that this industry is no stranger to nostalgia, so was it about to replicate what has already gone before, and ask us to embrace the freedom of the flare?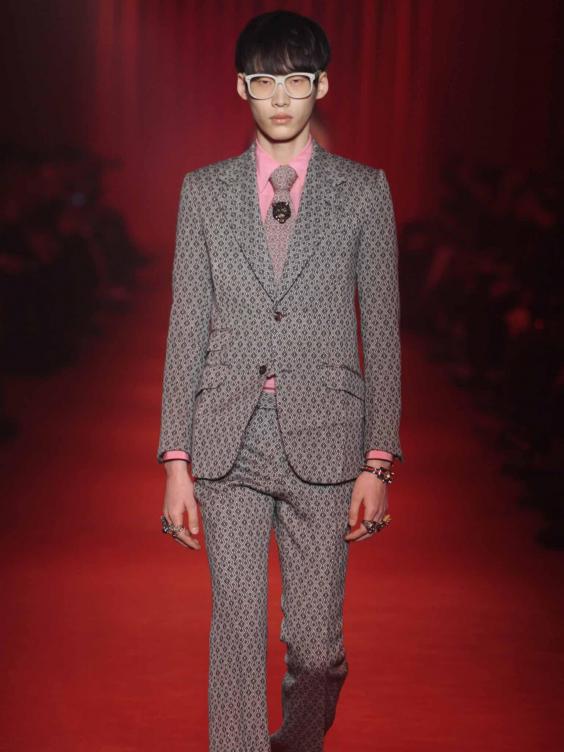 Well yes, in a way. Because at Gucci the retro references, although eye-catching, were hard to ignore. However, this should never be just about wearing the clothes straight off the catwalk and hot-footing it to the local discotheque. That's far too contrived, so as always you're best to approach this revival with subtlety.
So substitute that gaudy print with a tonal paisley motif instead. And experiment with texture by investing in a rugged shearling or sheepskin coat. Tried and tested denim is also the perfect way of dipping your toe into this decade; theres a smorgasbord of colours to choose from and double fashion points to you, if you decide to wear double denim. 
And finally, because the width of trousers has been on the increase over the past few seasons anyway, wearing a wider pair of strides shouldn't come as a complete shock to you. Choose wisely gentleman, and you'll carry off this comeback with just the right amount of flair
Retro Menswear
Retro Menswear
1/10

Jaeger Shearling Coat £699 jaeger.co.uk

2/10

£100 topman.com

3/10

Raey £150 matchesfashion.com

4/10

Paul Smith £355 matchesfashion.com

5/10

COS £79.00 cosstores.com

6/10

APC £140 apc.com

7/10

Acne £240 acne.com

8/10

Whistles £295 whistles.co.uk

9/10

£29.99 hm.com

10/10

£17.99 newlook.com
Reuse content