With the world seemingly tipped on its axis, you'd be forgiven for failing to notice that earlier this year Pantone – the authority on all things colourful – decreed that the colour for 2017 was to be green. 
In fact the company's definitive take on this hue was so eye-catchingly verdant that it was accordingly given the name Greenery. 
Inspired by nature and newness it was a rather apt colour to give to a year that, whether we like it or not, will symbolise new beginnings.
Believe it or not, Pantone's decision will almost definitely have an influence on what we put in our homes – expect a rush on Greenery-inspired paint at your local B&Q soon – but will it have an effect on the colour of the clothes we'll want to put on our backs?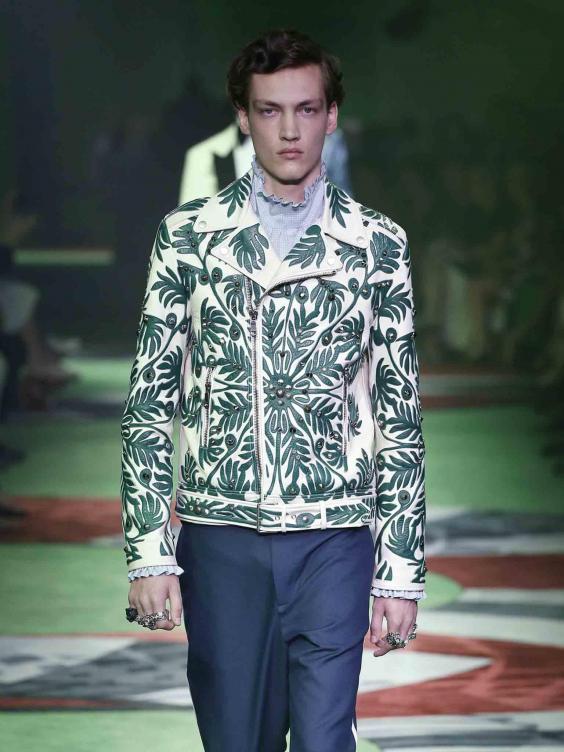 Apparently so, because the beady-eyed amongst you might have already clocked that green is going to play a starring role in the oncoming season. At Gucci, the designer Alessandro Michele fully embraced various vibrant greens.
And while I would certainly never suggest you wear such a ballsy shade from head to toe – you'd be slipping dangerously close into Kermit the Frog territory here – there's no denying that wearing a pea green polo shirt is nothing if not life-affirming. 
All you really need to do is make sure that the green you choose to wear is confined to one piece of clothing only and worn with neutral colours such a grey and black.
If you're still not convinced about those khaki trainers, or indeed the teal sofa, then the least you can do is introduce it into your home via man's best botanical friend, the low-maintenance succulent plant.
Reuse content