Thanks to the Kardashians and the subsequent rise of Instagram face, contouring - a word which just years ago was scarcely part of the beauty vernacular – has dominated beauty routines for us all.
And, despite a growing trend for minimal base, highlighter heavy complexions, it seems many of us aren't willing to give up on the face-shaping hack just yet.
That being said, it's a look that's lessening in popularity among the masses. So, as the trend for stripy faces wanes how should we be contouring now? 
It's a dilemma that make-up artists have been tackling on the spring/summer runways as they figure out how to achieve a seasonal look that calls upon a trifecta of bronzed, dewy skin and gloriously flushed cheeks without the use of harsh contours.
After all, there's a fine line between looking like a sun-kissed goddess and a literal hot mess.
The answer? Switch out those reddish hollowed cheeks for cool, neutral topes and a less-is-more approach. 
One of the best examples of this can be seen at Tibi where the contour was very yellow-based for a look that MUA Cassandra Garcia described as "bronze, monochromatic, dusty."
Similarly, Bottega Veneta blended a neutral taupe shade into the usual areas to subtly define the model's faces without looking too overdone.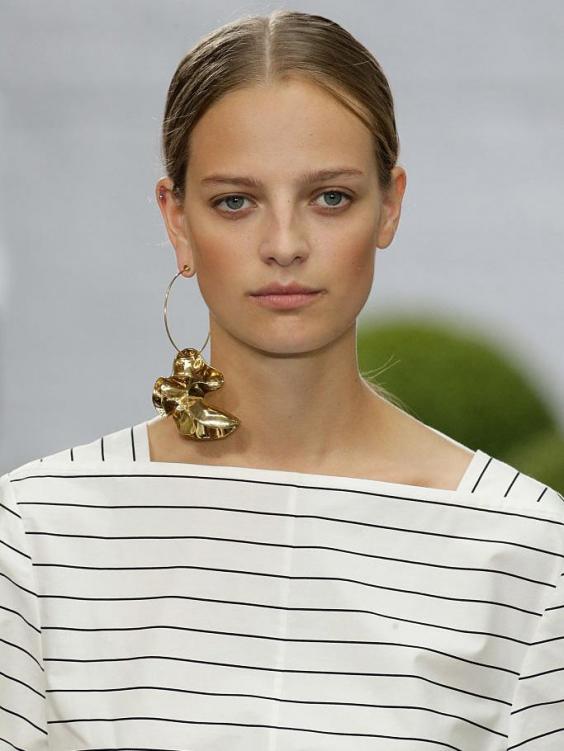 While at Giorgio Armani, Linda Cantello used the idea of 'multicultural' make-up to make models look as though they "were in the desert."
When it comes to executing this look at home, the name of the game is simple.
Here, it's all about creating tawny, natural skin with a subtle bronze across the temples, cheekbones and nose. Just use a light hand and always disperse product evenly to prevent harsh lines.
Where as traditional contouring can look a little full-on, this way adding depth with a shade that's closer to your skin tone will help to create a sun-kissed guise that's sheer and sculpted all at the same time. 
Reuse content