Chanel is taking legal action against clothing label What About Yves for a T-shirt depicting its famous double C logo within a Ghostbusters-style design.
The luxury French house seems unhappy with the latest design from the parody streetwear brand - widely known for its "Aint Laurent Without Yves" merchandise, - and has served the brand's founder Jeanine Heller with a trademark infringement suit.
According to The Fashion Law, the suit was filed last week in New York and it asserts that Heller is "displaying, offering for sale, and selling on her website, and selling to third-party retailers, a T-shirt and a sweatshirt bearing Chanel's CC monogram mark with an image of an animated ghost commonly associated with the motion picture Ghostbusters". The fashion giant, led by Karl Lagerfeld, says that Heller is using the "clearly recognisable CC monogram mark [on] her own clothing precisely because of the iconic status of the mark, with knowledge of its association with Chanel, in order to call to mind Chanel".
Other fashion brands that have been banned
Other fashion brands that have been banned
1/6 Other fashion brands that have been banned

Victoria's Secret removed Karlie Kloss' outfit that involved an American headdress after it came under attack for ignorance towards the tribal culture and history

Getty Images

2/6 Other fashion brands that have been banned

Victoria's Secret's Sexy 'Little Geisha' outfit contains a sexy mesh teddy with flirty cutouts and Eastern-inspired florals and it was removed from the online shop after it came under fire for 'appropriating, sexualising and degrading Asian culture'

3/6 Other fashion brands that have been banned

Zara pulled from stores and website a striped shirt embellished with a yellow star in its children's range, which was condemned by Jewish community following comparisons between the design and the uniform worn by prisoners in concentration camps

Screenshot

4/6 Other fashion brands that have been banned

NBA officially banned the Air Jordan shoes but Michael Jordan continued to wear them because Nike was paying the fine. He had been banned from wearing them because the distinguished red and black colors of the shoes did not match the colors of the jerseys of the Chicago Bull's team

Getty Images

5/6 Other fashion brands that have been banned

Russia banned the Emo clothing because they were a "national threat to stability" and the country wanted to bring down the high suicide rate among teens

Getty Images

6/6 Other fashion brands that have been banned

H&M was forced into a grovelling apology after being accused of modelling a new khaki jumpsuit on the uniforms worn by female Kurdish soldiers battling Islamic State in Iraq and Syria

H&M
The online shop is still offering the controversial design, alongside other products which parody some of the world's most famous fashion logos of brands including Hermes, Louis Vuitton and Dior; but none of these labels have taken legal action yet.
According to British Vogue, Chanel "is seeking damages that amount up to 'three times the amount of actual damages sustained'".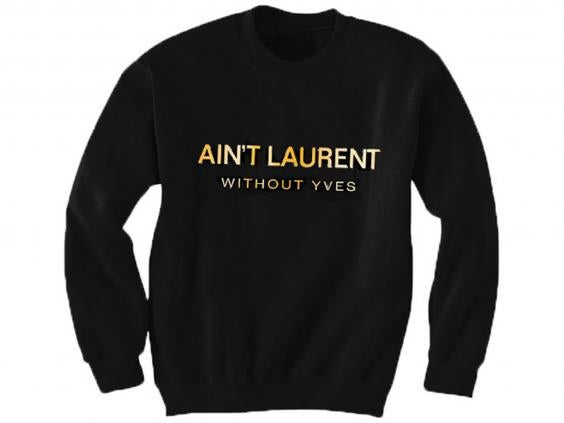 This, however, is not the first time that What About Yves has infuriated top fashion houses with parody products. Last year, it caused Saint Laurent to pull its entire collection from Parisian boutique Colette. The retailer was stocking Heller's "Ain't Laurent Without Yves" merchandise, which was launched following creative director Hedi Slimane's controversial decision to drop the word "Yves" from the brand's name of its ready-to-wear collections.
What About Yves' founder, Jeanine Heller, told The Independent: "The design was always meant as a parody, something that was clever and made people smile.  We never claimed the design to be Chanel, and we also hired an independent artist to design the parody in order to avoid trademark disputes.  The lawsuit is further evidence that fashion has no sense of humor and I am confident that this silly design never caused damage to Chanel's brand. There are simply much more important things in this world that Chanel should focus on rather than wasting time and money and ultimately damaging a much smaller t-shirt brand.
It's a shame that these large brands are allowed to file such lawsuits."
She has confirmed that until a resolution between the parties is reached the website will continue to sell the remaining inventory on the website, but no further production runs of the design will be made.