Posh frocks were the order of the day yesterday as excited crowds gathered outside a charity shop in West London, desperate to get their hands on cut-price clothing donated by the former Spice Girl and her footballer husband.
The Kensington and Chelsea branch of Red Cross was inundated with bargain hunters who queued from 08.30am in the bitterly cold November weather in the hope of bagging items of clothing from David and Victoria Beckham's extensive wardrobe, after the famous couple donated 20 boxes of designer clothes to raise money for the Philippines disaster appeal.
A rule of one item per customer was imposed to ensure as many people as possible went away happy but that didn't prevent  some of the more entrepreneurially-minded among them heading straight to eBay after the sale.
Among the items that made a rapid re-appearance on the market was a tuxedo previously worn by the retired footballer that was sold by the Red Cross for £75 and was then offered on eBay for £300.
A pair of his trainers was sold by the charity for £100 and with more than six days to go before the auction closed had reached £205 on eBay. A pair of Dolce & Gabbana worn by Mrs Beckham was another item to have reached the online site.
In the queue that trailed from the Red Cross store earlier in the day, there was talk of game plans and strategy as fans stamped their feet with cold, looking at their fellow shoppers to assess the competition, frantically peering through the shop windows to catch glimpses of the goodies on offer.
First in line was 35-year-old Ben Brazil, who turned up to look for a present for his girlfriend.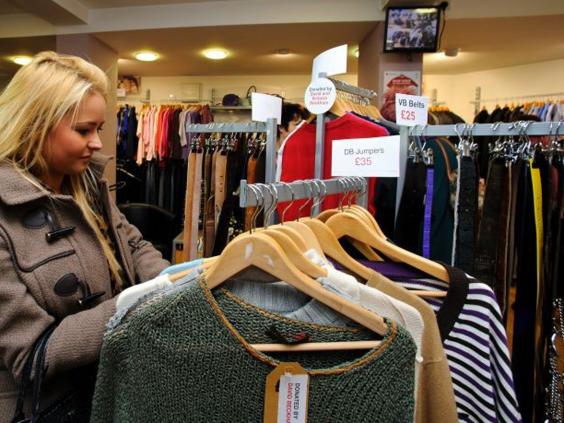 "We were watching GMTV this morning and when we saw this advertised she pulled the covers off and asked me nicely if I wouldn't mind going down," he said, hands thrust deep into his pockets to keep warm.
"I called my boss and told him I'd be in later. He was fine with it. He even said I could use the company card if I wanted to!"
By the time the shop opened at 11am, the queue stretched to the end of the street and shop manager Gareth Morgan marched up and down barking orders at the shoppers who were huddled together to protect themselves from  the chilly wind.
In an attempt to manage crowds the shop allowed 50 people in for 15 minutes at a time, enforcing a 'one item only' rule to ensure the legendary threads weren't all snapped up by the eager beavers at the front.
The rumour mill went into overdrive in the hour before the shop opened, as the crowd tried to guess the size of Victoria's feet.
"I hear she's a 4.5," said one thrilled customer, pointing to her similar sized shoes.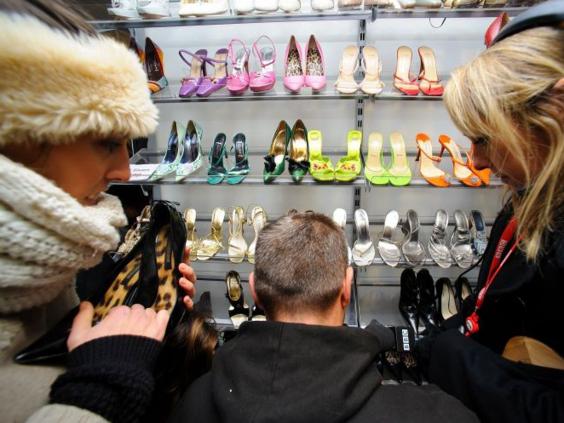 As the clock struck eleven, the first 50 shoppers surged ahead, sharp elbows at the ready. Chaos ensued as punters grabbed items at random paying scant attention to colour, size or shape.
Famed for their unique and sometimes divisive fashion sense, the Beckhams donated an eclectic mix of garments to the cause.
On offer was a POSHspice t-shirt, presumably from Victoria's time in the Spice Girls, as well as a black velour "Victoria" tracksuit, a black and white "Saturday Night Fever"-style Dolce & Gabanna suit worn by David Beckham, and numerous shirts, dresses, shoes and jumpers owned by the pair.
A general view of shoppers queueing outside of the British Red Cross store "I got myself a beautiful Dolce & Gabbana blazer for £75, which is absolutely perfect and in my size," said a breathless Sarah Campbell, 35, as she stood in line waiting to pay for her find.
"I think more celebrities should do things like this. I'm not just donating money; it gives me an opportunity to be part of it as well."
Fashionistas also turned out in force to nab themselves a bit of vintage Beckham, including Ted Stansfield, 22, who works for ASOS.
"I'm looking for anything, anything from David Beckham," he said as he waited patiently outside.
Minutes later I ran into Ted in the shop, a grey Gucci trench coat belonging Beckham clutched to his chest.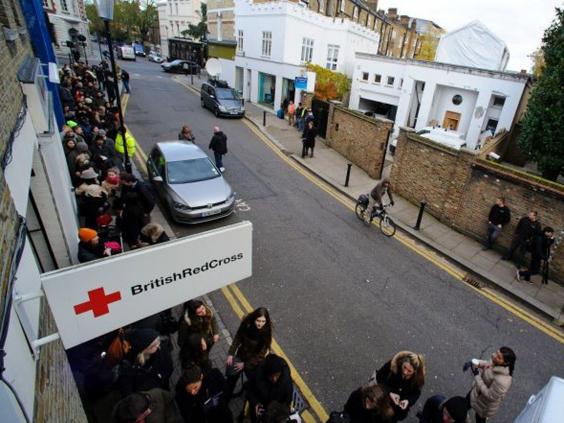 "I'm so happy," he said. "I'm going to spend the rest of the day mincing around in it!"
The prices ranged from £25 for a tie or a belt, to £150 for a pair of long boots, or £250 for one of Victoria's heavy winter coats.
Some of the more expensive items, such as the Dickensian outfits worn by the couple to the 2006 Venice Film Festival, will be auctioned separately and philanthropic customers were encouraged to place their bids while they shopped.
Of course the million dollar question was whether buyers would wear the clothes themselves or make a profit by selling them eBay.
"A football shirt would be worth a lot, wouldn't it?" said one shopper, who answered my million dollar question with a guilty shrug.
"If I sold it, I'd give some of the money to charity," he concluded.
Reuse content