A survey carried out by Conde Nast Brides has listed the most popular celebrity wedding gowns and Grace Kelly topped the list as the most stylish bride of all time.
The late actress-turned-princess didn't have a big designer name to make her dress, but instead had a dress made by Helen Rose, a costume maker in the film industry. Grace Kelly's classic lace design is followed by gowns worn by Duchess of Cambridge, Victoria Beckham, Salma Hayek and Princess Diana.
Duchess Kate is second on the list, who at the Royal Wedding to Prince William in 2011 wore a stunning white gown by Sarah Burton, creative director of Alexander McQueen reminiscent of Grace Kelly's iconic gown. Singer-turned-designer Beckham, who wore a Vera Wang number with a gold and diamond tiara when she married footballer David in 1999, is fourth.
Elizabeth Taylor made it into the list twice. The late British-American actress takes the fifth place for the gown she wore for her first (of seven) wedding to hotel heir Conrad Hilton in 1950, and 15th place for her third marriage to film producer Mike Todd in 1957.
The top 20 also features Carolyn Bassette, Mia Farrow, Princess Diana of Wales, Madonna, Katie Holmes, Priscilla Presley and Princess Anne.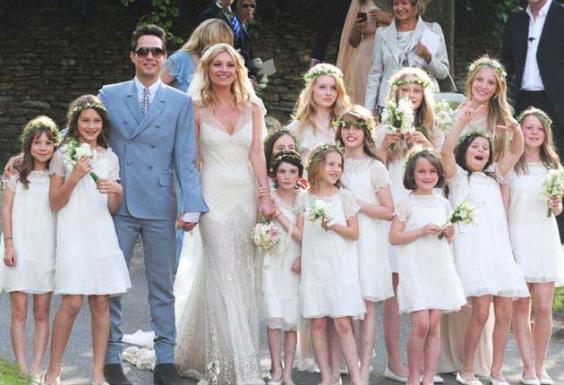 Surprisingly, British supermodel Kate Moss, who wore  a John Galliano vintage-inspired dress, didn't make it to top of the list, nor did newly-wed Kim Kardashian who wore a Givenchy number designed by Ricardo Tisci for her marriage to Kanye West.
Most stylish brides list
Most stylish brides list
1/10 Most stylish brides list

US film star Elizabeth Taylor and her first husband Nick Hilton, of the hotelier family, on their wedding day.

Getty Images

2/10 Most stylish brides list

Prince Rainier III of Monaco and US actress and princess of Monaco Grace Kelly on their wedding day in 1956

3/10 Most stylish brides list

Britain's Prince William, left, places the ring on the finger of his bride, Kate Middleton, as they stand at the altar at Westminster Abbey for the Royal Wedding

AP

4/10 Most stylish brides list

Priscilla Ann Wagner and Elvis Presley

Getty

5/10 Most stylish brides list

Mia Farrow marries to Fran Sinatra

Getty

6/10 Most stylish brides list

Commander Tim Laurence (left) and Britain's Princess Anne are seen in their car after their wedding at Crathie Church 12 December 1992 in Scotland

Getty Images

7/10 Most stylish brides list

Lady Diana, Princess of Wales and Charles, Prince of Wales are seen during their wedding at St Paul Cathedral in London 29 July 1981.

Getty Images

8/10 Most stylish brides list

Princess Elizabeth II and Philip The Duke of Edinburgh pose on their wedding day, 20 November 1947 in Buckingham Palace

Getty Images

9/10 Most stylish brides list

Katie Holmes and Tom Cruise on their wedding day in 2006

Getty Images

10/10 Most stylish brides list

John Fitzgerald Kennedy (1917 - 1963) escorts his bride Jacqueline Lee Bouvier (1929 - 1994) down the church aisle shortly after their wedding ceremony at Newport, Rhode Island

Getty Images
List of most stylish brides of all time:
1. Grace Kelly (to Prince Rainier of Monaco)
2. Kate Middleton (to Prince William)
3. Carolyn Bessette (to John F Kennedy Jr)
4. Victoria Adams (to David Beckham)
5. Elizabeth Taylor (to Conrad Hilton)
6. Courteney Cox (to David Arquette)
7. Salma Hayek (to Francois-Henri Pinault)
8. Priscilla Wagner (to Elvis Presley)
9. Mia Farrow (to Frank Sinatra)
10. Princess Anne (to Captain Mark Phillips)
11. Diana Spencer (to Prince Charles)
12. Madonna Ciccone (to Sean Penn)
13. Queen Elizabeth (to Prince Philip)
14. Barbara Beaton (to Alec Hambro)
15. Elizabeth Taylor (to Mike Todd)
16. Jeanne Biegger (to Dean Martin)
17. Katie Holmes (to Tom Cruise)
18. Bianca Perez-Mora Macias (to Mick Jagger)
19. Jacqueline Bouvier (to John F Kennedy)
20. Farrah Fawcett (to Lee Majors)
Reuse content