American actress and comedian Kathy Griffin is reportedly replacing the iconic fashion critique Joan Rivers in the TV series Fashion Police.
The popular E! TV show was left with a big empty space following the sudden death of the comedienne Joan Rivers back in September. Weeks later it was confirmed that the show will continue to broadcast and return in January 2015 with the blessing of Rivers' daughter and producer of the show, Melissa, but whether a replacement for Rivers would be sought had not been confirmed, until now.
According to TMZ, 54-year-old Griffin will join Rivers' regular co-hosts Kelly Osbourne and Giuliana Rancic, as well as daughter Melissa Rivers, while the fate of George Kotsiopoulos is unknown. However, the fashion critique show will axe its weekly format and will instead only broadcast awards and red carpets as "event programming", marking its return in January for the Golden Globes coverage.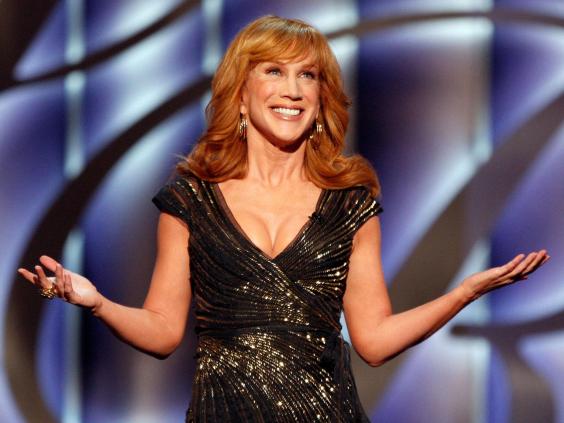 Griffin was one of Rivers' best friends. US Weekly reports that "Joan has always given her blessing to Kathy," and that she "wanted Kathy to be her successor." The insider continues, "they talked about it many times. They have such a similar sense of humour and were the best of friends."
Griffin confirmed to Access Hollywood that she has been offered the job but she also said: "I don't know if the situation is correct at this time for me or right for me at this time."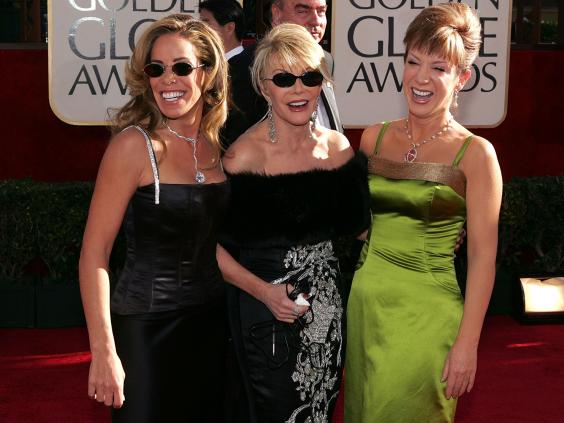 She had the highest of praise for the comedienne's influence on her. She told US Weekly: "It's hard to know where to begin with how Joan Rivers changed my life, but I do know I would not be doing what I do if it weren't for Joan.
"She brought a fearlessness and a brand of humour into our homes that we really need."
Joan Rivers' funniest fashion insults on Fashion Police
Joan Rivers' funniest fashion insults on Fashion Police
1/9 On Angelina Jolie's 'leg bomb' at the 2013 Oscars:

'Everyone took her to task with that photograph with the leg out, but to me it looked as if she had a terrible yeast infection and she was trying to air it out. It was hilarious!' 

Getty Images

2/9 On Angelina Jolie's 'leg bomb' at the 2013 Oscars:

Angelina Jolie's waved her right leg through the high slit of her gown

EPA

3/9 On Justin Bieber's attire:

'Someone needs to sit him down and say, 'You are not a big black thug''

Getty Images

4/9 On Rihanna's controversial tweet:

'Rihanna, who is beautiful but is not the brightest bulb in the lamp, they see pictures of children and they go crazy. I think Israel should start showing pictures of dead puppies, and you'll see these girls turn right around'

Getty Images

5/9 On Kate Winslet's golden flower fascinator:

'The nice thing about this hat is that it covers up the head wound that made her think it was a good idea to wear it in the first place'

6/9 On Lady Gaga's purple fur gown:

Rivers told her fellow Fashion Police host Kelly Osbourne: 'Look away, Kelly, I don't want you to have to see this. So many of your people must have died to make that dress!'

Getty Images

7/9 On Natalie Portman at the premier of Black Swan:

'I don't like she's carrying a book… It says 'this movie sucks, it's so boring I'm going to read through it''

Getty Images

8/9 On Nicole Kidman youthful face:

'And she does remind me of Audrey Hepburn in one way. Neither one of their faces has moved since the Nineties'

Getty Images

9/9 On Rihanna's gothic-chic look at the 2014 iHeartRadio Music Awards:

'I have not seen lips this green since Miss Piggy got out of the back seat of Kermit's car'

Getty Images
The red-haired comedian was reportedly handpicked by Rivers' daughter. According to Radar Online, an unnamed source said: "That's what her mother would have wanted."
While sources connected with the show told TMZ that the hiring is a "done deal", a spokesperson for E! told Page Six: "At this point, talks are continuing and we have nothing to confirm."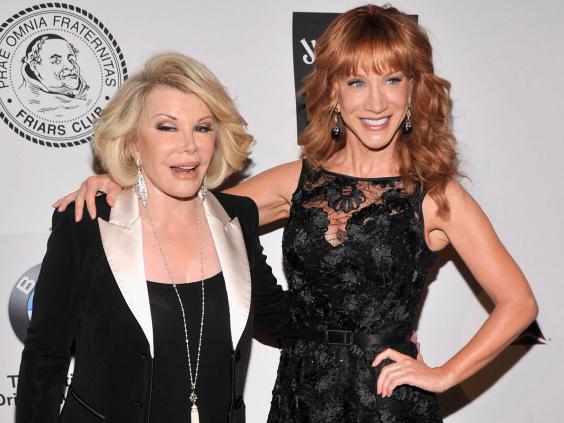 Griffin is better known for her controversial stand-up comedies and her acting in films like Pulp Fiction. Can her snarky humour fill the space left by Rivers?
The Independent is waiting for comment from E! Entertainment.
Reuse content