Katy Perry has announced the release of official Left Shark clothing, including a t-shirt and a onesie.
The Left Shark was Perry's back up dancer at her Super Bowl performance, who  stole the spotlight from the 30-year-old pop star and became an internet sensation due to his uncoordinated dancing.
Perry's Super Bowl half-time performance was the most viewed in history, with an average of 118.5 million viewers tuning in to see her 12-minute performance.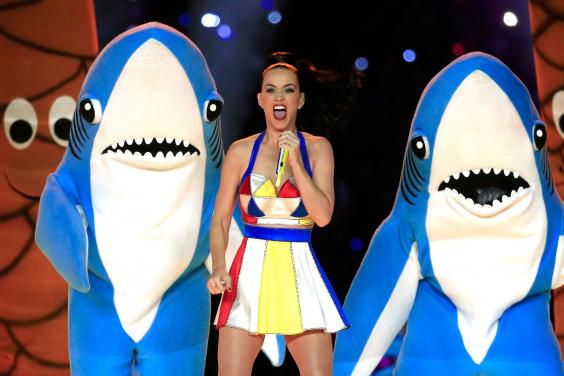 The This Is How We Do singer revealed the costume on Twitter with the caption "Attention internet: no longer do you have to DIY left shark costume." Adding: "You can now be a proper #Leftshark with this official, glorious #Leftshark onesie."
ATTENTION INTERNET: NO LONGER DO YOU HAVE TO DIY LEFT SHARK COSTUME LIKE THIS GUY: pic.twitter.com/s5RjIa4RiC

— KATY PERRY (@katyperry) March 2, 2015
The Left Shark onesie will cost $130 (£85) and the T-shirt $25 (£16), and will be both available from Perry's official website katyperry.com.
While the onesie is a version of the costume worn by the dancer, the t-shirt is emblazoned with an image of the left shark, accompanied with the words "Current Mood" across the front and "Katy Perry" and #"leftshark" on the back.
But while fans were happy with the chance to get the look of the dancer shark, some others said it was too expensive.
YOU CAN NOW BE A PROPER #LEFTSHARK WITH THIS OFFICIAL, GLORIOUS #LEFTSHARK ONESIE: http://t.co/HgMpbv4Hos pic.twitter.com/8RSgqZa6sq

— KATY PERRY (@katyperry) March 2, 2015
"I can't even afford to go out with my friend let alone $129 onesies!!!! Stop taunting me!!!!!!" one person wrote in response to Katy's tweet.
While user added: "It's too expensive, I will buy fake ones."
Following Perry's performance,  many unofficial merchandise has been made but the singer's attorneys have requested them to stop being sold now the shark has an official clothing outlet.
In pictures: Katy Perry's Super Bowl outfits:
In pictures: Katy Perry's Super Bowl outfits:
1/8 In pictures: Katy Perry's Super Bowl outfits:

Flame mini-dress custom made by Jeremy Scott

2/8 In pictures: Katy Perry's Super Bowl outfits:

Sketch of flame mini-dress custom made by Jeremy Scott

3/8 In pictures: Katy Perry's Super Bowl outfits:

Beach bowl themed dress custom made by Jeremy Scott

4/8 In pictures: Katy Perry's Super Bowl outfits:

Sketch of beach bowl themed dress custom made by Jeremy Scott

5/8 In pictures: Katy Perry's Super Bowl outfits:

Football jersey dress custom made by Jeremy Scott

6/8 In pictures: Katy Perry's Super Bowl outfits:

Sketch of football jersey dress custom made by Jeremy Scott

7/8 In pictures: Katy Perry's Super Bowl outfits:

Star silver dress custom made by Jeremy Scott for Moschino

8/8 In pictures: Katy Perry's Super Bowl outfits:

Sketch of star silver dress custom made by Jeremy Scott for Moschino
Reuse content