There's not that many women for who a change of hairstyle sparks a worldwide reaction, but Kim Kardashian West did just that today when she revealed a new blonde hair during Paris Fashion Week.
From stripping naked in magazines to sharing the front row with her baby daughter, Kardashian West never fails to inspire a headline. 
It may be absurd the attention the world has given to the reality TV star's new hair colour,  but it seems to have become a trending subject worldwide as the 34-year-old sat on the front row of Balmain's show sporting her edgy new look.
The reality TV star gave the first glimpse of her locks earlier today as she was seen shopping on the Parisian streets, dressed all in black with a rather telling oversized beanie to cover up her new do.
In what was no doubt an intentional move for the reality TV star who has enjoyed an increasing presence and acceptance in the world of high fashion, she chose to debut it while in Paris, as the world's eyes were on the fashion capital for the autumn/winter 2015 shows.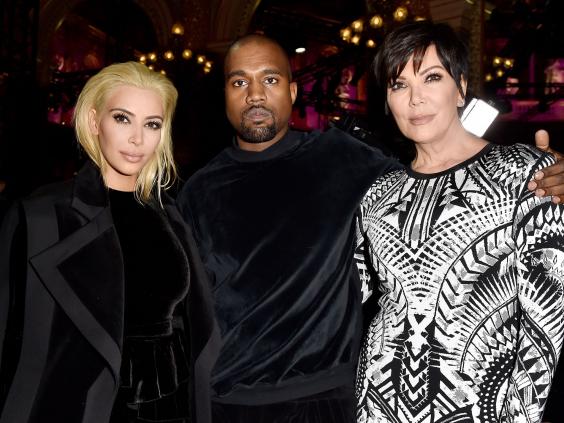 Hours later Kardashian West stepped out alongside her husband Kanye West, minus hat, proudly debuting her new platinum blonde locks–styled into a sleek bob. The platinum blonde hair is a drastic contrast to her naturally dark brunette look, but the star has decided to stick with her dark eyebrows.
The first pictures of Kardashian West's new barnet were met with mixed reaction online. 
While some loved the new look:
Kim Kardashian is taking risks, I love her for that.

— Rihanna⠀ (@rebelledit) March 5, 2015
kim kardashian as a blonde has slayed me, goodbye world

— chelsey (@chelseymayg) March 5, 2015
Some had fun with it:
Expecto Patronum! Who is more evil Kim Kardashian or Draco Malfoy? pic.twitter.com/xuQn23GmZZ

— Brian Koerber (@bkurbs) March 5, 2015
#KimKardashian new look...is it just me? #Darkcrystal pic.twitter.com/4cdWva502i

— Andrew (@geordielump) March 5, 2015
Kim K went platinum blonde and doesn't she remind you of someone? http://t.co/MFfKFWxcCj pic.twitter.com/hL4bTSMrV2

— HuffPost Celebrity (@HuffPostCeleb) March 5, 2015
Kim Kardashian goes platinum blonde! Take a look! pic.twitter.com/5RVqzoNhBL

— BlackLivesMatter (@itsLeeYuh) March 5, 2015
Kim Kardashian is now a platinum blonde! What do you think of it? She looks like Orlando Bloom in Lord of the Rings. pic.twitter.com/edwzstgIuO

— Kyle & Rachel (@KyleAndRachel) March 5, 2015
kim kardashian looks like draco malfoy now

— ⠀⠀⠀⠀⠀⠀⠀⠀⠀⠀⠀⠀⠀⠀⠀⠀⠀⠀⠀⠀ (@__Mannyy__) March 5, 2015
Who wore blond better? @KimKardashian or @TomFelton? http://t.co/8IdTi5KFuN pic.twitter.com/c8K9BbTEG2

— POPSUGAR Beauty (@POPSUGARBeauty) March 5, 2015
But others preffered her brunette:
Kim Kardashian looks best with her dark hair which shows off her Armenian ethnicity... why would she do such a thing

— raqs (@raquelindaa) March 5, 2015
This isn't the first time Kardashian West has tried a lighter style - last year she tried a honey blonde look and revealed to
People
magazine that Kanye prefers it: "Kanye likes the blonde but I think I'm going to stay dark.
"After I saw [me blonde] it was definitely fun, but then I thought that I can just wear a wig if I really have the urge. It was so easy."
It seems she's discarded the wig idea and taken it to the next level.
But it was not only Kim K who took the risk. Actor Jared Leto showed up at the show too sporting a newly shorter dyed blond hair, pushed back. So, who wore it better?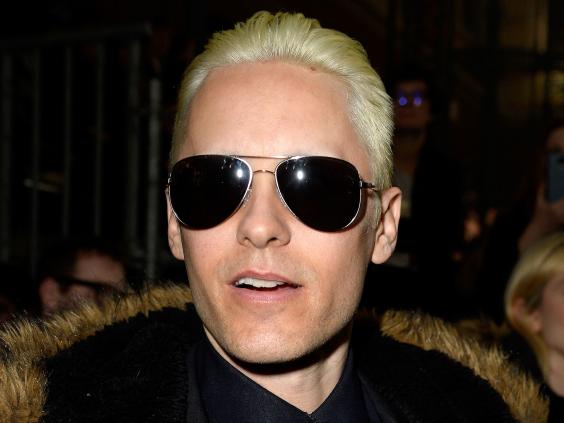 Reuse content