The Englishness of English dress is a very interesting concept, especially as manifested during London Fashion Week. Although maybe it's the London-ness of London dress, given that most of the star designers come from further afield. Nevertheless they are all the product of the British capital's fashion schools – Central Saint Martins and the Royal College of Art dominated today, Christopher Kane and Giles Deacon of the former, and Erdem and Burberry's Christopher Bailey of the latter.
Part of that Britishness is the disparity of inspiration, the variation of theme, the multifaceted ideas. Look at Christopher Bailey and Christopher Kane: two visions of woman whose only similarity was in their pastel palettes and persuasive power. Kane's shtick was stems, but he turned the cliche of spring florals on its head. You got the message from the get-go, petal cut-out shapes tumbling artfully down the front of crepe dresses. The cut-out was followed by cut-aways, scientific biology diagrams dissecting flower heads as sequined and embroidered motifs on sweatshirts and brief embroidered evening dresses. It was a consummate display – and, with the Kering luxury conglomerate now a majority stake-holder in Kane's business, it was a compelling example of financial might and creative muscle fusing perfectly.
Burberry Prorsum is the largest and loudest example of financial clout on the London fashion week menu. Sometimes that can overpower the clothes, but this season Bailey's delicate theme – the English Rose – was handled with an admirably light hand.
The palette was succulent, Queen Mother shades of primrose, periwinkle and powder pink, cut into swingy cashmere-knit trench coats, slouchy blazers and slender cocktail dresses in chiffon and intricate granny-doily lace. It was deft, despite the heft.
As his surname suggests, Erdem Moralioglu is not a Brit, but he looked to Eton schoolboys for his inspiration. Of a fashion, "Schoolboys in uniform with something feminine on top," Moralioglu said backstage. "A flawed androgyny."
The flaw was that it skewed to the unabashedly feminine, fluttering chantilly lace, rippling layers of feathers and panels of organza and tulle. Even when Erdem did a rugby shirt stripe, it alternated between chiffon and duchesse satin, crusted with feathers. Girlish? The boy can't help it. He also can't help making the effort – the handiwork in every single Erdem piece is awe-inspiring. If London has a new couture guard, Erdem is one of the leaders.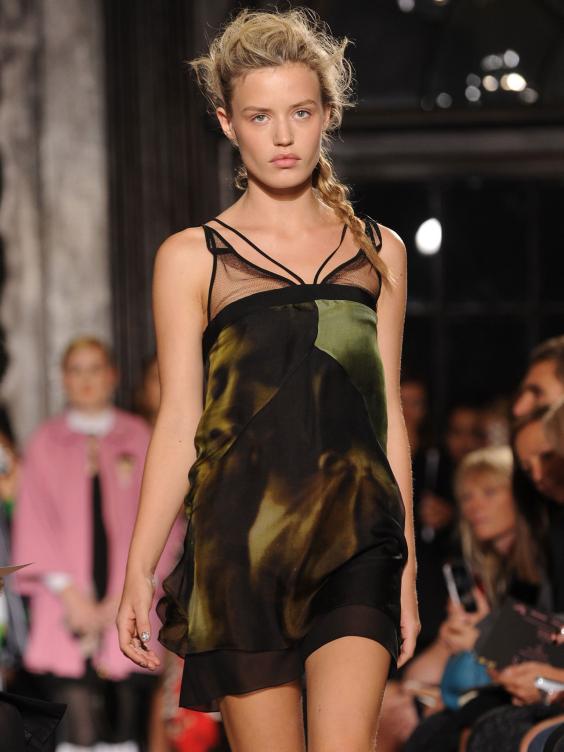 The other is indisputably Giles Deacon, celebrating his 19th season. His label was founded on dressed-up rather than messed-up, when that was the exception rather than the rule. They went with ball gowns too, feathered and frilled and spangled, sometimes pock-marked with a gap-toothed lipstick pucker, brocaded, embroidered and printed.
That was reminiscent of the Rolling Stones "Sticky Fingers" artwork, and Georgia May Jagger was a keynote model. That was ironic, sarcastic almost. But it all still looked great. Deacon is the quintessentially English designer, our very own cari-couturier. Carry on frocking, Giles.
Reuse content