In an era when fashion designer's' clothes are masticated, replicated, sold and on sale by high street rip-off merchants before the high-price originals even hit the racks, the question that plagues you at fashion week is: why buy this stuff? What's the motivating factor behind laying down cold, hard cash for a piece of designer clothing.
Honesty, for one. Isn't it better to have the original than a half-hearted ersatz rip-off? In a similar vein, the assumption is that by buying a piece of designer clothing you're receiving something lovingly wrought, fraught with the identity of its creator.
That is certainly the take-away from London Fashion Week, where art and craft dominate over commerce and the personalities of individual designers vibrate from their clothing. Even comparative fashion behemoths like Paul Smith and Vivienne Westwood offer collections with identifiable identity. Their personal hands may not have touched the garments on offer (let's not be naive, with turnovers in the hundreds of millions, neither is likely to be dealing with pinning and pressing hems) their imprimatur is clear.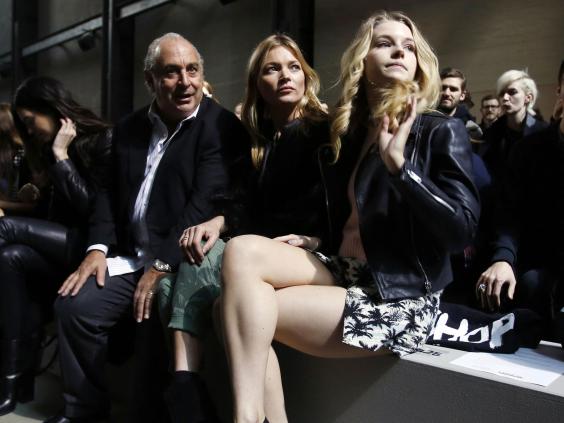 For autumn/winter 2014, both of those powerhouses played to their strengths. Paul Smith requisitioned greatest hits for his menswear, pinched them in a bit at the sides and sent out slope-shouldered overcoats, billowing silk shirts and pyjama trousers riding low on the models hips. Handsome was the word. Works for him and her. Vivienne Westwood showed her Red Label line - in itself, a greatest hits parade rather than a font of new ideas, an eased-up show of the tricksy tweeds, corsets and geo-political sloganeering, the latter according to the press release, but seldom visible on the actual catwalk. That fusion has become her own trademark. Frankly, it's an odd mix. But Westwood is an odd, odd designer and, of a fashion, that oddness rather than cut or construction forms her unmistakable signature.
Mary Katrantzou's unmistakable signature is print. Digitised, engineered, swirling across everything from trouser suits to trained evening dresses. She's built, from a capsule collection of a dozen graphically-printed frocks, an enviable, thriving business in barely five years. Despite the power of her prints, the question Katrantzou's collections have raised in recent years, as the fashion frenzy around her digitised graphics has begun to subside - although retailers are still rabidly selling the stuff - is: what comes next?
The next step, for autumn/winter 2014, was for Katrantzou to pause her printing presses. She's been stepping away for a few seasons, with intarsia knits and embroideries combined with, or sometimes taking precedence over, the print. At least on the catwalk. This season, her decorative, elaborate and intricate surfaces were still much in evidence, but rather than print, she embellished her garments with embroidery, digitally woven lace, and custom-loomed brocades and jacquards. Symbols and signs were the very post-modern devices she turned too - the "codes" of uniforms, from city bankers to military generals, alongside road signs and mechanic's tool box interiors.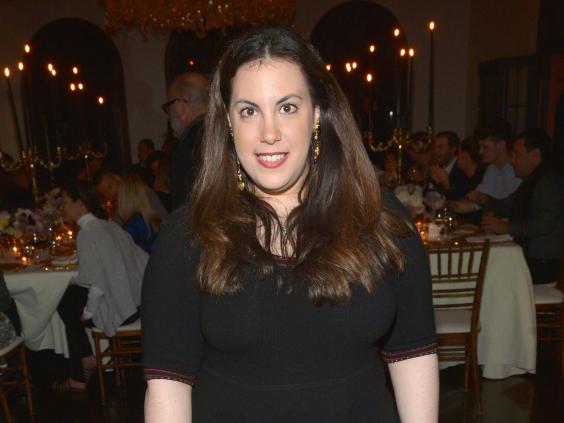 You didn't need to know that, though. The overall take-away was a step away from Katrantzou's typically thematic collections, not emblematic of a theme or motif, but instead a fresh, modern vibrancy. It was unapologetically beautiful, and really requires no further explanation, or justification.
Even without the print, the identity of Mary Katrantzou was emblazoned across all of these clothes.
In pictures: London Fashion Week autumn/winter 2014
In pictures: London Fashion Week autumn/winter 2014
1/23 Simone Rocha

Models present creations from designer Simone Rocha during the 2014 Autumn / Winter London Fashion Week

AFP

2/23 Simone Rocha

Models present creations from designer Simone Rocha during the 2014 Autumn / Winter London Fashion Week

AFP

3/23 Simone Rocha

Models present creations from designer Simone Rocha during the 2014 Autumn / Winter London Fashion Week

AFP

4/23 Simone Rocha

Simone Rocha's take on granny fashion during London Fashion Week

Simon Rochas

5/23 Sophia Webster

A model poses for photographs during the Sophia Webster presentation at London Fashion Week in London

6/23 Tata-Naka

Models present creations from the Fall/Winter 2014 collection by Tata-Naka at the London Fashion Week at the Royal Academy of Arts in London

7/23 Tom Ford

Tom Ford's creations showed there is no mistaking him for anything other than American

Reuters

8/23 London College of Fashion MA Show

The London College of Fashion MA Show at the Waldorf Astoria Hotel on day one of London Fashion Week yesterday

PA

9/23 Fyodor Golan

London Fashion Week: The Fyodor Golan show

Getty Images

10/23 Fyodor Golan

A model on the runway at the Fyodor Golan show at London Fashion Week AW14 at The Farmiloe Building (Getty Images)

11/23 Felder Felder

A model walks the runway at the Felder/Felder show at London Fashion Week AW14 at Freemasons Hall (Getty Images)

12/23 London Fashion Week

J. JS Lee show at Somerset House

13/23 London Fashion Week

J. JS Lee show at Somerset House

14/23 London Fashion Week

J. JS Lee show at Somerset House

15/23 London Fashion Week

J. JS Lee show at Somerset House

16/23 London Fashion Week

J. JS Lee show at Somerset House

17/23 Jackie Lee

Designer Jackie Lee appears at the end of the runway at the J. JS Lee show at London Fashion Week AW14 at Somerset House

18/23 Peter Pilotto

Local colour: A look from the spring/summer 2014 Peter Pilotto show at London Fashion Week

19/23 Peter Pilotto

Local colour: A look from the spring/summer 2014 Peter Pilotto show at London Fashion Week

20/23 Peter Pilotto

Local colour: A look from the spring/summer 2014 Peter Pilotto show at London Fashion Week

21/23 Peter Pilotto

Local colour: A look from the spring/summer 2014 Peter Pilotto show at London Fashion Week

22/23 Peter Pilotto

Local colour: A look from the spring/summer 2014 Peter Pilotto show at London Fashion Week

23/23 Bora Aksu

A model walks the runway at the Bora Aksu show during London Fashion Week

Getty