Sofia Mechetner's appearance on the catwalk in the Christian Dior autumn/winter 2015 haute couture show has been the subject of much debate given the model is only 14.
Mechetner grew up in Tel-Aviv before being spotted by an Israeli model agent and referred to small French agency, a stroke of luck meant she ended up bumping into Dior's creative director Raf Simons in one of the label's shop in Paris and was swiftly signed by the brand.
Mechetner, who has reportedly signed a lucrative two-year deal with the French fashion house worth £170,000, scored the prestigious slot of opening the brand's couture show earlier this month in Paris.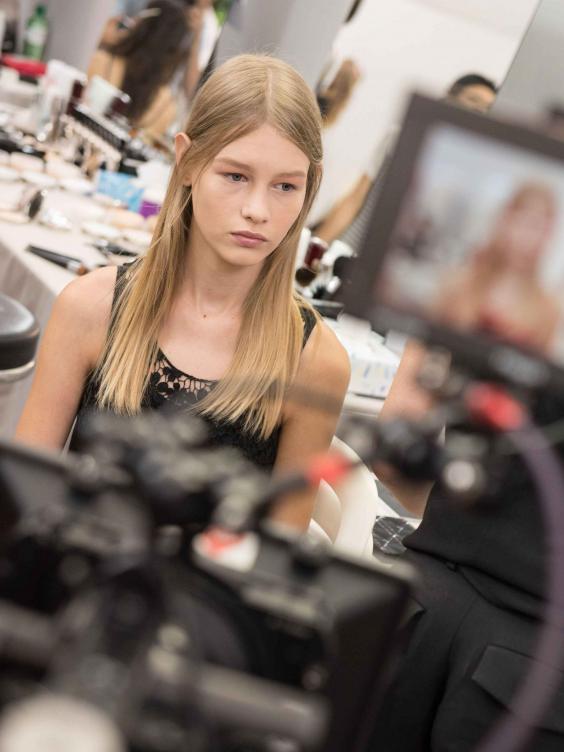 Unsurprisingly, the recruitment of the teenager has sparked criticism - she walked the runway for the brand in an ethereal, sheer white dress.
The employment of models at such young ages is not unheard of, Kate Moss was just 14 when she was discovered by Storm Models, however the industry has been making moves in the last few years to prevent the use of underage models.
The British Fashion Council banned models under the age of 16 from appearing at London Fashion Week. The CFDA has followed suit issuing guidelines to designers taking part in New York Fashion week which discourages use of underage models.
Similarly in 2012 the editors of every edition of Vogue agreed not to use models younger than 16 in editorial shoots.
No such rules exist in Milan, where last year a similar argument occurred when 14-year-old Dutch model Roos Abels took part in the Prada show.
Mechetner's agent Roberto Ben Shoshan defended her new role for the brand, telling I-24 News that a chaperone is "24-hours with her, she's sleeping in the same room as her, she's going with her to the auditions, to the catwalk, so I think it's okay".
Mechetner herself responded to the controversy telling the Jerusalem Post: "Fashion nudity is about art and not about sexuality."
The most controversial fashion moments
The most controversial fashion moments
1/22 Rihanna and Cyrus at the amFar

Rihanna and Miley Cyrus shocked the amfAR red carpet with two Tom Ford designs from his latest collection

2/22 Victoria's Secret ad

The lingerie giant had to rename its 'Perfect Body' campaign to 'A Body for Everybody'

Victoria's Secret

3/22 American Apparel ad

A Twitter user shared the pictures of the 'back to school' campaign and it then banned by watchdogs

Twitter/anygirlfriday

4/22 American Apparel's founder Dov Charney is fired twice

Dov Charney, the founder and former CEO of American Apparel, was rehired and fired again this year

Rex

5/22 Kimye land Vogue cover

The cover in full, as shot by Annie Leibovitz for the April 2014 edition of Vogue US

6/22 Kim Kardashian for Paper magazine

The reality TV star posed naked for the cover of Paper magazine, recreating Jean-Paul Gouce's 'Champagne Incident' photo

7/22 Mannequins with pubic hair

Mannequins with pubic hair are displayed in the window of an American Apparel shop in New York

Getty Images

8/22 La Perla's skinny mannequin

La Perla's mannequin with visible ribs sparked controversy

9/22 Vogue Italia's domestic violence spread

Life and death: a striking image from the April edition of 'Vogue Italia', which had domestic violence as its subject

Steven Meisel

10/22 Vogue's Big Booty article

American Vogue attracted criticism for an article published online discussing the rise of the big booty and how a large derriere has become ubiquitous

11/22 Rihanna at the CFDAs

Rihanna wore a completely see-through dress for the CFDAs

12/22 Zara children's shirt banned

The fashion retailer Zara has come under fire for selling a striped children's shirt embellished with a yellow star after many drew a comparison between it and the uniform worn by Jewish prisoners in concentration camps

Screenshot

13/22 Miley Cyrus posed naked for Karl Lagerld

Miley Cyrus photographed naked by Karl Lagerfeld for V magazine

KARL LAGERFELD V Magazine

14/22 Tezenis' 'crime scene' underwear

Tezenis removed a piece of underwear that had the phrase 'crime scene' printed across them

Twitter/ @Rhiainj

15/22 Baby North decked in Chanel

North West made her modelling debut at 13 months on CR Fashion Book

16/22 Conchita Wurst in suspenders

The Austrian drag queen and Eurovision model poses alongside pregnant top model Ashleigh Good

17/22 Conchita wurst posed in suspenders for Karl Lagerfeld

Karl Lagerfeld with Conchita Wurst during shoot for CR Fashion Book

Karl Lagerfeld/ CR Fashion Book

18/22 #Fatkini

The hashtag went viral on social media over summer. Some loved it, others hated it

19/22 Wilde's breastfeeding phtoshoot

Olivia Wilde's on the cover of September Glamour cover, in which she appeared breastfeeding her baby boy

20/22 Native American Headresses

Native American headdresses have been banned from music festivals

Getty

21/22 L'Oreal signs football supporter for beauty campaign but quickly cuts ties

L'Oreal cuts ties with Belgium supporter Axelle Despiegelaere after hunting trip photographs emerged

22/22 Myla Dalbesio calles 'plus-size model'

In an interview with Elle magazine, 5ft 11inch Dalbesio was described as 'surprisingly' a plus size model

Calvin Klein
MP Caroline Nokes who heads the parliamentary group on body image also waded into the row commenting:
"Use of this young girl is just a disappointing step backwards. We want to protect young people from what can be a very exploitative industry. To have young people being photographed provocatively - the industry really has to clean up as inevitably others will follow suit. She looks every bit underage."
Reuse content