"She's a very real woman," said Donatella Versace before her spring/summer 2016 Versace show, tossing her mane of flaxen hair and gesticulating at a few of her garms. "She works, travels around, she has to be perfect all the time… she's not a young girl. But she has to take on an attitude of strength."
When Donatella Versace turns out a good collection, she generally sounds like she's talking about herself as she describes the latest incarnation of her ever-fluctuating Versace woman. She pouts, and demurs a bit "She's a fighter. She's not exactly fragile." And in a season filled with more than its fair share of nymphettes in crushed georgette, that made a welcome change. Versace uprooted her show from its usual digs in swanky Via Gesu - close to the restaurant Bice, where the fashion press sometimes eat and mostly drink, and Via Montenapoleone, where they always shop - to show in a vast industrial space on the city outskirts, Klieg lights shining. Donatella said she didn't want to be too safe.
There were parts of this collection that didn't feel safe either - ironically, not the lace dresses woven in tiger stripes and hairily embroidered with frayed chiffon, nor others sequined with a mashed-up menagerie of big cat prints, the stuff that will make Versace fans purr with delight and lap it up. A couple of gaudy embellished bags are being offered for sale straight away, and they're probably a safe bet for sales. However, more interesting were the quieter moments, the tailoring in utilitarian shades of khaki and olive drab, jackets cut to gently hug the body, indicative of Donatella Versace's new focus on (and, frankly, interest in) daywear. A wider trouser, a longer skirt (albeit with a high slit). This was Versace in a mood that, if not exactly quiet, was doubtless less high octane than usual. Not exactly sombre, but certainly sober.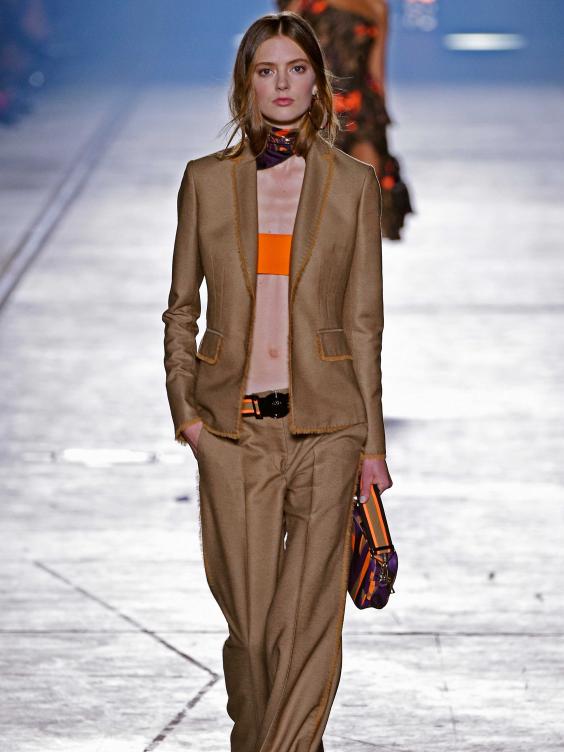 Versace didn't want you to compare her woman to soldiers, but it was difficult not to, marching out in their fatigue colours, all those animal markings forming a kind of urban camouflage across their bodies - although this was camo to make you more visible, not less, in shades of tomato-orange, iris, peat green and neon chartreuse, scribbled spots like Stephen Sprouse leopard blown up big on slouchy suits.
Maybe Versace was thinking of a woman's fight in the world today, like the soundtrack - whose lyrics dedicated the song to women, and whose message encouraged Versace to make a donation to International Women's Day? Incongruously, that's not today - it's in March. But that is when these clothes are supposed to be worn, anyway.
That doesn't impact Versace all too much: the house seems to languish in a perpetual summer, of short (or slit) skirts, bare legs, plenty of skin on view through scissored seams. Their summer collections are, generally, stronger than their winter - this being no exception. There has seldom been a more canny update of a house staple than all that macro-scale Hanna-Barbera hued leopard Donatella there across everything. Old, but new. No wonder Donatella dragged us out of Via Gesu to make a song and dance of her latest offering, like the rock star it's so easy to imagine her being. There was a confidence there. That was convincing.
Reuse content