Happi Krisamasa and praise the Lord – all of them. The Christmas jumper to end all Christmas jumpers has arrived. The perfect present for your most right-on uncle (or aunt – it's unisex), the mixed-faith jumper has been designed for those wanting to celebrate the festive season as the multicultural nation we are.
Adorned with the Star of David, the Hindu Aum, the Islamic star and crescent and even the symbol most closely associated with science (so even Professor Richard Dawkins wouldn't feel uncomfortable in it), the British Christmas Jumpers top has been produced, according to its designer, to bring a little more harmony into the world.
At £40, the company says it is for everyone, "no matter what colour, creed or culture", though some – of course – will argue it's political correctness gone mad. And not everyone will warm to the 50/50 acrylic/cotton mix, either.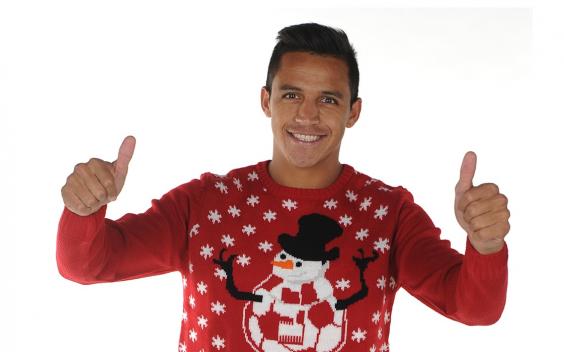 Cheryl Madley, the knitwear designer from London who created the joyously garish jumper, said she was attempting to get more people interested in the festive pully as an item of clothing.
"We were discussing what would make a jumper really stand out and we thought, 'wouldn't it be a nice thing if we could encompass everybody and have peace in the world' … so that's where it came from. I did some designs and this is the one everyone liked. It would be brilliant if people of all faiths wore it." Ms Madley said the bulk of pre-order sales had, so far, come from the United States – which demonstrates either that the Americans are more tolerant, or they're more keen on lurid seasonal souvenirs.
Christmas Jumper Day 2013
Christmas Jumper Day 2013
1/7 Christmas Jumper Day 2013

Christmas jumpers in full swing at the Save the Children Christmas Jumper Day

Getty Images

2/7 Christmas Jumper Day 2013

People perform a dance routine to mark the Christmas Jumper Day in London

Save the Children

3/7 Christmas Jumper Day 2013

The Dune Group team in Christmas jumpers

Laura Crouch

4/7 Christmas Jumper Day 2013

Members of the public dance in their Christmas jumpers

Getty Images

5/7 Christmas Jumper Day 2013

The event was hosted by choreographer Arlene Philips who created a Christmas Jumper dance routine for the charity event in the Westfield Shopping centre in Shepherd's Bush

Getty Images

6/7 Christmas Jumper Day 2013

Members of the public take part in an attempt to break the world record for the most people wearing Christmas jumpers, London

Getty Images

7/7 Christmas Jumper Day 2013

Our Independent online team in Christmas jumpers

Independent
Once derided as the preserve of embarrassing dads, festive jumpers are now big business for all ages. Asda recently reported selling their millionth Christmas sweater, with sales up 160 per cent so far this year. There is now even a national Christmas Jumper Day – which falls on 12 December this year.
Reuse content