Reese Witherspoon has launched her own online fashion retailer selling clothing, jewellery, handbags and homeware – with plans of opening a store in her hometown in autumn.
The 39-year-old actress is the latest star to debut a clothing line, following the likes of Jessica Simpson, Madonna, Beyonce and Gwen Stefani. Witherspoon's line, however, seems more high-end than some other celebrity collaborations on the market.
Called Draper James, the brand is inspired by her grandparents' names and the products are inspired by her Southern upbringing in Nashville, Tennessee.
"I created Draper James to honour my past and allow others to embrace the beauty, style and excitement that embodies what is happening in the South today," she said.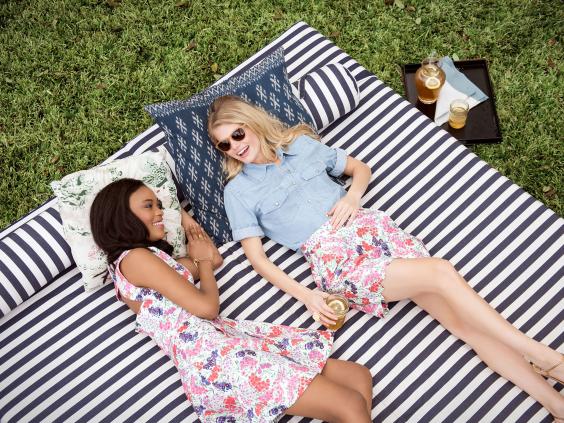 The debut collection includes classic prints, gingham, stripes, bright florals, lace, branded T-shirts, and, of course, ladylike dresses that match the award-winning actress' girly style.
The online shop sees totes selling for $150, dresses for $300, tank tops for $150, pencil boxes for $14 and sets of cocktail napkins for $85; but the rather expensive price tags haven't stop shoppers from buying the collection – some of the pieces sold out within hours of going live, proving that Southern feminine fashion is indeed popular.
The Legally Blonde star revealed her new project on social media with an 11-second video captioned: "It's here y'all!!!! @DraperJamesGirl Don't be shy!!! DraperJames.com (and link's in my profile) [kiss emoji] (Video: #DavidSchlussel)."
"Grace and charm" is the foundation of the business and the ruling theme is without doubt magnolias, which are seen on the patterns of the dresses, tops and accessories, as well as on a flower-shaped silver bowl. Magnolia is also part of the website's logo.
CEO Andrea Hyde said: "Draper James was built on the backdrop of Reese's Southern past which is both timely and relevant."
"Not only is the South having a cultural surge, but it has a rich ecosystem that we tapped into on every level."
The brand has earned a space in Elle magazine already. The actress posted a photo posing alongside a model in the collection and captioned it: "Digging this @draperjamesgirl shot @ElleUSA!..."
Reuse content