Dolce and Gabbana will design Claridge's luxurious and iconic Christmas tree for the second year in a row.
Last year the duo's theme transported visitors to their native Sicily in Italy, but this year we can expect more of a traditional scene "surrounded by a magical enchanted forest, and decorated with many woodland animals such as: foxes, deer and squirrels that gather near the fire". Think, a festive Richmond Park.
Adornments will feature hundreds of colourful hand painted blown glass spheres that make reference to the many different cultures around the world.
Domenico Dolce and Stefano Gabbana said: "Christmas is the happiest time of the year for children and we want to celebrate it with a tree that brings together all the different cultures from around the world.
"We thought of an enchanted forest where the real meets the unreal, just as it does the night before Christmas. It is a very special tradition because it helps spread our love for Italian craftsmanship around the world."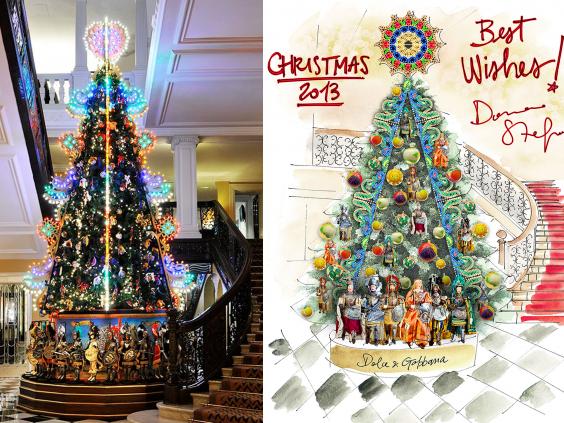 The Claridge's Christmas Tree has long been a festive landmark at the London's iconic Mayfair hotel with magnificent designs by world's renowned fashion houses including John Galliano and Lanvin's Alber Elbaz. This is the fifth year that the hotel has called in a special guest to decorate the emblematic and stylish tree.
Claridge's Christmas Trees in pictures
Claridge's Christmas Trees in pictures
1/5 2009

The first Christmas tree by John Galliano named 'A Frozen Tropical Christmas Tree'

Claridge's

2/5 2010

John Galliano's 'Under the Sea' Christmas tree at Claridge's

Claridge's

3/5 2011

Designed by Lanvin's Alber Elbaz for 2011's Christmas tree

Claridge's

4/5 2012

Designed by Kally Ellis of McQueens

Claridge's

5/5 2013

Last year's Christmas tree by Dolce and Gabbana inspired by Sicily

Claridge's
Thomas Kochs, Claridge's General Manager, said: "We are delighted to invite Domenico and Stefano to spread their special magic in our lobby once again. Our guests and staff loved their tree so much last year that we just know they will create something equally memorable and enchanting this time."
The 2014 Christmas tree will be unveiled on 19 November.
Reuse content