Branding's a funny business. Especially in Milan, where the Italian leg of the autumn/winter shows draws to close today. Here, I'm often reminded of its medieval meaning – making your mark on skin with a hot iron, searing your identity on to living flesh.
A bit like dressing someone in your clothes. They're about making your mark on a breathing body, and like branding (by iron) you'd better make sure your branding (by fashion) looks the way you want it to, or it could be identifying your property (e.g. customer) as someone else's.
That is why it's interesting to see what's going on at Gucci. Because, apparently, Gucci have been getting their branding wrong, and are now doing all they can to rectify it. There's a new CEO, Marco Bizzarri, and a fresh designer, Alessandro Michele. That's exciting, for a start. Gucci has needed shaking up: the previous designer, Frida Giannini, helmed the womenswear for eight years, but was continuing with stylistic conventions established by Tom Ford in the Nineties.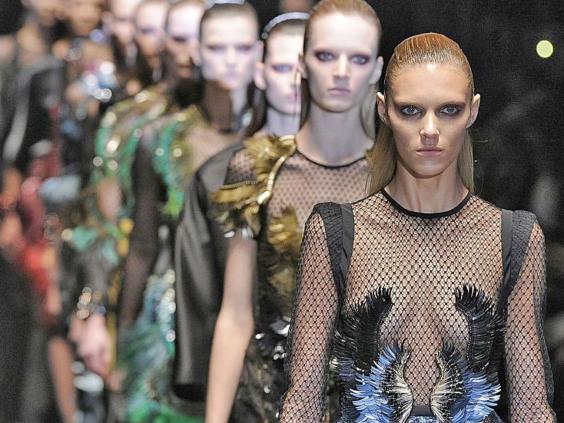 Michele's first official show last week marked a distinct shift in the brand. The flagships are next to be remodelled, and the advertising campaign will hit in summer. As a business model, it has proven success: look at fellow Kering brand Saint Laurent, whose controversial deconstruction and reconfiguration by designer Hedi Slimane has included not only new clothes, but a different logo, shop identity and advertising campaigns. The result? The label's revenue has doubled in three years.
Which is strange, because I don't think Saint Laurent ever really got it right on the catwalk. The shows don't incite the excitement that they used to – they don't live up to the hype. The hype, however, is absolutely right. The advertising campaigns are seductive. The new stores look clean and modern. And the clothes are saleable. They offer little design interest or innovation, but you understand their retail appeal.
Michele has proved that he can ring the changes on the catwalk. The question now is how successfully he and the new Gucci team can leave their mark across the entire enterprise – and, furthermore, what they want their brand of the brand to actually say.
Reuse content